The Cohiba Lanceros. If you ask the head of Habanos SA what the flagship Cuban cigar is, he will probably tell you the BHK56, or maybe the Siglo VI; to me it will always be the Cohiba Lanceros. The legend goes that in 1963, Fidel Castro observed one of his bodyguards smoking a long, thin, elegant cigar (that the bodyguards of one of the most assassination liable people on earth got to lounge around smoking cigars in full view of their boss gives you a good image of how things went in early '60s Cuba). Intrigued by the shape he asked what it was, and the man told him it was one of his friend Eduardo's custom rolls, and offered him one. Castro smoked it, loved it, and had Eduardo summoned and set up in El Laguito, a repossessed mansion in the suburbs, to roll the personal cigars of El Presidente. Eventually the cigars were named Cohiba, and were made available to well-connected party men, and given out as diplomatic gifts. In the 70s they were very occasionally sold to tourists on Cubana flights and, in 1984, they went on sale to the general public (Castro had quit smoking the year before, leading to a surplus in high end tobacco).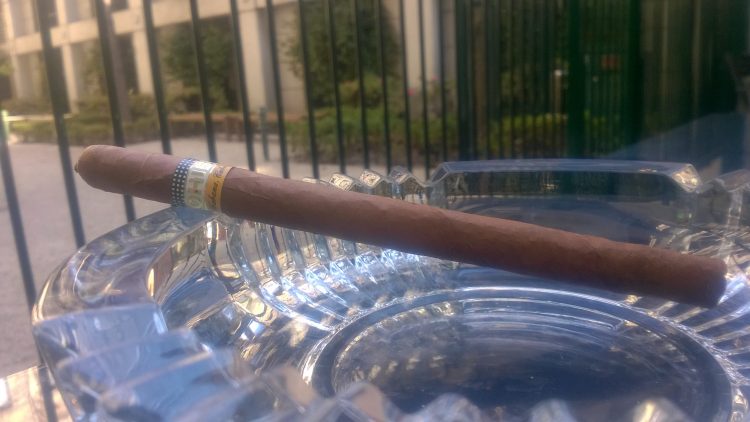 With a kiss from a jet lighter the cigar smoking begins. The first flavours are very crisp and light, with lactic, creamy notes and the tang of fresh cut grass. In the aftertaste there is an unmistakable honey sweetness. The tobacco is very light in the first few puffs, but a centimetre or so it thickens to medium. This particular Lanceros is from 2008. The ash is dirty grey, and doesn't hold very well, flaking off with regularity. The draw and burn are perfect.
These days, I am well enough connected in the international community of cigar aficionados that I could probably get a tour of El Laguito if I were ever in Havana, but in 2006 it was not so. Back then, I was a cigar neophyte. I had smoked precisely one Cohiba, which was almost certainly a fake (a friend knew I had an interest in cigars, and brought me back a Cohiba from Mexico [never a good sign]. I smoked it in a storm water drain where I used to hang out sometimes [that's another story]. As I recall it burned down the core the whole way – never having encountered this before, I didn't know to fix it [slight touch of flame around the edge] and, assuming it was some kind of high end smokeless tobacco, let it go, noting that the flavour was "very smooth"). Somehow, however, I had heard of the old mansion, and while I was in Cuba I made a personal point of visiting.
It took a while to get the taxi driver to figure out where I wanted to go, but after I had tried the name in several different pronunciations, tried "Cohiba," and "bueno tobacco fábrica," and pulled out my guidebook for a map, we eventually had meeting of the minds. "Ah, El Laguito," he cried delightedly. "La fábrica de tobacco Cohiba! Bueno!" and off we went.
Today El Laguito is a bit tarted up, with big Cohiba logos on the outside, but in 2006 it was a nondescript mansion in a leafy neighbourhood, with no indication at all that industry was taking place inside. A high fence surrounded it, and the only point of entry seemed to be via a ramshackle corrugated iron annex. Entering we found a group of women sitting around chatting. They were not accustomed to dealing with random gringo walk-ins, and after a bit of "bueno tobacco fábrica tour," they found someone with a little English. The newcomer told us that this was a factory, and to visit we would need permission from Tabacuba, the tobacco ministry. She drew us a map. As we walked out I remarked to my friend that we were the dumbest bastards in the world. It was the perfect opportunity to offer a 20CUC note and ask dumbly "¿permiso?"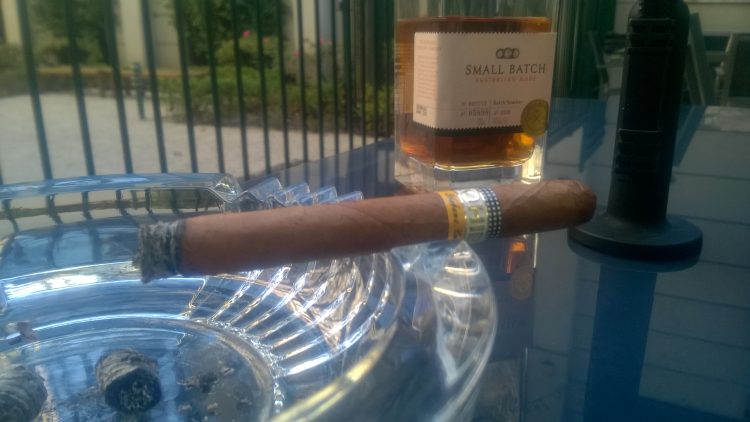 At the midpoint the Lanceros has mellowed, returning to very light. The predominant flavours are grass and straw, with a hint of the barnyard. In the aftertaste there are sweet fruit elements, a touch of citrus and raisins. The lactic cream has more or less vanished.
The Tabacuba office marked on the map was a few kilometres away, close to central Havana, but it was a nice day so we decided to walk it, taking in the shady streets of colonial mansions and embassies that surround El Laguito. We reached the office around 2:30pm, when the after lunch slump was definitely in effect. There was nobody in reception, but after ringing a bell we finally roused a security guide, who eventually conjured up an English speaker, who was very bemused that we might want to visit the legendary factory. "This is just a factory" he told us. "Not for tourists." With a suspicious glare he lowered his voice. "You are journalists?" Knowing that journalists are not always looked upon kindly in Cuba, I assured him that we weren't. Eventually he told us that he didn't see an issue, but also that he couldn't give us the permit here, and instead wrote down the name of a man to see at the Tabacuba office in Old Havana. He drew us a map.
The next office was closed by the time we got there (about 4:30pm), and I was preoccupied for the next few days with other tourist jaunts, but eventually returned, and presented the girl at the desk with the name of the man the clerk had written down for me. I waited for 30 minutes or so in a dingy waiting room, before eventually being ushered into a messy office. The man was very suspicious, asking me first if I was a journalist, and then listing off the names of publications he thought I might write for. After I refuted all of them he tried a different tact, and began listing tobacco companies. When that line of enquiry was exhausted he asked for my passport, and thoughtfully inspected every page, rubbing each stamp and visa between his thumb and forefinger, as if trying to establish whether or not my Japanese entry permit from two years earlier was a forgery.
Finally satisfied, he took my passport with him, and disappeared into another room for thirty minutes or so. From my seat my eyes searched around the room for the one-way mirror or concealed camera, sure I was being observed by the Cuban Secret Police. Eventually the bureaucrat returned, and presented me a long document in Spanish, with an official red stamp on it. "Your permission," he told me. "You got to El Laguito on this date," indicating a date about a month hence. "No, no" I said in dismay. "I'm leaving Cuba at the end of the week." His patience for me exhausted, he shook his head. "This date is not negotiable."
And so I left, and left Cuba, having never got further into El Laguito than the guardhouse. I did learn a lesson, however, one which would serve me well during my China years, and further travels: when dealing with a second world bureaucracy, as soon as things start to go against you: bribe everybody.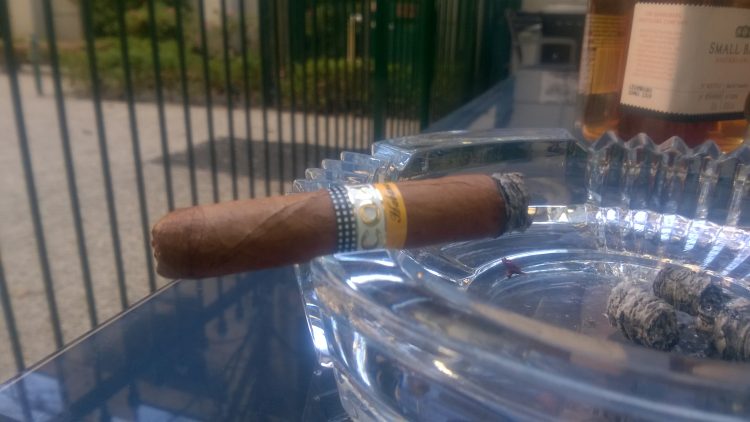 As the Cohiba Lanceros reaches its final third it gets milder still, just the lightest of tobacco flavour, over a subtle coffee, leather, and a hint of new tennis balls. It is only once I have smoked past the band that it gets a little punchy, the ash causing me to salivate. I have brought down a bottle of the high end Bundaberg rum, but forgot to bring a glass, so haven't touched it until now. The tar on my palate is unpleasant enough that I swig from the bottle to cut it. Like all Bundy it has a bit of a paint thinner taste to it, but it cuts the tar nicely.
Anyway, the Cohiba Lanceros is a fantastic, elegant and subtle cigar, that brings to mind a more civilized age. Smoke more Cohiba Lanceros.