Every Cuban cigar marque has its own character in its distinctive flavour profile, but a few novelty brands aside (Cuaba comes to mind), when it comes to sizes they generally sell a pretty standard line-up. Every brand has got to have its take on a Churchill, on a Petite Corona, on a Pirámides and a Dalia, and every brand has got to have its version of a Robusto.
Except, predictably, for one: H. Upmann.
The duty free exclusive release series is not a series where you typically expect to find very good cigars, mainly because duty free shops are not the kind of places you typically expect to find very good cigars. Yes, there are a few big, modern hub airports in luxury oriented destinations that have dedicated, premium cigar stores, with trained staff and properly respected stock – I think Dubai has one, and probably London – but in general airport cigars are stored at ambient humidity and temperature, and pitched to you by leggy sales girls whose expertise lies in 2L bottles of Baileys Irish Cream and cartons of Menthol Super-slims, not the nuances of fine Cuban leaf.
Perhaps because of this, when the H. Upmann Robusto travel humidor came out in 2007 – a handsome leather 10 cigar travel case – it didn't get a lot of play in the aficionado scene. For a few years they were widely available, but I guess some people bought them – most likely big collectors seeking completeness, or perhaps one or two took a fancy to the case, and bought it with the intention of swiftly refilling it with something more to their taste – because eventually word got around the aficionado community that the cigars inside were fantastic. The run didn't last long: a few non-duty free retailers picked up the unsold stock, and flipped it as quick as they could. I've had a few of these cigars over the years and they've always been great. This is my last one, and today it burns.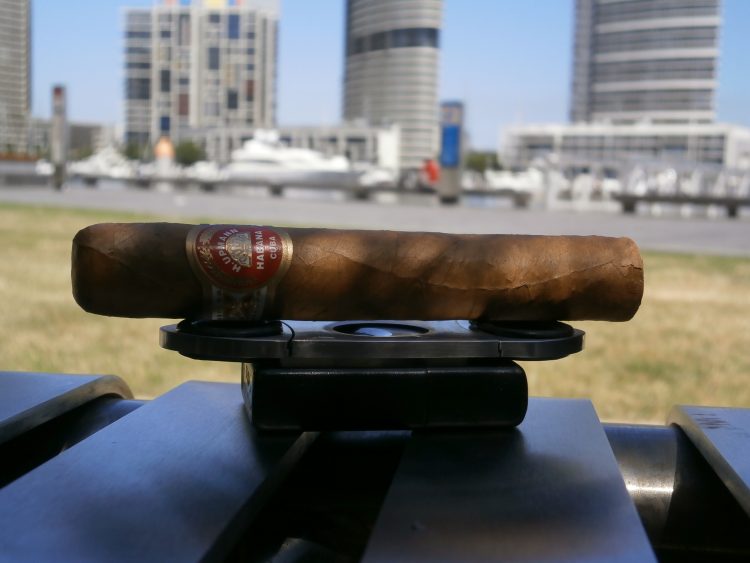 The first puffs are fantastic, light toasted, spicy tobacco with a grassy, herbal finish. After about puff number six it develops a sour note, but fortunately this quickly fades and the cigar comes back with the same herbal grassiness in a thicker, richer tobacco note.
It would have been around the time that the travel humidors started to run out that the Upmann robustos started to come in thick and fast: I'm not sure if it was the sudden success of the travel humidor that prompted it, or if the powers that be at Habanos S.A. simply decided that the Upmann robusto void remained sadly unfilled, but in 2011 there arrived the Royal Robusto as a La Casa del Habano exclusive, and then in 2012 there were two, a special 520 Aniversario Robusto, alongside that year's Edition Limitada, another Upmann Robusto.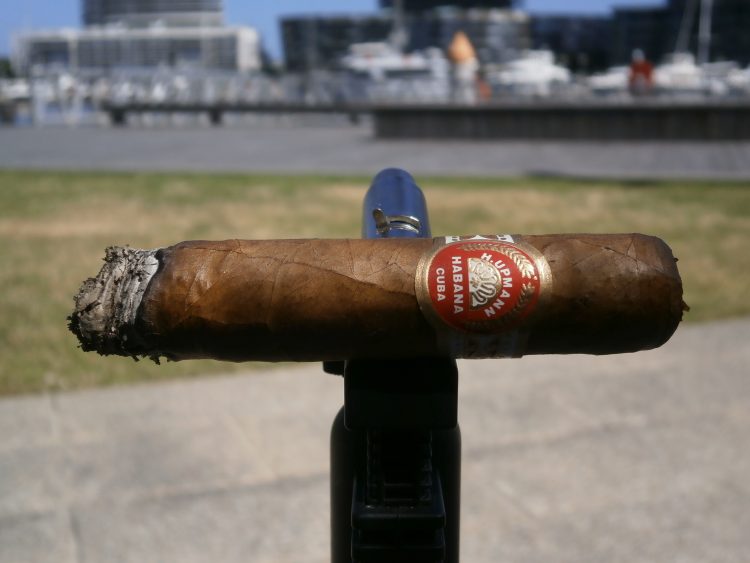 In the early days of the Harem I would rant ad nauseam about my distaste for gourmet beer; today, it seems that times have changed. Australia, along with the rest of the developed world, has been deep in the craft beer craze for years now, and the humble, mass-market corporate swill of my youth barely exists anymore. Once every six months or so I sip a Carlton Draft at a racetrack or stadium and am instantly struck by what tasteless, sour swill it is. Today I'm drinking a Leather Britches Brewery Hairy Helmet golden ale, a beer I'd never heard of until I saw it in the Bottle-O just now, and it somehow seemed the most appealing of their mid-priced imported beers. I don't know why I buy golden ales. The first one I ever had – from Two Birds Brewery, or something like that – was fantastic, but every one I've had since then has been a disappointment. This one is a beer for beer nerds:  too hoppy! It's bitter, with an undercurrent of compost heap. It doesn't pair so badly with the robusto though. The bitterness of the hops brings out the sweetness in the cigar, and it mixes with the herbal aftertaste quite nicely, and adds a depth to it.
That said, I do have to rinse my mouth out with water and puff out through the cigar to get a decent tasting note: light to mid tobacco, touch of cream, touch of spice, a little sweetness, and something of the aroma of an ancient hay wain.
The beer might have been a mistake, as more than anything else right now I need a bathroom. As a ten year old in red China, I remember vividly what constituted a public toilet at that time: a cinder block hut containing a row of faeces caked concrete holes that drained (by the power of gravity alone) into an open cesspool behind the structure. Periodically, the local peasantry would visit the pool and shovel its contents into wheelbarrows to dump on the nearby fields. I took one look and said "never again." (I also refused to eat any more Chinese watermelons). For two years I held it from early morning until late evening every single day, and in the process I developed a bladder so strong that in six years of high school I visited the bathrooms only twice: once to hang posters for my ill-fated student body presidential campaign (more on that later), and once as a quiet place to replace the photograph of an honoured famous old boy with one of our more infamous alumni, mass murderer Julian Knight, as an end of year prank. Those days are long passed, however, and like a football left too long in the sun, my bladder has withered, and half a litre of beer is now too much for it.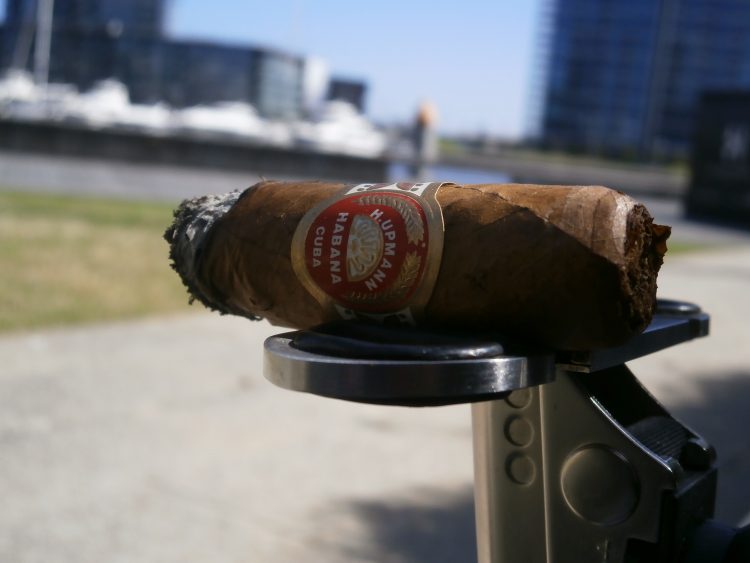 With a bit over an inch to go the cigar has thickened up a little, heavy tobacco now, with still a slightly sour note. It ends well. Not bitter, but sour on the back palette. Rich raw tobacco. A touch of charred whisky barrel. This was not, unfortunately, the best of travel humidor robusto that I've ever had, but still, the sky is blue, the sun is warm, and the beer is cold. A boy can't complain too much, at least not after he finds a bathroom.
Upmann Travel Humidor Robusto: better than the Petit Corona, not as good as the Magnum 48.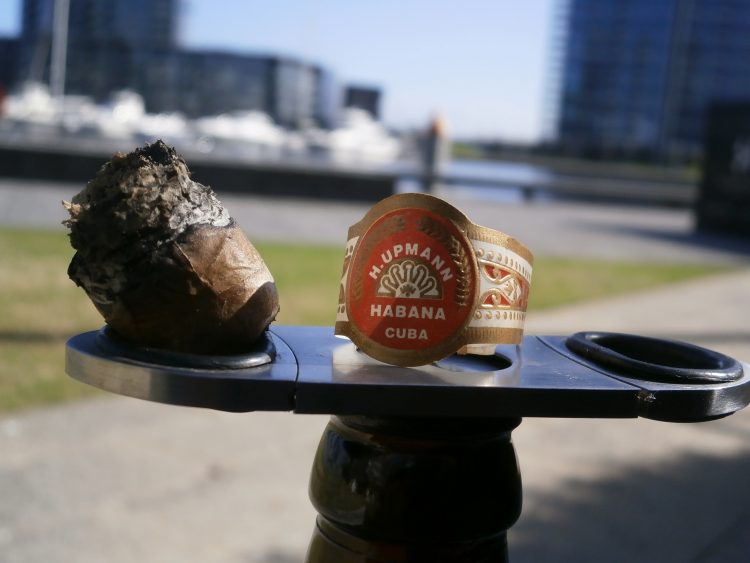 H. Upmann Travel Humidor Robusto Duty Free Exclusivo 2007 on the Cuban Cigar Website.