In 2003, when the Hoyo de Monterrey Piramide came into this life, the Edición Limitada program had yet to fully find its feet. Habanos was still releasing five EL cigars a year, one from each of the big marques, and none from the 2003 cohort are remembered especially fondly. The stand out is the Cohiba Double Corona, a cigar for which I have a very soft spot indeed, but even that is deeply overshadowed by the 2004 Sublime when people reminisce about the Cohiba limiteds of yesteryear.
The Hoyo de Monterrey Piramide I have with me today has been badly abused, having spent several weeks rattling around in the bottom of my day-bag, unloved and unhumidified. As a result, it is a bit on the dry side. The wrapper crackles when I roll it between my fingers. Lit, the initial notes are spicy; hay, with a dusty mushroom scent underneath, and most of all tobacco.
As I moved from my mid-twenties into my late-twenties, one by one the great bachelors started to disappear. Where once my weekends had runneth over with parties and card nights and trips to the dog-track, now, more and more, they stood empty. Where once a text sent into the ether on a Saturday night would have immediately discovered a brace of good-ol'-boys at a nearby bar, all delighted to welcome me amongst their number, now any such plea would come back two days later with "sorry mate, fell asleep early," or "was at dinner with my wife's family. Hope you had fun."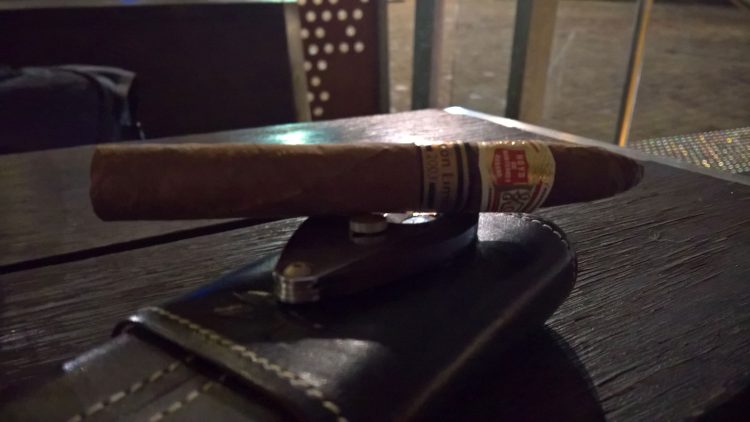 And so it came to pass that by my thirtieth birthday I found myself with just a single bachelor friend left. T. Rex and I went back fifteen years, although we'd only been friends for ten. For the first three years I outright hated him. He grew on me through years four and five, before becoming a firm friend around the start of year six. T. Rex was an acquired taste, but also, he'd improved with age.
For the most part T. Rex's problem was that he wasn't great at reading a room. When a joke had run its course and everyone had finished laughing, T. Rex would always throw out one more zinger. Other times he'd make a crack that referenced some obscure piece of knowledge, and insist on explaining it at length. There were some landmine subjects that you needed to learn to avoid at all costs with T. Rex, because at the slightest whiff of a segue, he would deliver an insufferable lecture on them (European royal bloodlines were a particular favourite, but there were many, many others). I would get a lot of complaints about him when I invited him to parties.
By the end of my twenties though, T. Rex had sanded most of the corners off his obnoxiousness. Over the preceding half-decade, he had been on a perpetual self-improvement kick. He'd taken intonation lessons to liven up his monotone voice. Singing lessons had given him a karaoke setlist (mostly Chris Isaak, but it was something). He'd been to pick-up classes, and was very good at walking up to girls and saying some stupid shit and then turning that into a conversation. He was able to take them home more often that you'd expect. He was still obsessive and weird, and his room reading still wasn't great, but he'd learned to go light on the royal bloodlines.
My thirtieth birthday party was sparsely attended, with most of the invitees texting in a last-minute excuse about kids been sick or having had "a hell of a day." Amidst the rubble, T. Rex and I struck a deal. From now on, there would be no more Saturday nights wasted hanging around our bachelor pads. The great fear of every bachelor, that a routine slip-and-fall will lead to a lonely death and partial consumption by one's housecat, would be eliminated for one night a week. We had a standing date for Saturday Night Bullshit.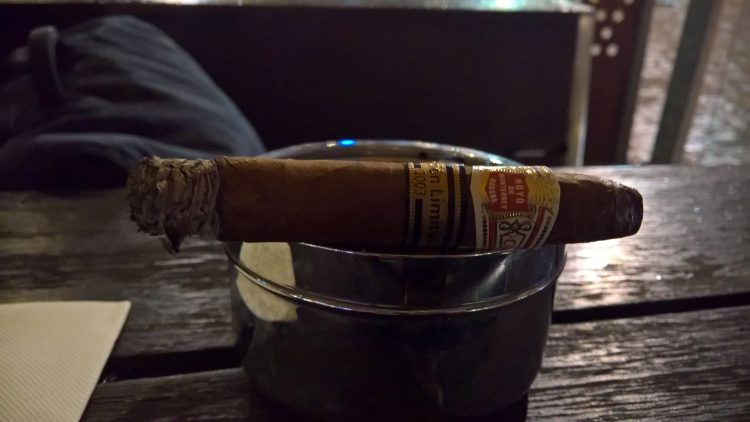 Halfway through and the Petite Piramide has mellowed out to nothing. If I stoke the coal and blow the smoke out through my nose I can get a slight hit of tobacco spice, but in the normal course of things there is almost no flavour at all. A slight butteriness on the aftertaste.
It didn't take long for Saturday evenings to settle into a familiar routine. T. Rex and I would meet at my apartment around eight, wearing tuxedos. We would make ourselves at least three drinks from The Savoy Cocktail Book; classic cocktails, from an age before Midori, when drinks were mostly a question of whether you wanted sweet or dry vermouth in your gin. By about nine thirty we would be ready for some dinner, and would head to a restaurant where the staff, already starting to relax as their last customers finished their desserts, would roll their eyes as we strode through the door. "Table for two!"
After the restaurant, we would head to a bar or two. We liked the karaoke bars, most of which didn't get busy until later in the evening, so we could get in a song or two without too long a wait. Sometimes we'd try a whisky bar, or whatever new cocktail place had come to our attention. It didn't matter much. We were just killing time until midnight and last drinks at The Columbia Club.
In Melbourne, everybody knows that the coolest bars are found down alleyways, and The Columbia was down an alley off an alley. It was standing room only, capacity of ten. The staff were always quick to let you know that it was a classic cocktail bar, in the tradition of the 1920s. They didn't sell vodka, they didn't sell beer, there was no tequila, and you couldn't have an anything-and-coke. There was a short menu of the usuals – Old Fashioned, Manhattan, Negroni, Aviation – but once you'd been there a few times you would generally just tell the bartender how you were feeling and they'd make something up for you. Drinks started at $22.
We became fixtures at the place: the guys in the suits who come around midnight. After two months we were exchanging knowing smirks with the bartenders whenever a drunk winced through the Americano they'd given him after denying his request for a rum and coke. After six months or so we were allowed to remain for a little while after closing for a couple of last amari on the house. After a year the bartenders would invite us out to a hospo bar afterwards, the kind of place that doesn't really get started until bartenders and waitstaff get off work at 3:00am, and where the people would give us puzzled looks of semi-recognition.
Over three years and $15,000 in bar-tabs, T. Rex and I outlived many generations of Columbia bartenders, but as they worked in pairs there was always someone to let the new guy know that we were alright. The first to leave was Andre, a soft-spoken Spanish giant. Next was Henry, a hospitality lifer, who would tell us more than we wanted to know about his struggles with his battle-axe ex-wife, and who eventually left to open a bar even cooler than The Columbia Club (down two alleyways and up a fire-escape). Elsa was a boyish lesbian, who invited us to her art exhibition of nude self-portraits, modelled after ancient Greek athletic paintings, and showing off her impressive musculature. Florence was twenty, and filled with the radiant energy of the newly adult. She only lasted at the bar a few months, but after her departure she invited herself to my home one night, showing up at 11pm on a Wednesday. Together we shared at least twelve drinks, and she talked a lot about her boyfriend, before going home, apparently with no other intentions, an incident that still perplexes me to this day. Longest lasting of all was Rudy, Germain perfectionist, who introduced us to the Last Word and much else besides.
We were the most regular of regulars, and then we skipped a couple of weeks. I had a wedding, T. Rex had a family thing, and when we came back there were two guys behind the bar we had never seen before. "Good evening sirs, have you been here before? We're just about to call last drinks. Do you know what a classic cocktail is?"
With that, the magic was gone. We'd spent thousands of dollars and endured a lot of hangovers, but in the end we were just two wankers in overstuffed monkey suits. The next week I told T. Rex I was busy while I stayed home, read for a while and went to bed early. The week after was the same, and the week after that. The week after that he stopped calling.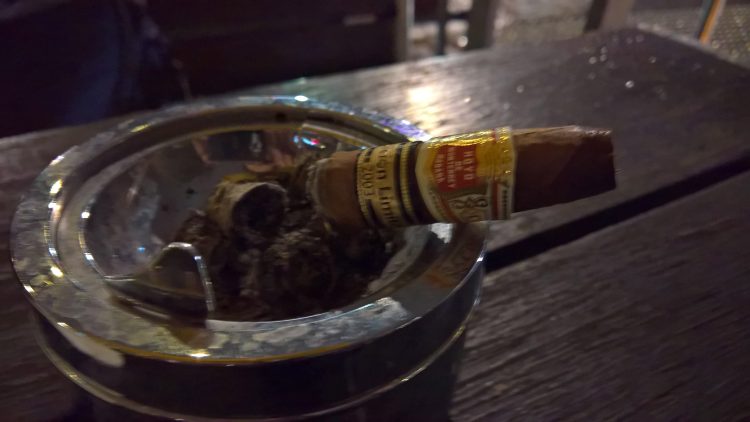 The bands come off the Petit Piramide. The tobacco level is still very light, with a slight vegetal taste, mild tannins, cedar, not much else. Put delicately, the cigar is delicate. A more forthright man might say it was flavourless.
I saw T. Rex just one more time after the end of the Bullshit. It was some years later, and I found myself in a karaoke bar we had been together from time to time. He was seated the corner with half-a-dozen Chinese people, drinking whiskey and green-tea. He wore a salmon pink dinner jacket that I remembered from when it was an immaculately tailored garment worn by a man at his wrestling weight; today he bulged out of it, the sleeves tight around the shoulders, and a roll of white bellyfat visible where his shirt buttons buckled open. Clinging to his side was what I took to be his new girlfriend, her face as flat and broad as the Yangtze floodplain she had so recently departed. I watched him for a while. He didn't seem to see me. For the most part he just started vacantly in to the middle distance, his expression only interrupted by a grimace every time his girl shouted mandarin into his ear. The closest he came to an emotion was when she tried to feed him cake from a spoon. "No!" He snapped at her. "Too many carbs!"
When his song finally came on, he took the stage and belted it out with the same passion he always had, while his girlfriend vogued behind him, her friends yelling at her to pose for a photo. Finally, he acknowledged her presence, looking right at her as he howled the chorus. "What a wicked game you play" he sang. "To make me feel this way."
As he left the stage I approached him, and we chatted for a minute. "Nice girl," I said "been together long?"
"Oh, six months or so. She's actually going back to China next week… her visa ran out. I'm going to bring her back on the spouse ticket though… just need a couple of months to sort out the paperwork."
"Oh, congrats man. Another one bites the dust. Last of the great bachelors."
He smiled a vague sort of smile and went back to his table.
A few months later word arrived that T. Rex had passed. He'd slipped while carrying some glassware down the stairs, and bled out on the living room floor. They didn't find him for more than a week. No word on the housecat.
In 2018 the Hoyo Petite Piramide is probably dead. When great cigars sail beyond the sunset – think an old Lanceros or 1492 – they can become light and delicate. With the tar and bitterness of the tobacco all gone, they reveal new and complex flavours; milk, vanilla, egg white, and honey; notes that would be drowned out in a younger cigar. When lesser puros make the same journey, they can be flat and unpleasant, with ash, old newspaper, and musty attic notes. The Petite Piramide falls somewhere in-between. It's not unpleasant, but there's not a lot too it. Smoke 'em if you got 'em. They aint getting any younger.
Still better than an Epicure No. 1.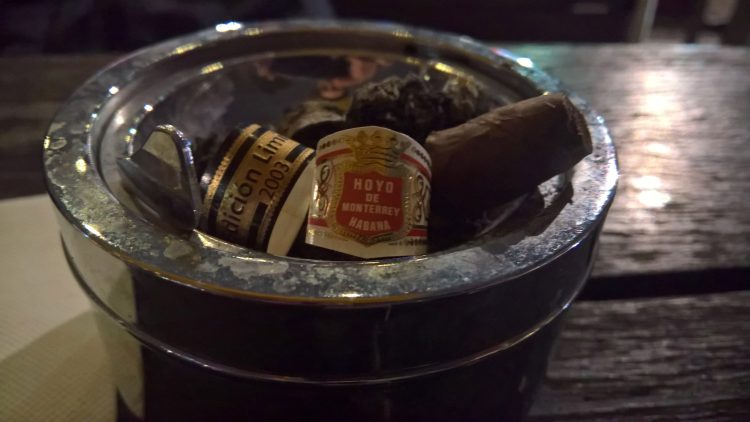 Hoyo de Monterrey Piramide Edición Limitada 2003 on the Cuban Cigar Website