In the early days of The Harem I used to smoke everything; the raison d'etre of this thing was that my humidor had become so clogged with holy grail unsmokable smokes that I figured that if I documented their combustion it would at least make the act of smoking them somewhat less wasteful. As time has gone on, I've become a much more serious collector of rare Cuban leaf, and there is plenty that was burnt in those early years that I wish I could recover.
The cigar on the stand today is about as precious as they come: a Robusto Especial from the 1996 Cohiba 30th anniversary humidor. They talk today of old Cohiba limiteds like the '06 Piramid and the Sublime being $200 cigars. Around 200,000 of each of those were produced, and they were generally available to anyone anywhere. Two-and-a-quarter thousand Robusto Especiales were rolled, and they were sold in only 45 boxes worldwide. By some reports, twenty-five percent of them were smoked by two individuals in the early 2000s.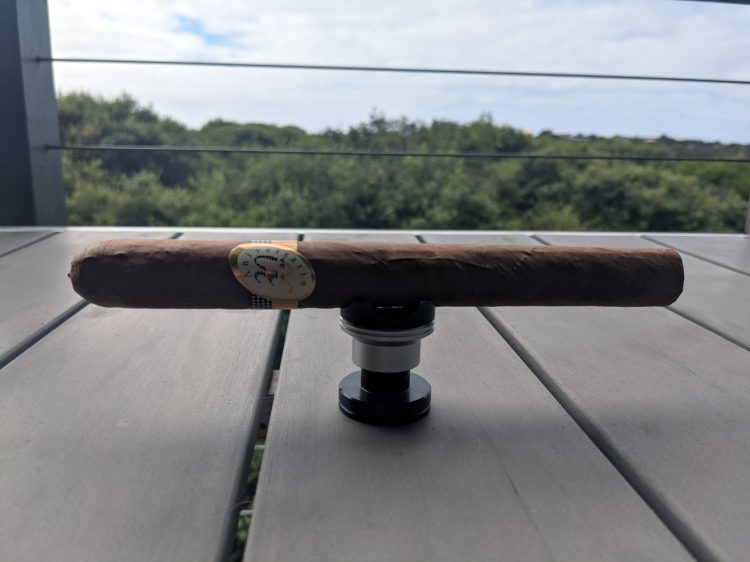 It's as nice looking a cigar as can be imagined. The wrapper is smooth and thin. The rat tail is a short nub, the appendix knocked off at some point during the decade it has spent in the 'exotic singles' drawer of my humidor. A tip for rinsers: once I rinsed a Trinidad that had similarly lost its tail, and the little hole at the tip filled with water and gave me a shot of tobacco juice with each puff for the first ten minutes. It's not an experience I'd care to repeat. I take special care to keep the water off the end of this one.
The draw is a bit looser than I'd really prefer. It begins very subtly, with slightly burnt toast, roasted almonds and walnuts.
I'm smoking on the deck at the Groom compound on a day that is frankly borderline for the activity. It is April, the last days of summer. Overcast. Although it is a still day, there is a slight movement to the air that is keeping the coal hotter than it should be for a cigar like this. It really is a cigar that calls for a smoking lounge.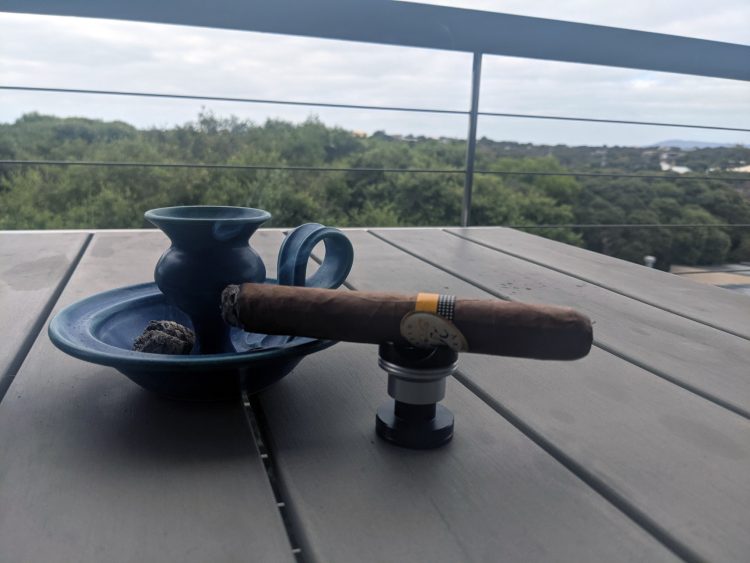 The midpoint is still smooth and pleasant; dry, lightly grassy. Not a lot to it. Perhaps it's overaged. Perhaps it's fake. Like most of my rare cigars, this one was a gift, years ago, from a prolific collector. Some of my benefactors are the kind of people who buy humidors like this firsthand, and I would never think to question the authenticity of their cigars. The one who gave me this was the kind who would have bought them as singles.
If you were to find the 50 Aniversario–this cigar's modern equivalent–being sold as singles, anyone with any healthy scepticism would write it off as a fake. Fakes these days are too good, and prices are too high, for these humidors to ever be split up. The buyers are either buying them to flip, and won't ever remove the cigars from their cellophane, or they're buying them to smoke, and it would never cross their mind to sell them. This cigar has been with me near to fifteen years, however, and those days were a more civilized age. The prices of Cohiba Anniversary humidors back then ran in the four figures, and cooperatives buying them to split were not unheard of, nor were retailers breaking them down to increase their margins.
Still, it wouldn't be the first fake to appear in the harem. Two of the best reviews I've ever given, the Partagás 150 and 155, were likely such. Years after I obtained them it emerged that a well-respected and prolific collector had been selling fakes of those cigars–along with Cuban Davidoff, Dunhill, and other exotics–to other well-respected and prolific collectors. It was never clear if he was the mastermind, or just a dupe himself, but he was publicly accused based on subtle flaws in the bands that distinguished his cigars as counterfeit. How long it had gone on, how many cigars had been involved, and the true source remain mysteries. No confession was forthcoming. After some protestations of innocence, the collector disappeared.
I didn't acquire mine from the man in question, but by the time the fraud came to light they had thoroughly infiltrated the humidors of many collectors with impeccable reputations. The bands on the cigars I reviewed exhibited the same flaws that the accusations were based on. I wasn't the only patsy. The flawed bands also feature in well-known books and on cigars reviewed by highly reputable publications.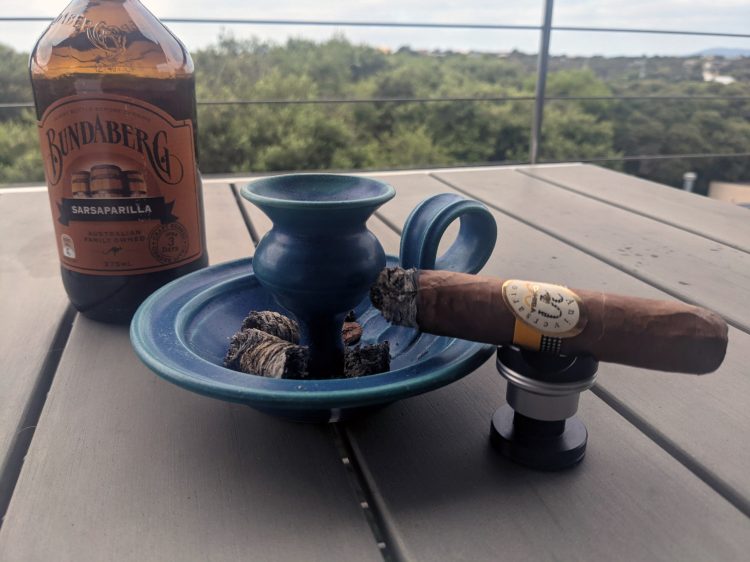 In the final third, the cigar heats up to a medium tobacco and really comes alive. Up until now there hasn't been enough to it to really grab my attention, but in the final third it will not be denied. There is no hint of tar which is miraculous in a big boy cigar like this. There is a cinnamon sweetness to it, along with wood and grass and a herbal tang, and in the aftertaste a strong espresso coffee note. Rich, complex tobacco of the highest quality. Delicious.
There is perhaps, an advantage to the fakes of yesteryear: the stelar reviews I gave those cigars can only be attributed to cognitive bias. I thought I was smoking a legendary cigar, so that's what I found. These days, I expect a fake as much as a legend. Whatever I find is hopefully what's really there.
And the Robusto Especial is legendary. I take it until I burn my fingers, and when it extinguishes itself with a centimetre to go, I touch it up again. If this is fake, who cares.
I wonder if at twenty-four the Robusto Especial is overaged. The first two of its two-and-a-half-hours were light and subtle, with nothing bad, but nothing really to set itself apart. In the final thirty minutes it was as good a cigar as I have ever smoked. Perhaps ten years ago the whole thing would have been as good. The greatness of the DC and the Robusto Supremos is more in-your-face. Had I tossed this two inches earlier I would have put it down as unremarkable. Had I picked up someone else's discarded cigar at the same point I would have rated it a 100 point masterpiece.
As always, the question of price dominates: is it worth $2,000 or more? Probably not. Would I take it over the Robusto Supremos and the DC? Probably. I don't regret smoking it, but I certainly wish I had another.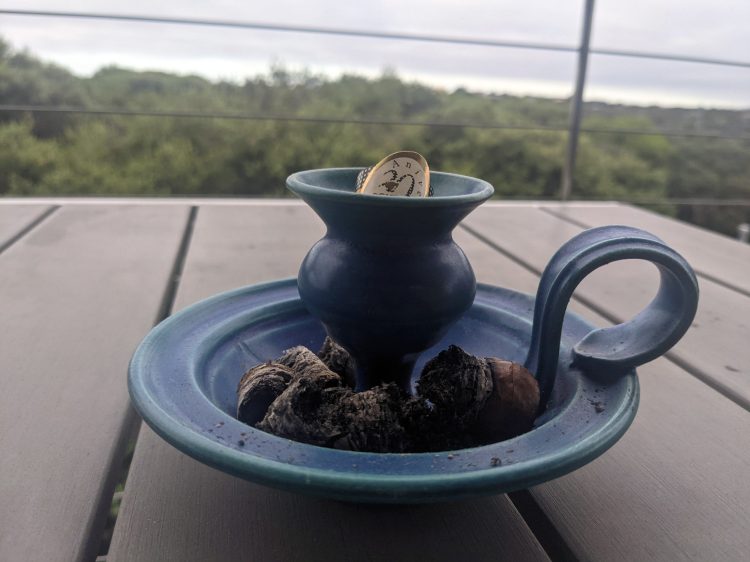 Cohiba Robusto Especial 30 Aniversario Humidor on the Cuban Cigar Website.