On a long enough timeline everything becomes exotic. We've had discontinued cigars on The Harem before, but never a discontinued brand. La Corona was once a fine house, producing the very best in premium cigars; once in a while you see a cigar butt half smoked by Winston Churchill go to auction, and when you do it's usually a La Corona. Romeo may get the credit, but La Corona is what the big man really smoked. The La Corona factory is no longer in the same colonial building that was built in 1904 to house their production, but the modern incarnation still bears the old name, and is still the largest factory in Cuba. The once proud marque of La Corona though, is done. It has been done since 1979. When the brand reappeared in the 1990s it was a shadow of its former self, nine cellophane wrapped machine made small cigars, little better than the Belinda of today. It was gone within a decade. Today's dusky beauty is one from this era, a La Corona Panetelas. On a long enough timeline everything becomes exotic.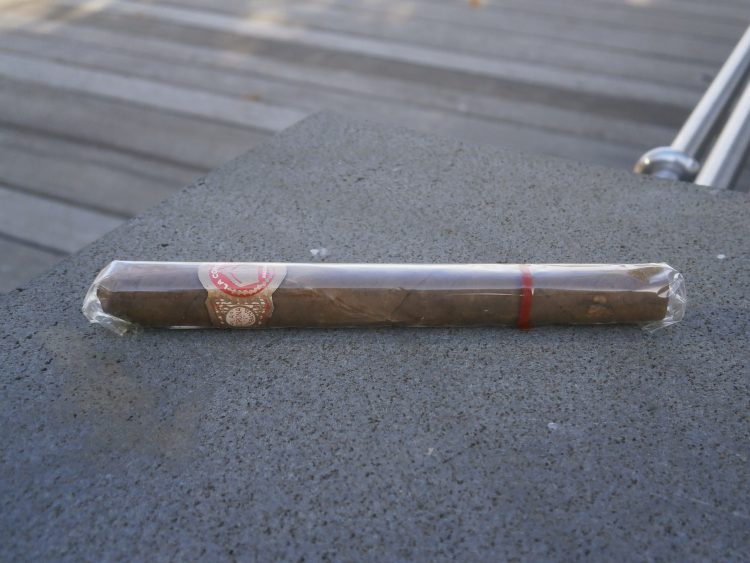 I'm not sure that I've ever smoked a plastic wrapped cigar before – it takes me a minute to figure out that the red band is a pull tab that separates the plastic into halves. The wrapper is brutal, a mess of spots and lumps, peaks and valleys. The tip is nice though, a hot bullet, almost too conical to open with my nail. I get there in the end. Once lit it begins a little tannic, with a lot more force than you'd expect from a quarter century old machine made. Min Ron Nee describes these cigars as very mild, and maybe they were in 1995, but in 2015 this one has some guts.
As a youth I identified a lot with the Tom Cruise character in Risky Business:  I was young and timid, my parents had a great house and went on trips a lot, and I never really saw any huge moral problem with hiring sharp featured prostitutes with legs that went all the way down to the floor. As time went by things changed: I did a business degree, developed a lot of unrealised aspirations, and formed close bonds with older mentors who would ultimately betray me. I also had a penchant for poetry. In short, I became Tom Cruise from Cocktail. There was also a period when I was really into volleyball, but the less said about that the better.
There is a point to all my '80s movie jokes, which is that in addition to being a world class cigar aficionado, a decent computer programmer, and a mediocre author of bawdy anecdotes, I'm also pretty good at mixing drinks; in fact, I have one with me today in the form of a sports bottle full of ice and Savoy Milk Punch No. 1. True fact: in the novel that Cocktail is based off (also named Cocktail), the two main characters bartend while they aspire to be novelists, not plutocrats. All that Wall Street business stuff was added just because it was the '80s and making bank was popular.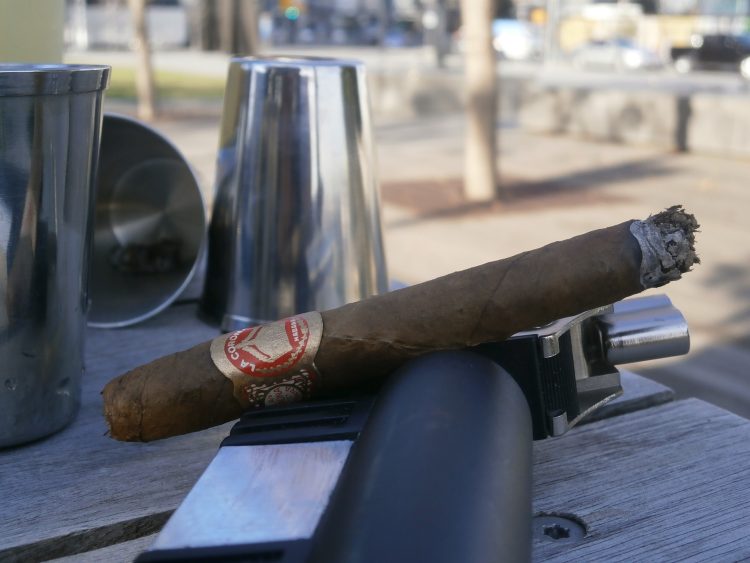 I think I'm starting to understand what they mean when they refer to the '90s La Corona cigars as very mild, because the tobacco flavour and the level of nicotine are really both very light. That said, the amount of flavour, the pure volume of tastebuds that are stimulated and the length that flavour persists on the palette is anything but. There is a strong kick of oak and fruit, the first mouthful of cheap white wine.  It is neither pleasant nor unpleasant, but it is very distinct and anything but mild. I can feel it coating my mouth in a thin layer of viscous film.
About halfway through the cigar goes through as drastic and sudden a flavour change as I've ever encountered. The white wine oak disappears, leaving behind it a mild creamy coffee. Somewhere behind that is a hint of tobacco, the first I've seen in this cigar.
The Savoy Cocktail Book is one of the quintessential old cocktail books, first emerging as a manual for the bartenders at the Savoy Hotel in London's American Bar in the 1920s, and being periodically supplemented and rereleased since then. It contains over a thousand recipes, although almost all of them are slight variations on a martini. In the very back there is a section on punches, and one of those is the Milk Punch No. 1.
The idea of a milk punch is that you take a bunch of fruit, herbs, spices, and sugar and leave it to marinate in brandy and rum for a few days. Once sufficiently infused you strain out the chunks and add lemon juice and lightly heated milk. When the milk touches the booze and the citrus it curdles, and the curdling process acts as a kind of filter, pulling the impurities out of the booze. Several days of straining follow, but once you have successfully filtered the cheese out you are left with a clear, glowing punch. It's hard to say how alcoholic it is: the extracted cheese smells like somebody spilled a bottle of metho, while the punch tastes like a child's breakfast drink, but half a bottle is definitely enough to noticeably lift my spirits.
I made this batch a few days ago: four litres for a party that only ten people attended. My Risky Business days are long behind me. Concealed in my sports flask it should remain undetected unless law enforcement do a specific gravity test. Through the bulk of the cigar the mild pineapple flavour has complimented but not overpowered the tobacco's flavour. During the bitter final third it is sufficient to take the edge off the tar.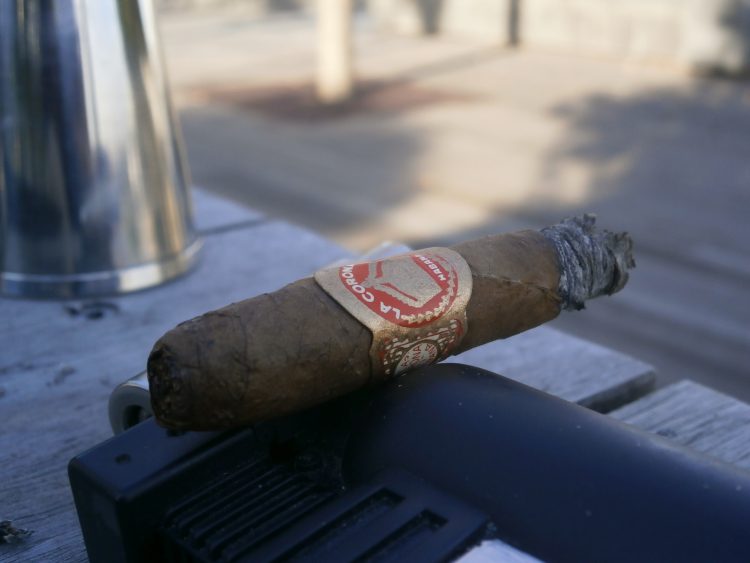 The La Corona finishes a little bitter, but is none the weaker for it. Flavoursome and punchy, this delivers far more than you would expect from a twenty year old, low cost machine made. For what it's worth, I would say that the La Corona is better than the Quintero Favoritos, the closest comparable modern cigar that has graced these pages. If you have the means I highly recommend you pick one up.