It's as good a winter's day as a boy could ask for – sunny, still and crisp – but even the finest winter's day is still not especially pleasant for being outdoors. My fingers feel the bite whenever they emerge from my leather greatcoat to tap at my laptop keyboard, and will doubtless soon numb up holding a cigar.
The smoke of the moment is the 2005 Edición Limitada from Romeo y Julieta, a Petit Pirámides. It was one of the omissions from my recent Romeo Roundup – fortunately a kindly soul noticed the absence and sent a couple over. Many thanks. It's a nice looking little pyramid wearing the short-lived all-gold Romeo band. As always when I encounter one of these bands, the reason they only lasted a couple of years is obvious: the printing is just appalling. It must be hard to prevent counterfeits when the genuine article looks like it was made by a high-schooler on work experience.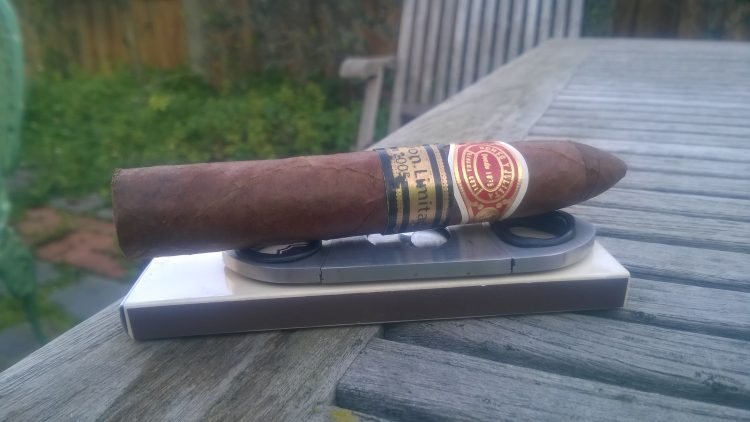 I set fire to the beast. The first notes are very sharp for something with over a decade on it, offering up a sour, tannic bite. I inhale through my nose and probe the flavour, finding a bit of sweet musk on the back palate. Within ten puffs the sourness leaves and the cigar settles down, bringing medium-strong tobacco notes with a creamy aftertaste. Not bad at all. It reminds me a bit of the Partagás Serie P No. 1, which I always liked.
Being outdoors in this chill, with numb fingers and nose, takes me back to a very specific time of life. An adult and a homeowner who holds a desk job, there is seldom any need for me to suffer through this kind of discomfort (I could even smoke indoors if I wanted, but I generally choose two hours in the cold over two weeks trying to get stale cigar smoke out of my drapes). Once upon a time, however, things were different. Once upon a time I was a teenage boy with a great passion for canoodling, and after school I had nowhere to slake my thirst but city parks.
Honestly, I think it added to it. Who could ever forget the sensation of making out with their high-school girlfriend in a park on a winter's day? With sweaty palms slipped inside blazers we would paw at one another. Cold backs and warm fronts! As we shifted position, her braces would sometimes knock against my teeth, and the tip of her nose would nuzzle my warm cheek, cold and damp like that of a Dalmatian puppy.
One particular instance stands out. Our usual bench for canoodling was deep out of view, a little nook in the more overgrown part of the park, but on this particular day it had been denied us by some old men chatting. Our second favourite, by the pond, was also occupied, and so we had wound up on the very edge of the park, ten meters from the road. We had been going at it for some time – probably about an hour and a half, as darkness had fallen, but I wasn't yet in breach of my 6:30 curfew, when we both became aware of a light being shone on us. The cop cleared his throat. "You been here long?" he asked. "Ah, yeah… an hour or so. What's the problem?"
"Did you see what happened when the car got stolen over here?"
I looked at him blankly, and he cast his torchlight on an empty car-space filled with broken safety glass, not more than fifteen meters from our bench.
"A car was stolen here sometime in the last half hour, you didn't see or hear anything?"
My girl and I exchanged glances.
"No, sorry. We were busy." We giggled.
The cop rolled his eyes and stomped off. "Bloody kids."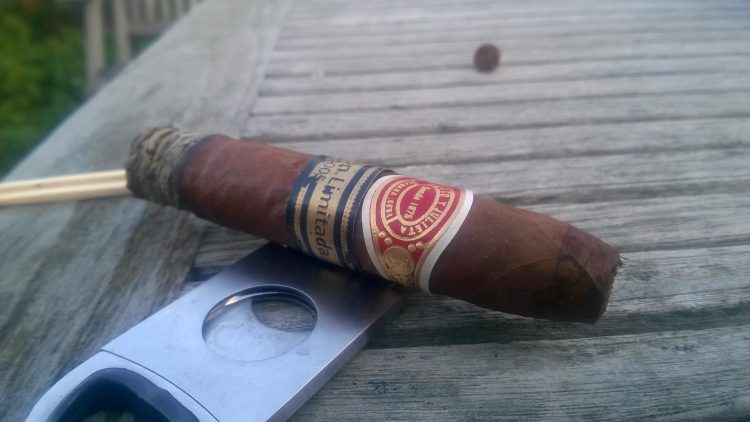 By the midpoint the cigar has developed very strong espresso coffee notes, with a bit of old wallet mixed in – there is distinct leather, but also a slight copper, and sweat, and a little bit of banknote. As I progress into the last inch and a half it gets dirty, the flavour of wet earth and bitumen.
As it burns down, the asphalt element only grows, and it ends as a bitter little tar bomb. A slight citric tang is in there, which gives it something reminiscent of Campari. Even with the tar, the coffee note is still very strong. The ash in the final inch is very white for some reason, where the first two thirds were a dirty grey. All throughout the cigar has had a fantastic burn. I lit it initially with a match, and I didn't do the best job of it, leaving an unblackened portion around the edge. Within moments it evened up, and was razor straight from then until I burnt my fingers, without a single touch up or corrective measure. It also held its ash very well. Total smoking time was around 90 minutes.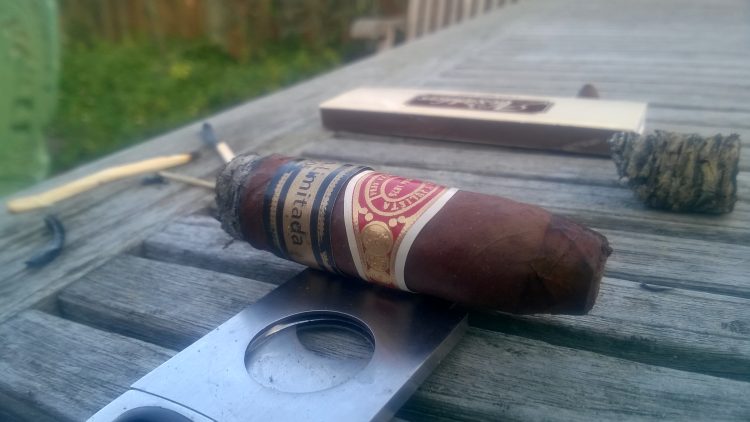 A good cigar sets a time and place for itself, and this one needs to be smoked at 10:00am with a coffee, preferably in café in a village in the South of France. It is a quintessential morning cigar, a flavourful little bomb of coffee and tobacco to start the day. Yes, there is a bit of tar, and yes, it will leave a bad taste in your mouth all day, but if you're the kind of person who smokes before lunch you're probably used to that. A decade old exotic might not be the most normal thing to fill the morning cigar void, but if you have that void, and you have the means, then this is the smoke for you.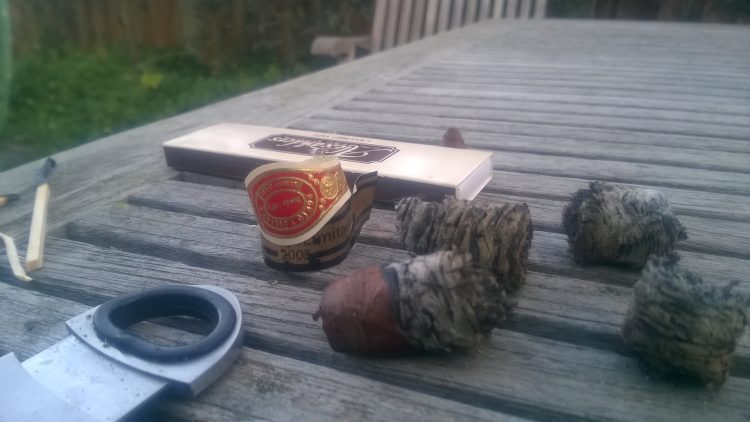 Romeo y Julieta Petit Piramides Edición Limitada 2005 on the Cuban Cigar Website