Today's cigar is a closed-foot custom, about a Gordito size. It was a gift, and beyond what you can tell by looking at it, I know absolutely nothing about it. It came with a bunch of other cigars and no commentary. It has a nice, dark, oily wrapper. I pick the foot and take a dry inhale. The draw is very loose. Lit, it begins nicely. Sweet cream and coca. Touch of honey.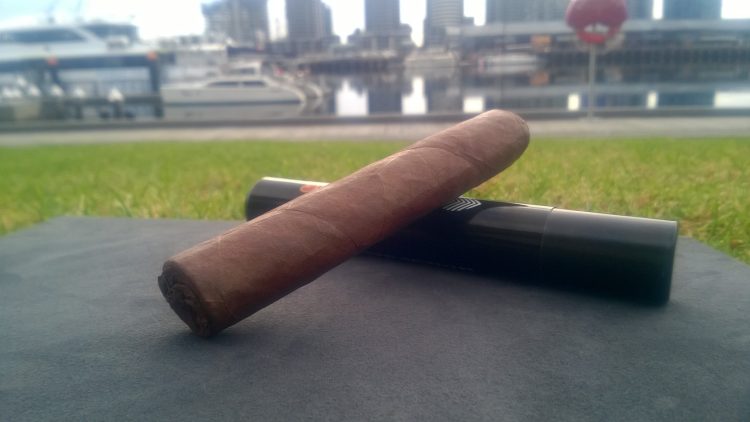 As a teenager, I never had a close relationship with music. I don't think pop music was forbidden in the house I grew up in, but it wasn't around very often. Certainly, I never stormed off to my room to blare rock and roll while my dad banged on the door, yelling at me to turn that racket down. My parents listened exclusively to news radio, and commercial television was forbidden on all but the rarest of occasions. There was a CD player in the lounge room, but as far as I know the only CD it ever played was a Best of The Seekers compilation my mother had, and that only on Christmas. I guess my older sister must have listened to at least some music, because she had a Radiohead poster in her room, but if she did she did it with headphones. People occasionally ask my what the first CD I ever bought was, and I can honestly say that I haven't bought one yet.
In my late teens I developed a love of film, and through that I came to at least appreciate the cinematic quality that music can add to life. In my twenties, once I got a little disposable income, I started to go concerts. Without a strong relationship with any particular genre, I would go to anything that promised a spectacular or visceral experience. I went to KISS a lot of times. To AC/DC. Meatloaf. The Flaming Lips. Gorillaz. I saw Pubic Enemy three times at the Corner Hotel, a tiny, dank little room, where it feels good to be drenched in the sweat of a few hundred other humans while Flava Flav spouts nonsense. I saw Ennio Morricone conduct an orchestra. And naturally, in 2012 when Prince came to town, I bought a ticket. Matter of fact, I bought two.
My tickets were three weeks apart, on the first and last nights of the tour. I figured that if the first show wasn't any good, I could always scalp the second one. I didn't end up needing to. The first show was phenomenal.
The shows were in the round in a 15,000 seat stadium, on a stage shaped like Prince's love symbol, and the real takeaway for me was that this was my first time looking at a real musician. Prince was mostly playing the hits, but he has a lot of hits, and the set list seemed to change at his whim, the band well drilled enough to follow his cues. He was a great singer, with a voice that moves effortlessly between a deep bass growl and a shrill falsetto, but his real talent was in his guitar, and his amazing, uplifting solos. I've heard Prince describe his musical genre as "inspirational," and that's exactly what it was. I felt the funk songs in my crotch, and the ballads in my heart. I took the lovely Shortcake to the second show, and she literally fainted during Purple Rain.
There was one show in Melbourne on that tour that I missed. On a Monday night at 2am he played one of his illusive secret shows, just Prince and the band jamming for three hours to an audience of eighty in a dingy jazz club. The next morning I read the reviews with envy, and made a note to find the secret show if I was ever in the same city as Prince again.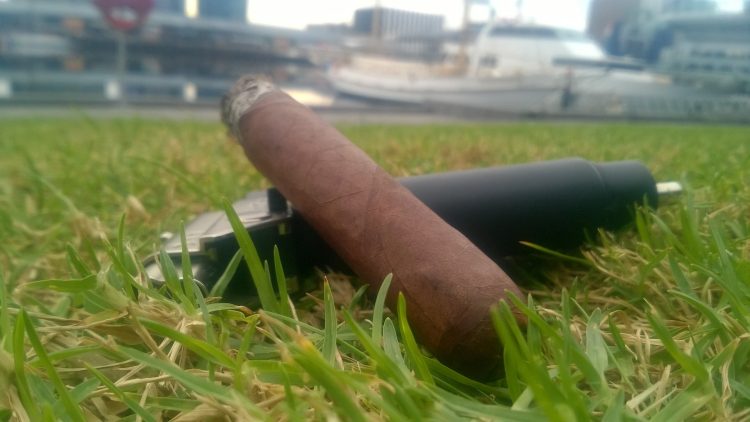 At the mid-point the custom cigar is dry, with flavours of sandy earth and straw. There is a strong cocoa element that reminds me of packaged cake mix, with the bite of dehydrated egg. It's a complex cigar, to be honest – no sooner have I tasted cake mix then it switches to a fresher, more tannic sting. It's pleasant enough.
In February of this year, Prince announced some shows in Australia. There wasn't a lot of build-up. Tickets were on sale a week after the announcement, the shows the week after. He was playing four shows over two nights in Melbourne, and the same in Sydney. As luck would have it would be in the right town for both. The venues were small concert halls, 2000 seats or less, and the shows billed as an intimate, special experience. No band. No lights. Not even a guitar. Just Prince, a piano, and a microphone. Ticket prices were pegged at $100, $200, and $400. I figured $200 would get me a pretty good seat. I could take Shortcake again.
The day tickets went on sale was chaos, with the typical server congestion. I reached the front of the queue a few times, but by the time I did all the $200 pairs of tickets were sold out (as it happened, 90% of the venue turned out to be at the $400 price point), and each new search sent me to the back of the line. By the time I had come to terms with going alone, the best available seat was a $400 one in row X, and I couldn't quite bring myself to do it.
As soon as Prince landed in Melbourne, I was all over him. I followed the Twitter feed of anyone with a slight association to Prince, or who might be in the loop of the Melbourne music scene. I spent my nights stalking the jazz bars and clubs on the lookout for a Purple light that might signal a secret show, and didn't go to bed before 4:00am. Alas, it seemed that the rigorous pace of this tour – four hours or more solo singing a night for two nights in a row – left no room for secret shows.
As I drove up to Sydney an announcement pinged on my phone. Due to popular demand, they had decided to do the Sydney Opera Hours shows in the round. Seats in the boxes to the side and rear of the stage were now available. From Wodonga to Gundagai I contemplated it, but decided I had no choice. It was a lot of money for two hours of entertainment, but I had been losing sleep over Prince for a week. By Jugiong I had a $400 charge on my credit card.
My seat was in the second row of the stage left box. Prince's piano, close enough that I could have easily thrown my wallet onto it, was lengthways on the stage. The people in the VIP row of the stalls were marginally closer, but seated at the piano he was facing me. I had the best seat in the house.
The set was all deep cuts, almost none of which I knew, but each one filled with pure, raw emotion, taking me back to the most brutal of my many heartbreaks, or to the ecstasy of new love. Prince's mastery of his art was awe inspiring, as was his vocal range, his ability to put so much into every note, his ease with the crowd, and his charisma. By the second encore my voice was among the 2000 screaming for more, our roar reverberating around incredible acoustics of the shell roof. On stage Prince giggled. "I've never felt so welcome in Australia in my life."
At midnight it was over and I was completely emotionally drained. My plan had been to get a cab the five kilometres or so back to the apartment, but in a Zen state I decided it was better to walk. I drifted through Saturday night, past the drunks and the scumbags, the strip clubs and the pimps and the thug cops. "On any other weekend that would be me" I thought to myself. "Why have I wasted my life on this garbage? Why haven't I dedicated it to truth and beauty?" I wondered. "How will I ever achieved the perfection of someone like Prince if my life is half over and I haven't even begun."
Two kilometres out it started to rain, but I didn't mind. I was a man of love now, and rain didn't bother me.
Davidé is the physical embodiment of a creature of hate. His body, army honed, is a hard mound of muscle and scar tissue. On his back he proudly wears a tattoo of a naked woman riding the Nagasaki bomb. Across his belly march the silhouettes of a company of storm troopers. He was sharing my apartment, and I had left him with the only key, so had to tap on the window to get let in. Shirtless, he opened the door, and contemplated me with his cold sneer, ready to launch into some rant or other. I embraced him.
"Peace be on you, brother" I said. "Peace be on you."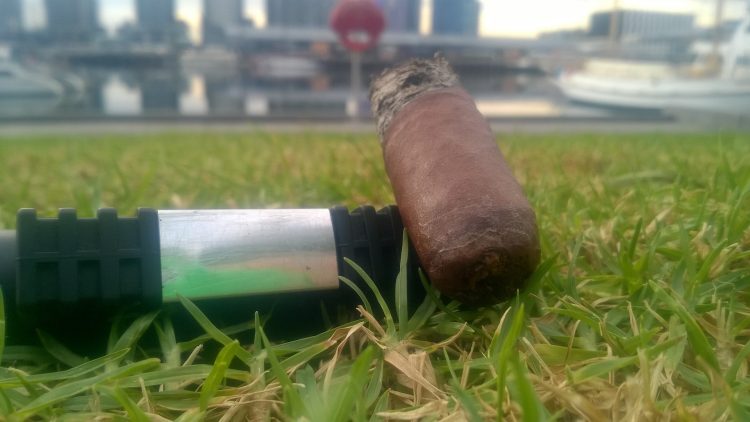 I keep waiting for the cigar to get bitter, as it has been loose the whole way down, and doesn't seem to be aged particularly long, so I would expect a hot mess of tar to be its final notes. Not so. The custom ends with a nice sweet cream and rich espresso. I'd recommend you pick one up, but I have no idea how you'd do such a thing.