I've smoked a Cohiba Sublime twice before in this life. The first was at an event in 2005, when they were still a new release and readily available. It was a four cigar eight wines kind of function, and nobody was paying too much attention to delicate tasting notes. The general consensus was that they were fine cigar, but nobody was using hushed tones to refer to them. Cohiba at that time were priced about twenty percent higher than other brands, and limited-edition pricing was about in line with regular production. The Sublimes were good cigars: the kind of thing you might save for an especially sunny afternoon.
The second occasion that I smoked a Sublime was in 2012. By then, their reputation as an all-time great was well established. When they could be found, which was not impossible, they were priced around twice the price of a Cohiba Espléndidos. At that point in life, I was still very firmly in the "everything over 52 ring is gutter-trash" camp, so I sneered at the Sublime, conceding only that it was "okay," in my smoking diary, and adding "but nowhere near as good as the DC."
In 2021, the Cohiba Sublime is a $250+ legend, and Dusky Beauties is a column that recently gave a positive review to a 58 ringer. I approach my third sublime with an open mind and anticipation of something truly special.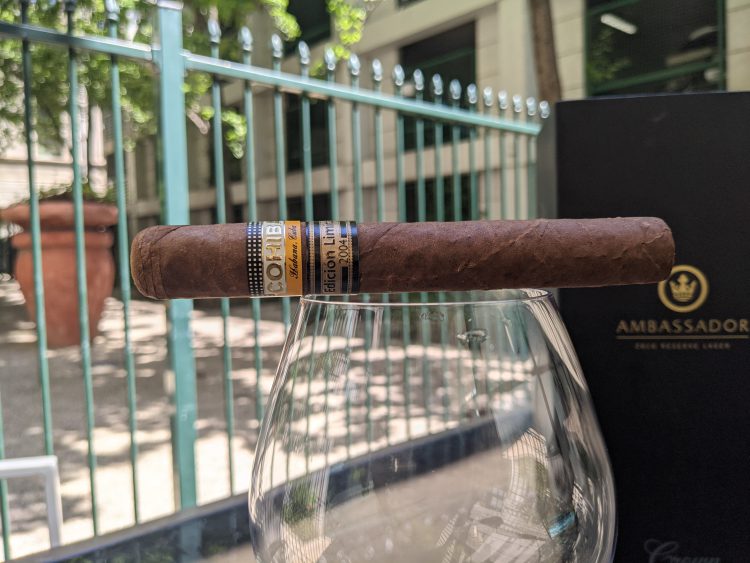 The cigar begins as well as it can be expected to. The draw is too loose for my taste, but in line with what a 54-ring gauge customer expects from their 'cigars.' The notes are smooth and spicy, with nutmeg and cinnamon. By half a centimetre in there is already some rum and raisin chocolate in the aftertaste.
In general, I don't believe much in beer with cigars. Davidé, whose taste is dubious in every field, insists on nothing but IPAs with his Henri Wintermans, but I have always found that even a hint of hops will overpower the palate with bitterness that amplifies only the worst aspects of tobacco. There is an exception to every rule, however, and I have had some enjoyment from sweeter beers, like the Hahn Millennium Ale, or my old friend Chimay Red. Thus, I am headed into the breach once more with today's beverage.
Crown Larger is generally regarded as swill by the sophisticated Australian beer drinker, but according to the marketing, its creation myth shares a lot with Cohiba's. Crown was first brewed in 1919, when no expense was spared in creating a beer to represent the pinnacle of what was possible from our young nation. It was to be consumed exclusively by Australian diplomats and their VIP guests. In 1954, in honour of the visit of our new Queen, Crown was made available to the public as the first premium beer sold in Australia. One wonders if in some dim corner of the Bundaberg warehouse they are bottling a true-blue equivalent of Isla de Tesoro.
In 2020, you generally find Crown only at 'posh' functions held in large venues that have a supplier deal with Carlton United Breweries: think a function centre at the casino or racetrack. The rumour is that CUB make their beer in giant tanks, and skim the top portion off into Crown bottles, the middle into VB and Carlton Draught, and the bottom into Melbourne Bitter. From the dregs, the brewers squeeze whatever liquid they can for Abbotsford Invalid Ale. The remaining silt is sold as Vegemite. When slaughtering a pig, a skilled butcher wastes only the squeal.
In 2008, Crown did make one genuine stab at a luxury product. The Crown Ambassador Reserve is (or was; they only did it for six years) an annual release of 10,000 numbered bottles, packed in a velvet box with a wax seal and all the trimmings. Mine is the 2010 batch, which brags, aside from its freshly picked Galaxy hops and general attention to detail, that it includes part of the 2008 and 2009 batches matured in French Oak barrels. The hangtag emphasises that the beer is made from strictly the first runnings, which makes me wonder if they are making a sly nod to the 'top of the barrel' legend. The copy also advises that the beer will continue to age in the bottle for up to ten years. It's as good a reason as any to consume it now. That and to flex on Davidé on Untappd.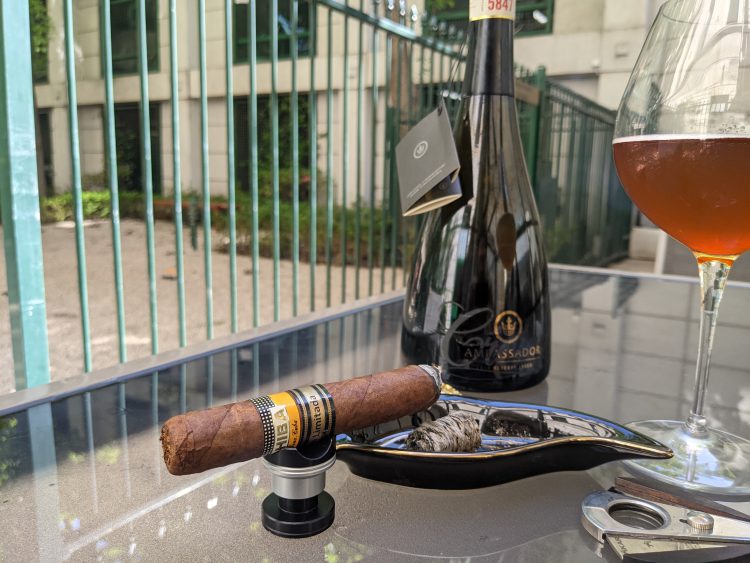 At the midpoint, the cigar is not doing so well, at least in comparison to the high bar it needs to clear. It is very smooth, but there is not a huge amount in there beyond a slightly dusty taste, some grassy notes, and dry straw. It's by no means unpleasant. There is no bitterness or tar or chemical twang. It would be a very nice casual smoke. But the performance falls well short of its legend (not to mention its pricetag).
In a similar vein, the Crown at ten years is a very nice, drinkable beer. It has a creamy mouthfeel and Christmas cake sweetness. There is a strong malt element, with the metallic tang that is reminiscent of the malt extract I would sometimes eat from the tin as a child. There is no hint of bitterness. There is nothing in it that I would normally associate with an expensive beer: it doesn't have overpowering hops, or high alcohol, or that rich heavy taste that makes you say "this is nice, but I don't want more than one." It's just a pleasantly sweet, creamy, mild beer. If these were on special at $45 a slab I would drink them every day. The Ambassador Reserve doesn't have a legend to live up to. Even serious beer drinkers have mostly never heard of it, and to those who have it's kind of a joke. It does have a price tag, though: $90 for a longneck, and assessed purely as a drink it isn't worth the money. As far as beers with cigars go, it is an excellent complement to the Cohiba Sublime.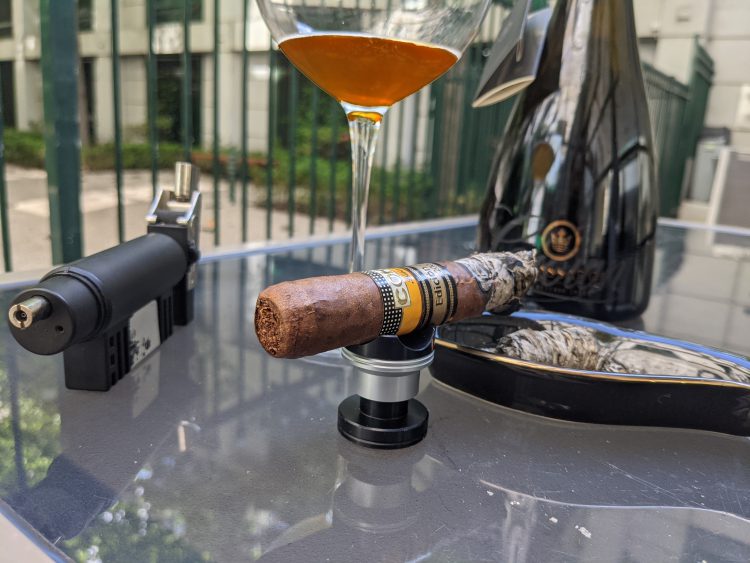 As I approach the bands, and just when I was starting to write the cigar off as "overaged," things start to liven up a bit, gaining a distinct peanut note. Some chocolate appears not long after (the dry, Hershey variety), which then thickens into coffee.
And then, sadly, it turns on me. In the final inch, the cigar gets bitter and ashy, with only a light fungus in the back palate to redeem it. Between puffs, I feel an urge to rinse and spit, which is not something that should ever be even a consideration with a super-premium cigar.
The Sublime was Cuba's first attempt at a 54 ring Pajero, and in the years that followed a great many more of that girth and thicker have been released. My theory is that in 2004, they hadn't quite perfected the art of an American style cigar. It's blended a bit too mild and the start and a bit to heavy at the end.
It's better than a Siglo II, but sadly falls short of everything else in this horizontal.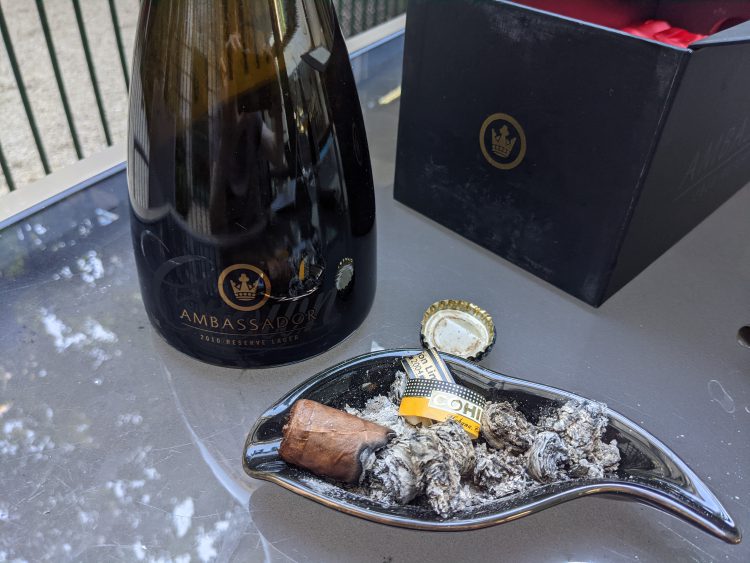 Cohiba Sublimes Edición Limitada 2004 on the Cuban Cigar Website.