Today's dusky beauty comes to you from a very rare place indeed: my kitchen. About once a year the old juices begin to boil within me, and I decide that it's time to cook again my favourite dish: French onion soup. The juices would boil more often, but it is a very fundamental belief of mine that to do French onion properly you need to go long and slow, with low heat and constant stirring. Four hours is the absolute minimum amount of time required. I usually do eight. The first couple of hours, while the onions are browning, those are the hardest, because if one onion burns and sticks to the bottom of the pan it ruins the whole thing. The soup that is bubbling away on my stove at the moment is in around hour three – the broth has just been added – and can now be left more or less unsupervised while the flavours marry. It might not be strictly necessary, but I do like to stir it every fifteen minutes or so. If nothing else it gives me an opportunity to taste the broth and see how it's coming along. Anyway, as I have a couple of hours with not much to occupy myself before dinner, it seems like a good time to enjoy a Partagás Piramides, Edición Limitada 2000. I wonder which scent will bother my neighbours more, cigar smoke or frying onions?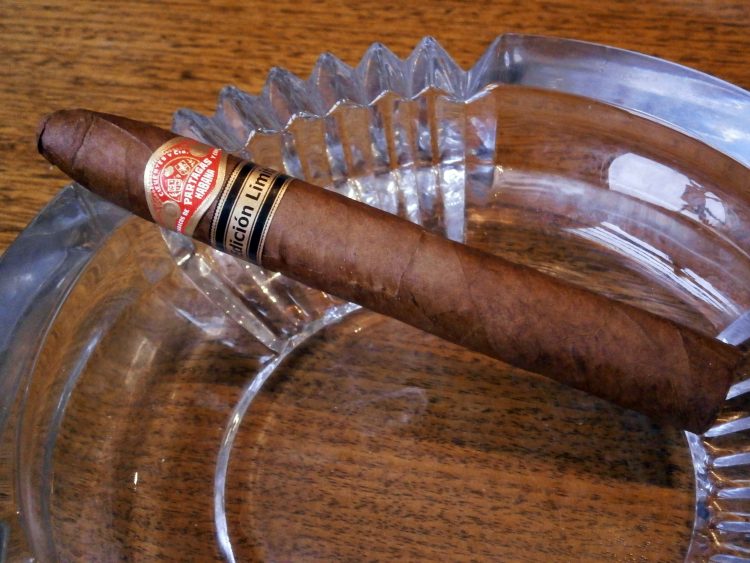 The cigar begins extremely well, very creamy and nutty, with coffee notes. It's sweet, spicy, and amazing. This thing has layers. It's a tiramisu. I was going to drink cheap red wine with this – I have half a bottle left from the soup – but these flavours are far too subtle and far too good to drown out like that. The only appropriate accompaniment for this cigar is a glass of water.
I'd had soupe à l'oignon before, but the first time I really had it done right was in Paris in the early 2000s sometime. It was mid-afternoon and had been raining on and off all day, when, as much to get out of the wet as to fill my stomach, I wandered into a little crêperie on the Île Saint-Louis and ordered the lunch set menu, which began with a bowl of French onion. To say the soup was good could not understate it more: it was life changing. I've tried to find the place every time I returned to Paris since, but I've never been able to.
The first time I tried to cook it for myself was a few months later, back in Australia. I'd been at a party with a French friend where I'd raved about my new-found love of le soupe only to have him sneer at me derisively: "this food, you know, is for the peasants. Maybe you eat it at night when you are drunk, like kebab, but is not for lunch." I stumbled home about midnight, drunk on far too much of his homemade pear liquor, and some soup seemed like just the ticket. I didn't look up a recipe or anything – it's peasant food, how hard can it be? – and basically just boiled an onion in white wine. Total time from raw vegetables to consumption would have been around thirty minutes. I spent around forty five throwing up.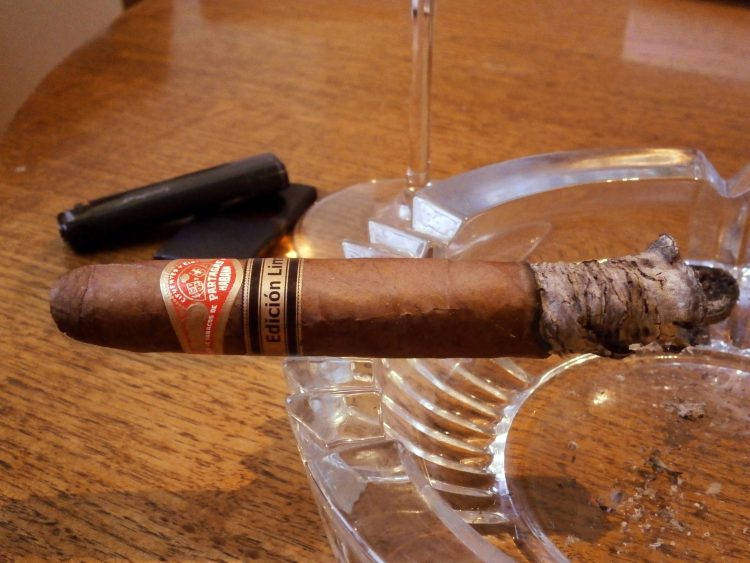 The burn of this cigar is just appalling. Every time I get up to stir the soup it goes out. Every time I set it down for more than about 30 seconds the wrapper goes out and only the core burns. When I do get the wrapper alight for a little while it burns unevenly. I have to touch it up almost with every puff. I feel like I'm smoking a pipe. I've only ever encountered one other cigar that burned as badly as this: the Montecristo Robusto EL 2000. This then, is another of the infamous Habano 2000 fireproof wrappers. All that said, it is delicious. Halfway through it is stronger, a heavier coffee and earth. The cream is mostly gone, but a really first class cigar remains.
In 2009, now living in Shanghai, I used to haunt a steakhouse that was popular with the gourmet set. It was housed in an old mansion in the French Concession, and featured a lavish cigar lounge and a well-stocked wine cellar in addition to their restaurant. Their pride and joy was the steaks, and particularly the one at the top of the menu, a bone in rib eye of genuine prime US beef, that the owner would smuggle in in his suitcase personally on monthly meat runs. The trademark side dish was mac and cheese with shaved truffles that cost about the same as a week of lunches at my work cafeteria, but my special favourite was the onion soup gratinée, a variation served with a flaky pie crust rather than the usual croutons – I love a nice soggy, onion soaked baguette, but a buttery mess of onion and pastry has lot to offer as well. A gratinée followed by a nice little filet mignon, a few glasses of wine, perhaps an aged port and a cigar to round things off? It was a very civilized way to spend and evening, and worth any price in a savage place like Shanghai.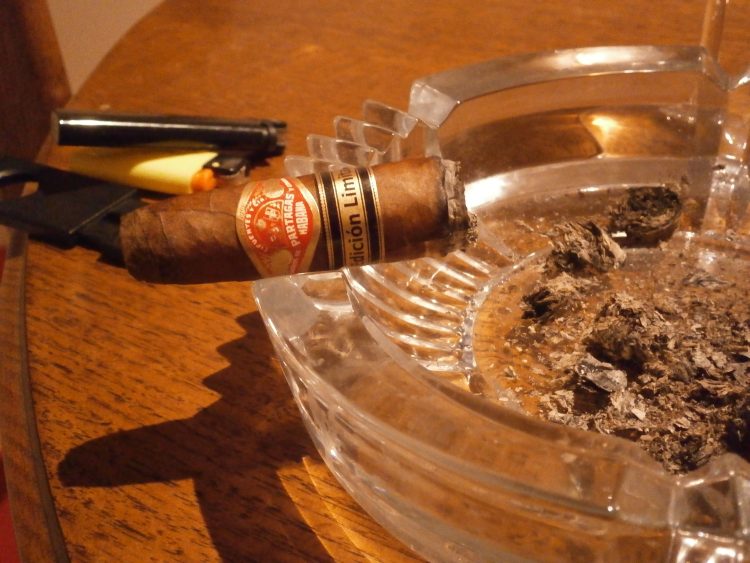 The end of the cigar is strong and dirty, but never bitter; fresh mud, straw, and rawhide leather, a barnyard in the rain. I never knew the old Partagás and its earthy charm, before the blend change in the mid-90s, but those who ought to know opine that this is reminiscent of it. To me it's consistent with the anniversary cigars, and, were it not for the fireproof wrapper, it would be on par with them. On flavour alone it's as good as anything out there. Of course, it's almost impossible to smoke, which has to subtract a few points. I'd definitely take one of these over a PSD4, but I'm not sure that I could deal with a whole box.
The soup is ready.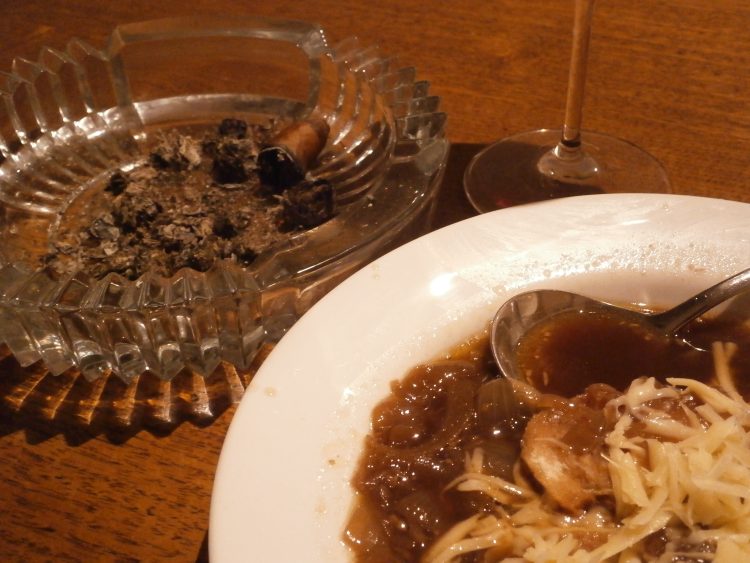 Partagás Piramides, Edición Limitada 2000 on the Cuban Cigar Website