Hailing from 2004, the Hoyo de Monterrey Petite Robustos was a trendsetter for the brand, and for Habanos generally. At release it was the first of its vitola, both salida and galera; the first front-line skirmisher of the short-and-fat brigade that would come to dominate the new release lists for the next fifteen years.
To me, the petite robusto has always looked a little off, its girth heralding a grander cigar than the length can deliver, and begging the question, "where's the rest?" Lit, it is bitter from the start, with an acrid woody tang. I set it down a moment, and it calms down a bit, relaxing into light wood and medium tobacco.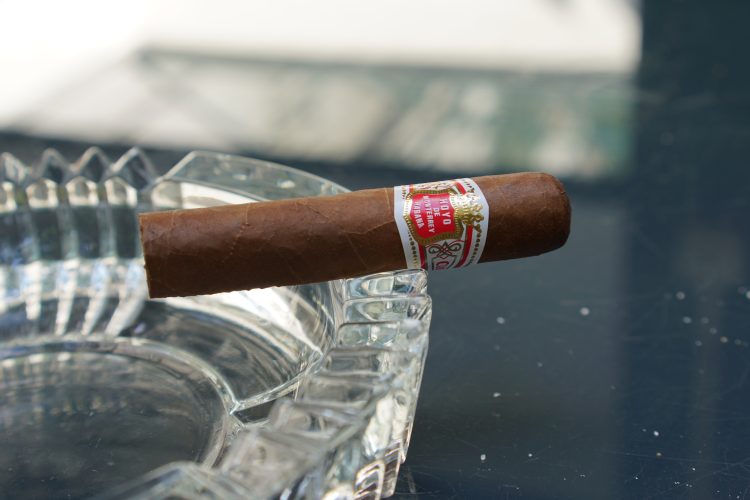 I've known a few delinquents in my time, but rarely have I been in as close contact with the criminal element as I was with Simon Cates in the summer of 'aught five. It was six months into my relationship with Audrey (and about two years before the Parisian Encounter). We both lived with our respective parents, but that summer hers had gone to Europe on The Trip of a Lifetime – three months riding the canals of Germany, France and the Netherlands – and Audrey and I were playing house.
Audrey had a summer job as a research assistant, which kept her busy for most of the daylight hours. I had no need of a job, having emancipated myself from my parents a year or so prior, which made me eligible for the government cheques. I spent my days mainly playing video games in her father's study. The long summer days also gave me plenty of opportunity to bond with the house's other resident layabout, Audrey's eighteen-year-old brother, Simon (Simmy, to his friends).
They were siblings, and had similar noses, but that was about it. Audrey had attended an exclusive private school for gifted girls. She spoke with a vestigial British accent, and her friends were snobbish pseudo-intellectuals. Simmy had attended the local high school, and spoke with the languid drawl of a suburban thug, and his friends did the same. Audrey was blonde, with clear blue eyes and porcelain skin. She was against all physical activity, and deemed ballgames the pastime of the troglodyte. Simmy was tan and swarthy, and a natural athlete. Above all, Audrey was a member of society, and followed society's rules. For Simmy there was no such thing.
The house was built into the side of a hill, and sprawled over three floors. Audrey and I occupied what was normally her parents' domain on the top level. The bottom floor was Simmy territory. The open kitchen and dining room on the middle level were common property.
I rarely ventured down into Simmy's crypt, but whenever I did the scene was much the same. He would be shirtless, reclined on the couch. Draped nearby would be Kate, his impossibly long-legged high-school girlfriend, clad only in one of Simmy's basketball singlets and a blissful post-coital expression. His tubby friend Dave would be lying on the floor. The television would be playing an action movie, and all about would be strewn bongs and nangs and packets of chips. The marijuana scent was palpable, and as his parent's return drew closer he would become increasingly concerned about how irreparably it had penetrated the soft furnishings.
On the second day of my residence, I was aroused from my Grand Theft Auto by a commotion on the kitchen deck. Investigating, I found Simmy and Dave in the process of heaving the family microwave over the railing to the lawn below. They had chanced upon a crime of opportunity: an open truck full of brand new microwaves, and helped themselves. I suggested that instead of destroying their parents' perfectly serviceable microwave, they could sell either it or the new one for cash, but they weren't interested. I then offered the idea that they could destroy it in a more spectacular fashion by microwaving a deodorant can or something. They thought about that one, but decided it was too much trouble, and over the railing the appliance went. Dented but largely intact, it would stay on the lawn until the night before his parents came back.
Audrey and I were both fending for ourselves for the first time, and were shocked by how expensive grocery bills could be. When we went shopping we were frugal, buying simple meals, and mostly cooking ourselves. For Simmy though the world was his oyster. Several times a week he and his friends would come home fully laden with purloined frozen meals and meats and candies and every delicacy of the suburban supermarket. I was amazed every time. For myself, I couldn't see how it was possible to heist more than a chocolate bar, but Simmy seemed to be able to liberate the weekly shop for a family of ten. When I asked him how he did it he was nonchalant. "Just carry it out" he told me. "Nobody cares."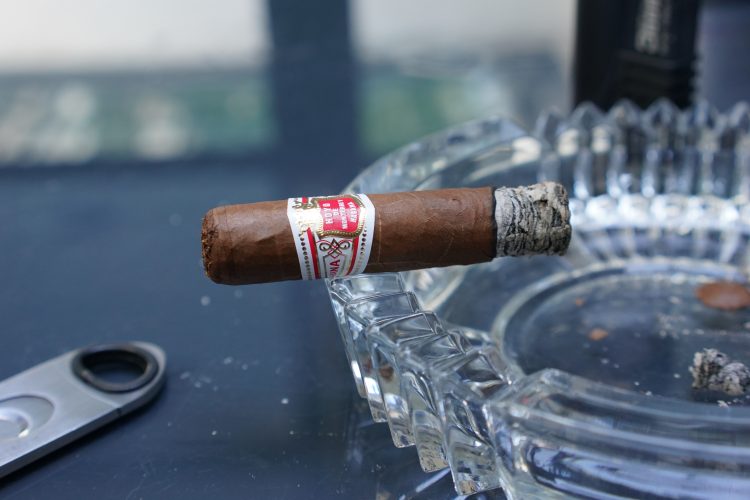 With the third of so of the cigar combusted, the bitterness has left, but what remains is very much the par three hole of the Monterrey course. Mostly it tastes of cedar dust, with a mild herbaceous twang in the aftertaste.
Audrey was universally disapproving of Simmy and his antics, but I became something of a friend to him and his buddies, not exactly approving, but definitely impressed. More than anything I was fascinated by a life so free of societal norms. One afternoon Simmy knocked on my study door clutching a little medical pouch. "Hey mate" he asked, "do you know how to fill up a needle?"
As it happened I did, having acquired the skill while caring for my family's diabetic dog. Simmy had gotten his hands on some steroid injections, and wanted me help him shoot them into the meaty part of his buttock. For the next two weeks it became a ritual for us – he would come by after lunch, usually – and I would give him his injection. Eventually he gave it up because he wasn't working out enough to see the benefit.
Halfway through the summer he came to Audrey and I and announced with great pride that he'd gotten a job. Starting Monday he was the new night watchman at the Tennis Centre. Audrey was pleased, although in bed that night we privately wondered if Rod Laver knew he was employing a fox to guard his henhouse. It took Simmy only three shifts to figure out how to turn off the cameras and open up the pro-store, and after that he would come home every morning with thousands of dollars' worth of sneakers and racquets. As always with Simmy, there wasn't any consequence. When he was fired some months later it was for absenteeism, not for thievery.
Audrey and I broke up not long after the end of the summer. After her parents came home she had wanted us to find our own place together, but I was content to go back to my folks' place, where the groceries came gratis. We would reconcile for a time a few years later, but eventually parted for good. Last I heard, Simmy had done a few months in prison in his twenties for low-level drug dealing, but eventually straightened out, working a variety of labourer jobs before starting a landscape gardening business. He eventually married Kate, too, high-school sweethearts, and fathered twin girls. No word on what became of Dave.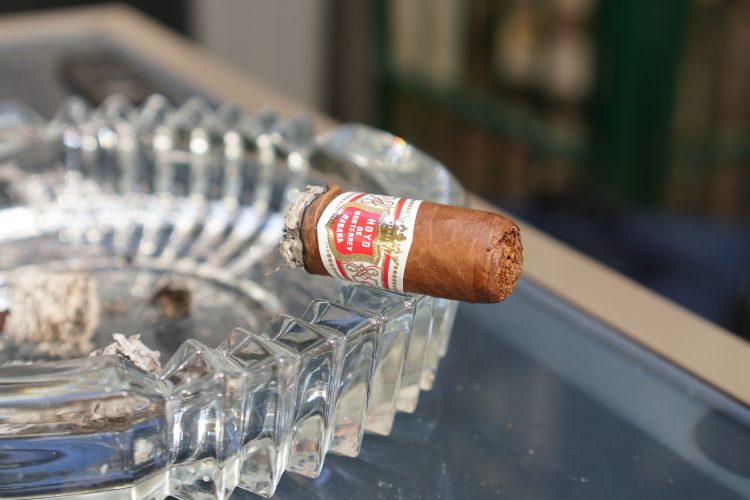 The Petite Robustos lightens up considerably in the bottom half of the cigar, but doesn't gain a lot in the way of complexity, with the usual wood, grass, and slight tang predominating.
The marketing impetus behind the short and fat revolution is that nobody has the time to smoke big cigars any more. To some extent, the marketeers have a point. Gone are the days of smoking in offices, in gentlemen's clubs, in restaurants and bars, and other places where men might once have engaged in otherwise meaningful activity with a Churchill clamped between their teeth. The aficionado will always find a way to luxuriate at home with a big cigar, but for the habitual smoker, who smokes two, and four, and five a day, they need it short and to some extent they need it fat. Something to suck down while driving between landscape gardening jobs. In that capacity, the Hoyo Petite Robusto succeeds. It's an easy-going, uncomplicated sort of smoke that you could get down in 30 minutes if you put your mind to it.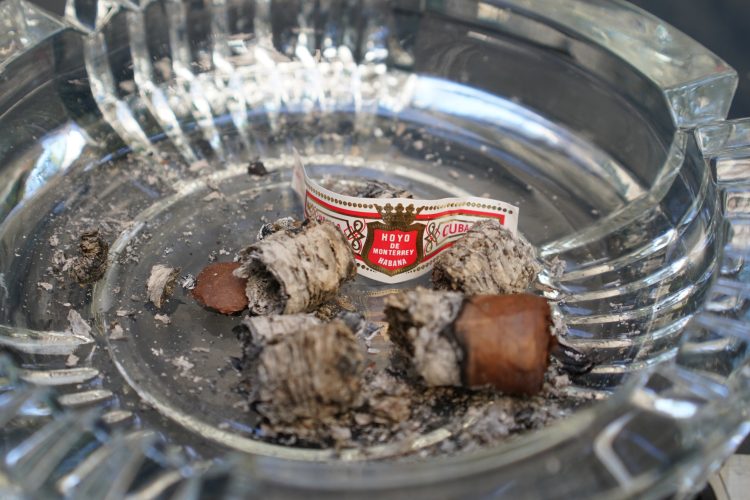 Hoyo de Monterrey Petite Robustos on the Cuban Cigar Website