The Hoyo de Monterrey Epicure Especial made its first appearance in 2004 as an Edition Limitada, where it proved so popular that they made it a regular production four years later. It was ahead of its time; the third example of the Gorditos vitola, a size which has appeared in the "new releases" column of the Habanos catalogue fifteen times since, and continues to resurface on an annual basis. I wondered at the time why they called it the Epicure Especial, and not the Epicure No. 3, which seemed to me a more logical name for a cigar that was basically a longer Epicure No. 2. Whatever their reasoning was I guess it worked for them, as they have continued the trend with the Double Epicure, the Grand Epicure, and the Epicure de Luxe.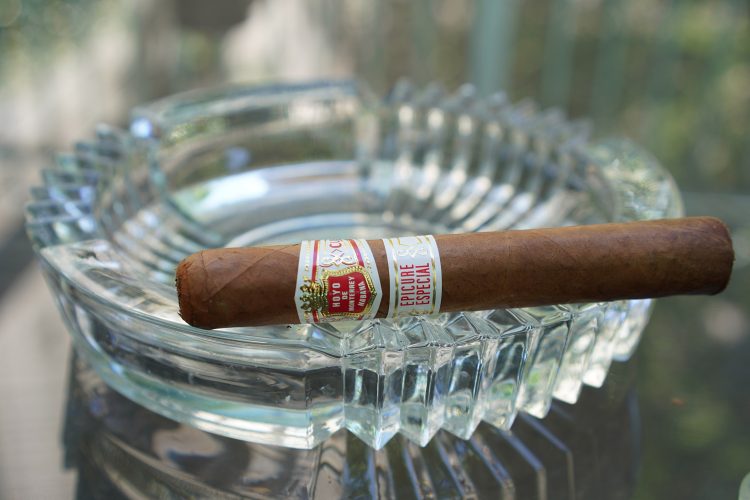 I light her up. Construction is not great, with a wind tunnel draw that makes the initial burn far too hot, the smoke bitter as a result. Hopefully it will clean up as things stabilize. What flavor notes there are are woody and slightly chemical. Treated pine.
I met Saskiri Sutrisno online. Her profile was vague. She liked some TV shows. She liked to travel. Her pictures, all close-ups with big sunglasses, gave little indication of how she looked. She was enthusiastic, though, when she reached out to me and gushed about the bombastic essay that I used to promote my own eligibility. Enthusiasm goes a long way. It was a clear case for a low stakes internet date.
We met on a Tuesday night outside the State Library, because it's a public place that everybody knows and because there's nothing to do there. If you hate each other from the first moment then you're not even committed to finishing your coffee. It was a Tuesday because nobody has anything better to do on a Tuesday.
We went to a nearby bar and immediately hit it off. She had been raised a diplo-brat, the child of a big wheel in the Indonesian kleptocracy of the 1980s and 90s, and we swapped stories about our childhoods in diplomatic enclaves. She laughed and smiled, with a big, wet mouth, and eyes to match. I liked her summer dress.
After the bar the date carried on to a restaurant, where the casual touching started; the clasp of the hand on the table to emphasize a point, the faux sympathetic shoulder pat. On the way to the third bar I held her hand. "Good move," she whispered.
By the time the third bar closed it was a quarter passed midnight and we were two martinis passed sensible. We necked heavily in an alleyway.
Through the fog of Wednesday morning, I related the story to a friend. "I think this could be the one," I told him. "She's funny and smart and beautiful. She's got Indonesian gangster money. Relax and Rolex."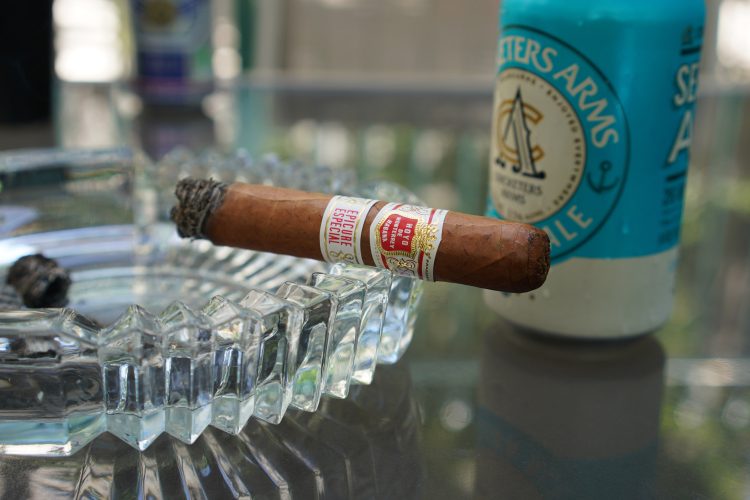 True to expectation, the cigar has mellowed off considerably. There are notes of straw and cedar, with light dry earth and dust. There is a vague peanut flavor in the late taste. Some salt.
For the most part, my affair with Saskiri was a lot of fun. She worked in finance at one of those jobs where everyone is young and bubbly and drinks late every night. She fell for that old routine, the one where I throw on a robe and casually put together cocktails in my grand apartment. She lived in the hipster area, and we had nice breakfasts and sneered cynically at everything. She had a fun set of nicknames: Sass, Sassafrass, Sasquatch, Saskatoon, Saskatchewan. Once, she crashed one of my work functions just as it was winding down, and smiled and laughed and enthralled the older guys. "Who was that girl?" my boss asked me the next morning. "An old friend?"
"Ah…no" I replied. "More of a new friend."
I wasn't wrong about the gangster money, either. She showed me pictures of herself at age four, being bounced on Suharto's knee. Then came the family portrait: ten Sutrisnos and twenty staff, all in their Sunday best outside an ambassadorial residence. The women and girls wore matching white dresses. The men and boys were in suits and brandished AK-47s.
But then, there were the problems.
Most of them were minor. She snored like a rhinoceros. She had terrible taste in movies. She was always on her phone. And, of course, that old complaint started to surface; the one that has driven most every lover from my life. She liked me, and she needed to express that to me, and to hear it expressed in return. The needier she got the less my broken psychology wanted to validated her.
The final straw came on July 1. It was a Wednesday, and she was celebrating Canada Day at a bar near my house. She texted me repeatedly, asking me to join her. When I finally arrived she was drunk, and slurring her words, and going on and on about how she couldn't believe two of her friends had hooked up. It wasn't the event for me, and inside an hour I was ready to go. When I told her so, and a twenty-minute song-and-dance ensued about whether or not she would come to my house. Her complex iterations of logistics are lost on me even today, but basically, I felt that as we both had busy days the next day, the dominant strategy would be for her to come and be intimate for an hour or so, and then get a cab home; she was steadfast that she was only coming to my house if she could stay the night.
She fell asleep immediately post-coitus, stealing all the blanket and snoring at the volume of industrial machinery. Several times I tried to wake her, or roll her over, or to smother her, but it was all in vain, and by 3am I abandoned my bed and went to sleep in the spare room. There I slept soundly until five, when she shook me awake. "What are you doing in here?" she asked. "Was I snoring?" I moaned concurrence. "Oh my god," she said. "I'm so sorry." She climbed into bed with me, the spare room's single considerably less accommodating than my king, and fell asleep at once, immediately resuming her cacophony.
I was curt with her in the morning. She was sheepish, and knew she was in trouble. Once she'd gone I went upstairs to make the beds, and discovered that both sheets were heavily bloodstained. She had a cut on her leg, that apparently had opened up.
It was the final straw, and when she sheepishly texted me three days later, I let her know that it was over. She didn't reply, but a few hours later I noticed she'd unfriended me on Facebook.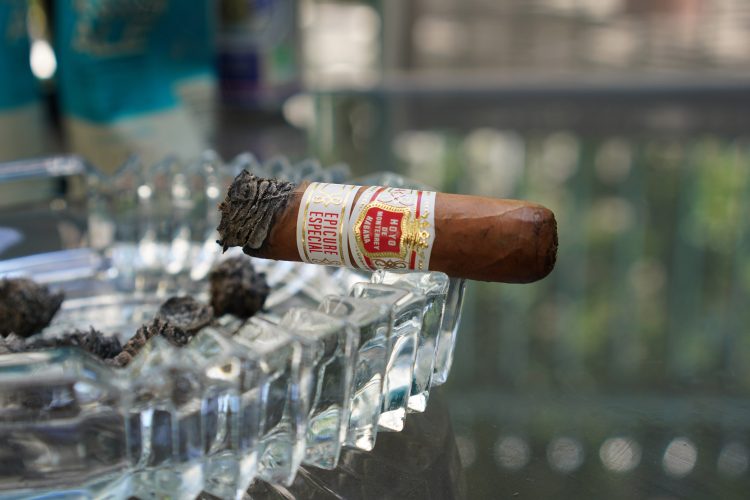 The Epicure Especial ends a little spicy, with a sharp tar that is not altogether unpleasant. There is still some dry dirt in the aftertaste. A few weeks ago, a friend, having read the first few of this season's Dusky Beauties observed to me that Hoyo might be a bit mild for my taste. I'm sorry to say it, but I think he might be right. Hopefully there is some gold deeper in the limiteds, because as far as the regular production goes, it all seems to be much of the same.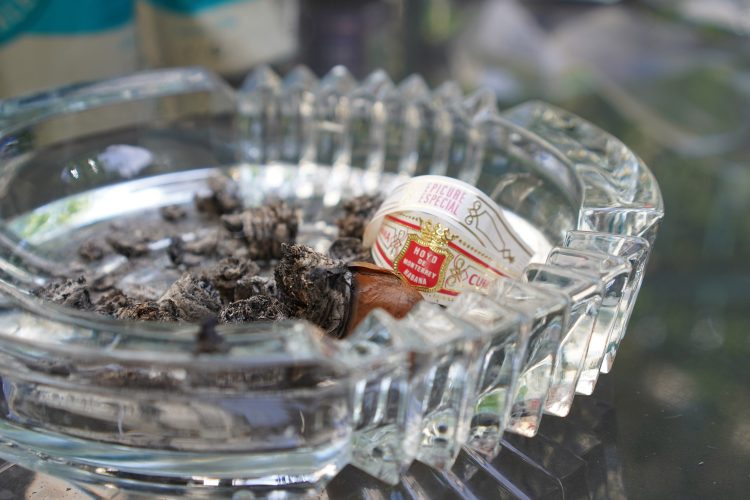 Hoyo de Monterrey Epicure Especial on the Cuban Cigar Website