The passage of time, my friends, is inevitable. Grains of sand, crushed from once mighty mountains, cannot help but fall through the neck of the hourglass; the quartz crystal inevitably resonates with precise frequency when an electrical current is supplied; and my own Omega Seamaster's mainspring coils and uncoils with much the same rhythm today as it did when my grandfather first wore it in 1969. Eighteen months have passed since we last spoke. Battles have been won and lost. Loves have come and gone. And Dusky Beauties, has returned.
Hoyo de Monterrey is the least of the big five global brands, and it's not one I have terribly much affection for. The name translates to "the Hole of Monterrey," and refers to a valley in Cuba, once famous for its tobacco. They are generally mild cigars, with a bit of wood and grass. The single example to appear previously on The Harem was 2003's Extravaganza, smoked as part of my Colección Habanos roundup. It came in a mediocre 7th out of 10.
For the quintessential, entry level Hoyo, to which I shall compare all the exotics, I have selected the Epicure No. 1. It's a corona gorda, and is as popular as any Hoyo. Normally they wear a second band, but mine has lost hers, a tithe to the god of plain packaging.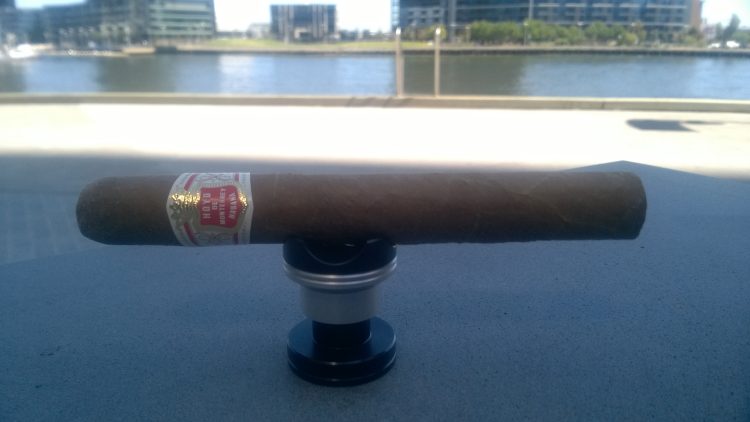 I light it, and the early notes are of mid-strength, vaguely sour tobacco. Somewhere in there there is a slight note of something chemical. It doesn't overwhelm: just a little hint of Cuaba coming through. The aftertaste is quite pleasant. Buttery.
December 6th 2016 began like most days. I woke up late, and had a leisurely shower. I did a few push-ups, and drank my nutrient slurry, and by mid-morning had wandered into the office, where I noticed that my email wasn't working. This in itself was not entirely unusual. Since some time in the early 2000s I have run my own email server, and from time to time, things happen. Most usually, the hard disk on the server fills up, and manual intervention is needed to clear things out, but occasionally the hosting company goes down for maintenance or something along those lines. I tried to log into the server, but it wasn't responding, so I went to the Hotmail account that I use when other emails fail to see if they had sent me a downtime notice or anything. There was an email there, and it was brief and to the point.
Dear Mr. Groom,
Earlier today the server hosting your VPS crashed, and the backup could not be recovered. It has been reset. You will be refunded for downtime (approximately 8 hours) on a prorata basis.
They provided a new username and password, and when I logged in it was as they had described. The server was as a new, virgin install. CubanCigarWebsite, with its 40 gigabytes of files, was erased, along with all 125,000 words of Dusky Beauties, my personal website, the website I had in high-school, the site where I posted my erotic fiction in the early 2000s, my cocktail recipe database, my Michael Jackson fan site, the website for my friend's home portraiture business: all were gone. My four email servers, with 10 years of correspondence, both private and professional, erased. It amounted to the complete annihilation of my lifetime creative output.
Denial, as always, was my first response. Computer data is rarely ever completely lost. In the very worst case, if even a portion of a disk drive survives, it can be picked over by men in white coats with microscopes. There was no indication that the loss was caused by a fire at the data-centre, so most likely it could be recovered with considerably less effort than that. I fired off a help desk ticket: priority 1, urgent. It would be the first of many. Their reply was similar to their original email: apologetic but nonchalant, and absolutely clear that the data would not be coming back. I fired off an increasingly panicked response, but my hope was starting to fade. It felt like it was time to call Trevor.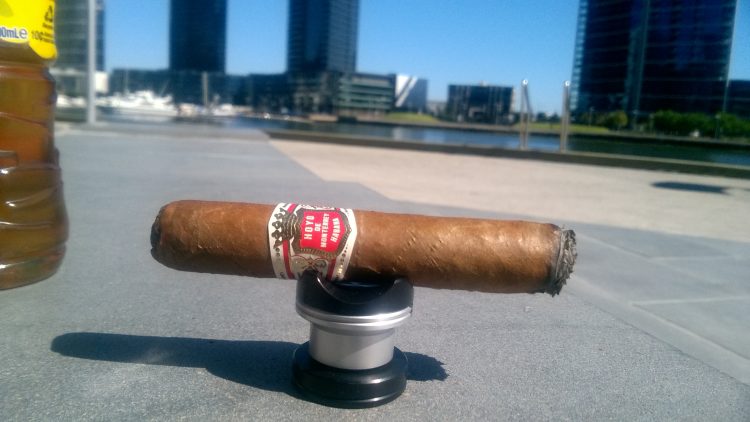 At the midpoint the cigar is light-to-mid strength, with dry straw alongside freshly cut lumbar. There is a bit of a herbal taste there that leaves a tang on the back of the tongue.
In 2008 I was a bare neophyte in the world of Cuban cigars, when I found myself in a blind tasting contest. I had no business being there, as my experience was far too narrow, and I knew that whatever I picked was going to be a guess, but I wanted to at least make it an educated guess. I headed to CubanCigarWebsite.com, which was then (as now), the best online reference for Cuban cigars. The site at that time was flat HTML. Each cigar appeared in several locations that would all have to be updated manually, and most importantly, it wasn't searchable. If you had the approximate dimensions of a cigar, and wanted everything that fit within that, it just wasn't possible.
And so I emailed Trevor, the proprietor, and suggested that he put a database behind the site. In not so many words he replied: "good idea. Why don't you do it."
And so I did.
For the next four years we worked on the site together, our relationship pretty similar to your standard consulting gig. Once in a while Trev would have an idea for a change, and I would implement it. Every now and again he'd send a few cigars my way. It was at least three years and 150,000 words of emails before we ever met in person.
Between 2012 and 2014 Trevor gradually retired to a quiet life of philately, and I took over the running of the thing. I have changed very little during my tenure, beyond keeping it up to date and adding the odd technical feature. The truth is that by the time of Trev's retirement, the site was basically complete, and could remain forever as a legacy to his efforts. Cuban cigar smoking is not a field that has changed terribly much over the last 500 years. Every year some more special releases come out, and once every 20 years or so there is an event of historical significance, but other than that, there isn't a lot of innovation: most of the time, you still light them at the foot and puff from head.
It was not an easy call to make. Once I'd passed on the news that everything was gone, and unlikely to be recovered, Trev and I tried to make small talk, but we were both too shaken up to think of anything to say. All in all the call lasted about three minutes.
Later that night I went to a concert with an old friend. When she asked me how my day was I told her that I'd lost everything I'd ever created in my life. She asked how I felt. "Empty." I replied.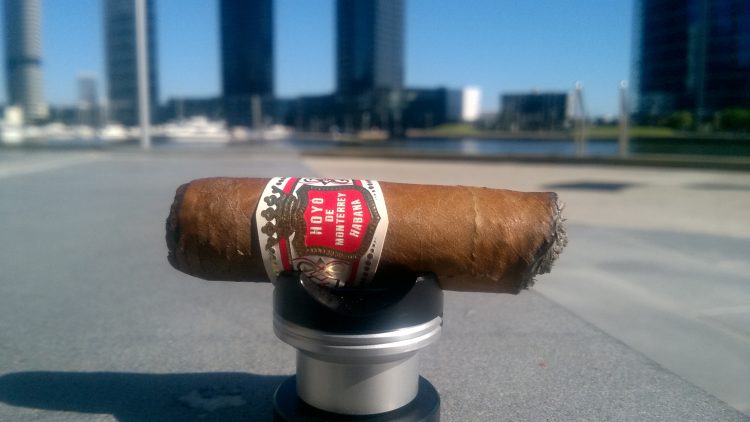 Into the final third, and the cigar is much unchanged: grass and sap, with a woody element and the strongly tannic tang of tang of cheap sauv blanc. It is starting to get bitter, which does not bode at all well for the smoke to come.
Like most things, it all worked out in the end. After I circulated an impassioned essay about the situation to the cigar community, there were a great many offers of assistance. My donation link saw more use than it had for the entirety of its existence. Technical experts had recovery advice. Lawyers were willing to send letters to the hosting company.
Most importantly, several people came forward offering me complete (if slightly out of date) copies of the site they had made "so they could browse it locally." It was suspicious, but it saved me. Between February and April, I rewrote the backend software of the site, and then built a bot to repopulate it from the copies. Dusky Beauties was restored a little later, largely from caching sites and my own archives. My email was all still on my computer, and I was smart enough to back it all up before it resynced with the new blank servers. Not everything was saved. My rants about the faculty at my high-school and clumsy erotica of my early 20s were lost to the dust of all things. But perhaps that is for the best.
The Epicure No. 1 ends better than expected, grassy and nutty, and with the bitterness lurking just out of the fore-palate, I never once feel the need to spit or take a sip of water. In the end, this is not an overly complex cigar, with no flavour ever really emerging that could overpower mid-tobacco and vague grassiness, and barely any change throughout its passage. I'd take a Monte 4 over this, and a PSD4, and even a Romeo Petit Coronas. Between this and the Upmann Petite Coronas there's not a lot in it. Both are inoffensive but unremarkable. Pick whichever is closest.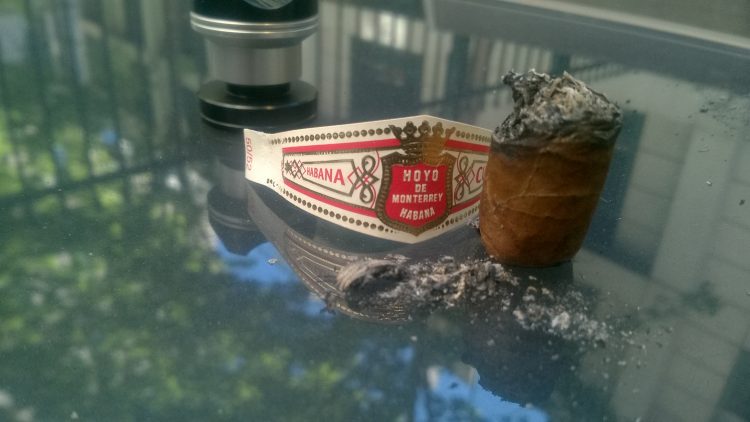 One final note: once removed, the band bears a size mark for a 50-52 ring cigar: curious on a 46-ring gage smoke. I guess they were out that day.