NB. A friend of the harem recently made a request: he wanted to see a retrospective of the first decade of the much maligned Colección Habanos, and more importantly, he sent the cigars. This review is the first in that series.
The Colección Habanos is an annual release of a book-shaped libro humidor, typically containing twenty large format cigars. The number they produce each year has gradually increased – for the last few years it has been 2000, but in the early days it was only 300. The colección is criticised for a few reasons: firstly, they are too big – more than anything else, these are the tip of the spear as far as girthy Habanos are concerned. Secondly, they are too expensive: prices vary year to year (Cohiba commanded a considerable premium), but you rarely get away for less than $100 a stick, and finally, because they're one of the more esoteric annual releases. The Reserva and the Gran Reserva series represent the best of the best, the Edición Limitada and the Edición Regional both have a stated purpose, as do the commemorative humidors, but what exactly is this series supposed to be? These, arguably along with the Replica Ancient humidors, are true collector's items; nobody owns just one of the Colección Habanos: you either have the set or you don't have any.
I've already reviewed two cigars from the colección in my brand verticals, the Monte Maravillas No. 1 and the Partagás Serie C. No. 1, but today I'm smoking the granddaddy of them all, the first in the series, 2001's Cuaba Salomones.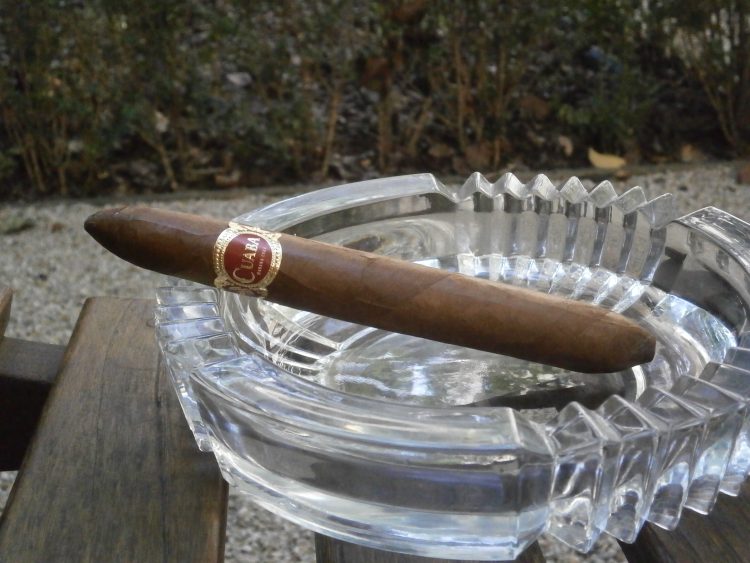 It's a gorgeous looking cigar, no doubt about that. The wrapper is silky smooth, and a beautiful deep glossy brown. Construction appears to be flawless. You can pretty much pick your own draw on a perfecto like this – cut it higher if you want it looser – and mine is exactly how I like it.
I light it and inhale. It's disgusting. I haven't smoked a Cuaba recently enough to remember what they're supposed to taste like, but this one is bitter and tannic, with a sort of chemical aftertaste, vaguely reminiscent of burning rubber. I have a policy of taking every cigar to the nub, but that is going to be a serious chore if this rubber fire continues for the next two hours.
There aren't many brands that are more universally disliked than Cuaba. It was created in 1996 (at the height of the cigar boom) supposedly as a premium brand, intended to sit alongside Cohiba and Trinidad, offering something a little special and unique in the Cuban line-up (at a price point befitting their standing). They specialise in figurados, cigars that come to a point at both ends, an old Cuban style of cigar that had fallen out of favour, and is still almost non-existent in the standard line-ups of other brands (they are reasonably common amongst exotic and limited cigars, and as such they are over represented on this website).
When the sales of a particular cigar brand are low to non-existent (Fonseca, for example), and yet the brand remains inexplicably in production while far more worthy cigars are discontinued, the rational Habanos generally gives is that they are "popular in Spain." Cuaba has been popular in Spain for a while now. A cigar store clerk friend of mine once told me that he has a customer in his store that buys a box of five Cuaba Diademas (the 55 x 233mm [9.1″!] flagship – a massive foil-wrapped cigar, that although spectacular to behold, is totally unsmokable) every week, no doubt accounting for the majority of global sales.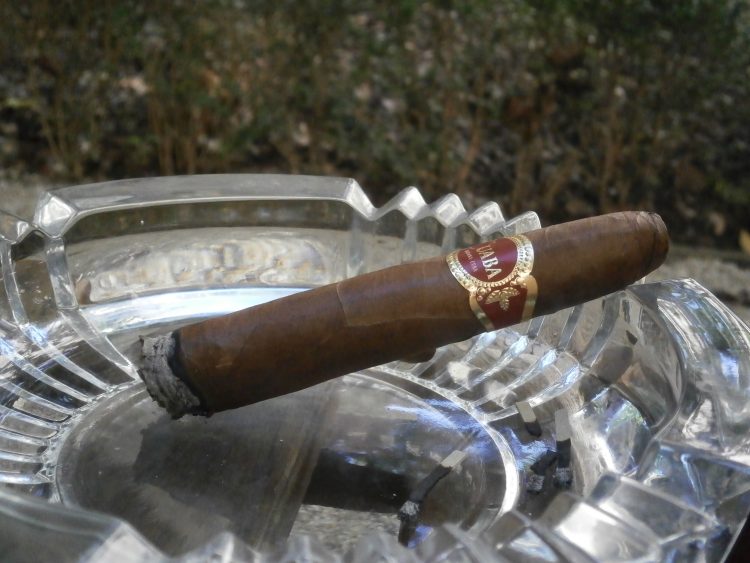 Fortunately, after about the first inch the bitterness departs, and the cigar settles down into a fairly one dimensional but not unpleasant grassy flavour. It reminds me of a parched field of dead grass at the height of summer, the sort of place one might lie while watching an indie band at a country wine and produce fair. It remains in this casual, inoffensive place for about an hour of smoking time, until I reach the halfway point, where it develops a sort of ashy taste, with a sour aftertaste, which, within a few centimetres starts to show tar. It only gets worse from there.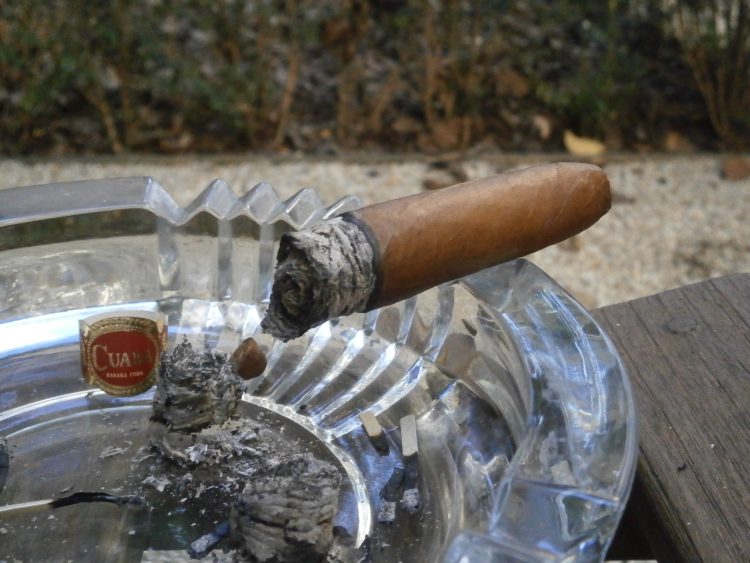 This first release of the Colección Habanos is unique in a few ways, and it's obvious that at the time they didn't really know where they were going with the series. It's by far the rarest: there were other years when they released as few units as they did in 2001 (300), but this is the only one where there were just ten cigars in the box. In every other case the cigars were something unique or at least unusual for the brand, but this cigar is one that is available in the regular Cuaba line-up. When Cuba releases a standard production size in a special release without going to great lengths to explain what makes these particular cigars unique, it generally means that they have just packaged the standard production in a fancy box. I imagine that this is the case here, although I rather hope it isn't, and the regular production cigars are better that this.
The early 2000s were a chaotic time for Habanos as they struggled with the Altidas joint venture, with the surge in production levels demanded by the '90s cigar boom, with the new strain of Habanos 2000 wrappers, and much else besides. Cigars from this period are notoriously hit and miss in quality, although usually it's the construction of the cigar that suffers, not the flavour. This cigar was flawlessly constructed, with a perfect draw and razor sharp burn, but at best its flavour was unremarkable, at worst, unpleasant. A Harem of Dusky Beauties is not a particularly good guide for quality, as its stated mission is to review exotic and unusual Cuban cigars, which tend to be at the apex of cigars produced worldwide. Perhaps a less spoiled smoker than myself might be able to find some merit in the Cuaba Salomones, but for me, this is amongst the very worst cigars I have ever reviewed. Collector's item only. Not for human consumption.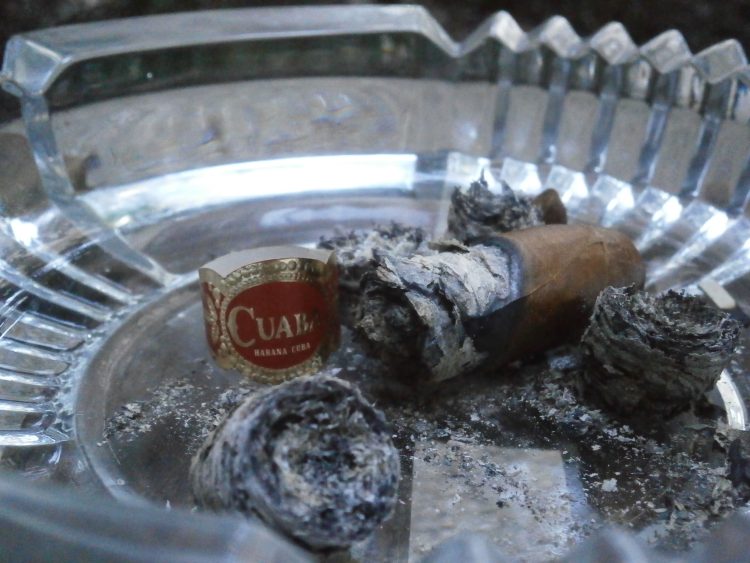 Cuaba Salomones Colección Habanos 2001 on the Cuban Cigar Website.