Saturday morning at the yacht club and the sun is shining. The upper deck restaurant is busy with middle aged foursomes eating oysters, and at the jetty out front a small skiff comes and goes, ferrying eager seamen to the larger boats moored a little ways offshore. On the beach a clutch of small children run and scream, the older children's game of beach cricket intersected and interrupted but the younger children's tag. The clutch of tables on the grassy lawn between the clubhouse and the beach, however, are empty save for a few bags, and so it's at one of these that I settle myself and begin to pick at the cap of a Partagás Serie C No. 1, Colección Habanos 2002. I'm not a member of this club, but I am wearing a Hawaiian shirt and Clubmaster sunglasses, so I doubt I'll be questioned.
I have high hopes for this cigar. Regular readers may recall that the Montecristo Maravillas No.1, the 2005 entry in the Colección Habanos series, topped the leader board in my final summation of all the exotic Monties in the last season of A Harem of Dusky Beauties. Will the Serie C No. 1 (which at 48 x 170, is sized the same as its historical counterpart) be able to do the same thing for Partagás?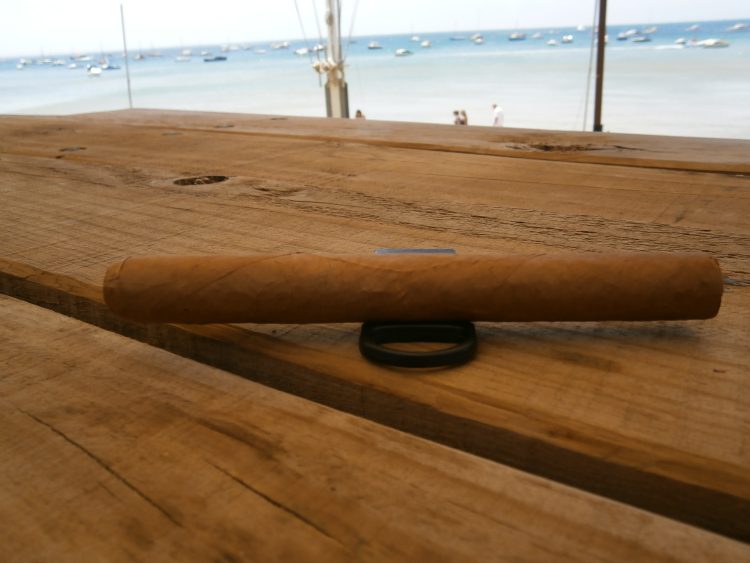 I set it ablaze and see, accompanying it with a cappuccino purchased from a pair of surly teens manning the galley bar. The cigar's draw is a little on the loose side, not a Cuban draw. The first puff is bitter, over hot from the lighter, but on the second it mellows, and a nice tannic spice over mild, first rate tobacco spreads over my palette. There is a sort of sharp aftertaste that I can't put my finger on. The wrapper is a bit dry and has been manhandled at some point (it made the journey over here loose in my breast pocket), and is peeling a little. Nothing I can't deal with.
My uncle was a member of this club when I was a boy, and he kept a little boat named the Sophie-Lou moored off this very jetty. He took me out on it precisely once, when I was about eleven. Readers may be surprised to learn that I was a sulky, contrarian sort of boy, and not much for sports or the outdoors, and wasn't impressed by my uncle's proposal of a day out on the water. I think I mainly went because my cousin had told me that they saw a seal when they went out a few days earlier. My father and another uncle came with us, and we cruised out into the bay, where no seals were in evidence. I quickly lost interest and started reading my book. Eventually we stopped in what my uncle considered a likely place for fish. He cast my rod for me and then left me monitoring it while he went to drink beer with the others, and I promptly wedged it into something and went back to my book. A few beers later for the others, and a chapter or so later for me, and my uncle declared that the fish weren't biting here and that we should reel in our lines and move the boat. I hadn't been reeling in long when I began to sense that perhaps there was something more on the end of this thing than just a hook – the line didn't fight me exactly, but it dragged like it had snagged some seaweed or something. I pulled and pulled, my uncle's attention now fully on me, laughing at the idea that this disinterested, surly boy might have caught the only fish of the day. As the line neared the surface it became clear that there was something there, there was a fish, a fish that a large squid as in the process of eating. I had it just beneath the surface, my uncle reaching for the net, when the squid realised what was up, fired his ink jet, and disappeared in the cloud. The weight released the line jerked out of the water, and I reeled it in to inspect my catch: a half-eaten, ink covered fish. We threw it back.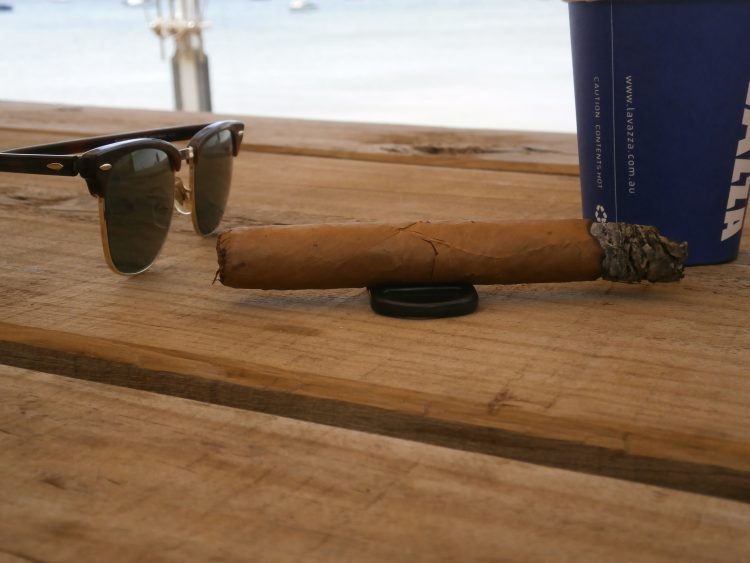 A little beyond the halfway point and the cigar is still going beautifully. Somewhere between mild and mid-strength, a rich spice still dominates. I've returned to the galley to purchase Australia's favourite snack, a Golden Gaytime, a treat of caramel ice-cream, coated in chocolate and honey cookie crumbs. They're usually a little sickly sweet for my taste, but it accompanies the cigar well, taking the edge off the tobacco.
I spent New Year's Eve in Monaco one year. My parents had holed up in a little village in Provence someplace, and I'd joined them there for Christmas, but come the 31st I was going a little stir crazy and I decided I'd better head somewhere a bit more lively for New Year's Eve, and what better New Year's town is there than Monaco?
It was everything I hoped it would be: I arrived at four o'clock in the afternoon, and the first thing I saw when I walked out of the tunnel at the station was a man throwing firecrackers out of a Ferrari. I found my hotel (the cheapest hotel in Monaco proper, which wasn't all that cheap), had a quiet dinner alone, and then changed into my tuxedo. I set out about nine, wandering the streets with a Siglo VI between my lips, admiring the traffic jam of three hundred thousand dollar cars. I sat in the park behind the casino for a while and admired the twenty million dollar boats. Monaco is a nice city to visit in any capacity, but it's really designed as a destination for people with twenty million dollar boats. For a while I watched an impossibly beautiful girl in a sort of sailor's uniform chase three small children up and down the four decks of a giant boat in the marina, presumably a nanny left to mind the children while the parents went to some party in the town proper. At midnight there was fireworks and dancing in the casino square. I saluted a man who was standing on the casino steps, surveying the scene while puffing on a Romeo Churchill. It was about one AM that I found Roger Moore. I was walking back along the waterfront, and there he was, on the rear deck of a boat named The Miss Moneypenny, drinking cocktails with four beautiful girls who looked young enough to be his daughters but I don't think were. "Happy new year, James Bond" I yelled to him. He scowled, and called "Happy new year, young man" before going inside. A little further around the bay I ran into a clutch of French girls who were screaming and cackling uproariously at their friend who was throwing up in the gutter. A Monegasque woman appeared in an apartment window and yelled at them in French. They yelled back for a while and then staggered off into the night.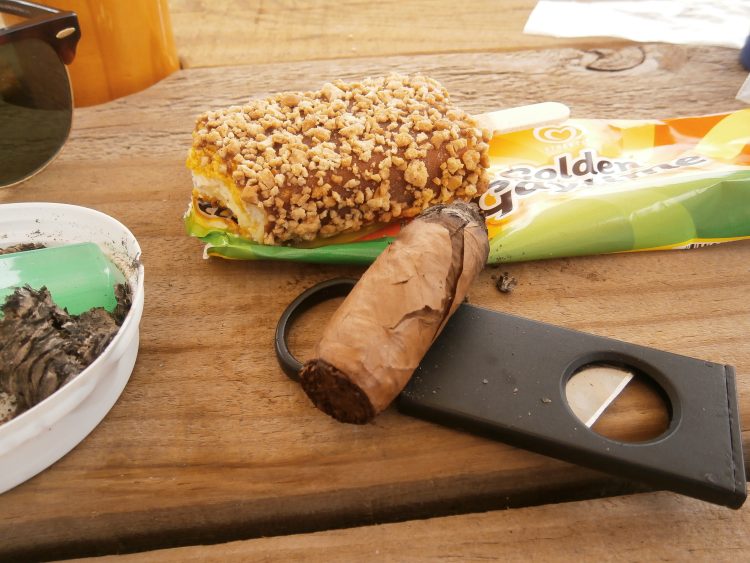 The cigar grows bitter before its time, with almost two inches remaining. There's an earthy taste beneath the tar, and a slight coffee. The spice is gone. I'm a bit light headed from the nicotine, which is odd as the cigar seemed mild throughout. I nub it nonetheless.
All things considered, this was a great cigar, and better than any Partagás that I've smoked this season. That said, as great as it was, it doesn't come close to the Monte Maravillas. It may be partly down to my personal taste – I've always been a much bigger Monte fan than Partagás – but to me the Monte was in a whole different league. Not that this wasn't great though. It's certainly better than a PSD4.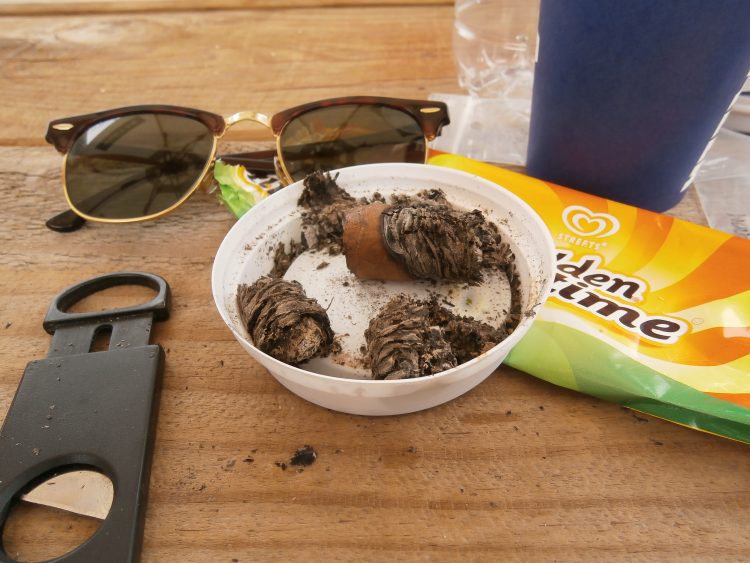 Partagás Serie C No. 1, Colección Habanos 2002 on the Cuban Cigar Website