I was barely beginning my smoking journey in 2002, when the Pirámides EL hit the market, and I wouldn't graduate to Cohiba for another few years. The old Cohiba that this cigar wears is a rare sight for me. The design was laid out apparently by someone with little training. Even to my amateur eye, the symmetry is all wrong, with La Habana Cuba far too close to the bottom edge, and the ratio of black to yellow off kilter. Embossing and holograms aside, Cuba has come a long way in twenty years.
The first few puffs hold some harshness, although punchiness at this point in a twenty-year-old cigar is probably more a positive than a negative as it shows that the leaf still has something to give. Once the harshness fades, there is not terribly much too it: the cigar is smooth, light tobacco, and a little dry earthiness. There is a pleasant coffee note in the aftertaste.
About three quarters of an inch in, it goes out for the first time, a classic trait in turn-of-the-millennium ELs.
I am the black sheep of my extended family, who are unvaryingly modest living Christians; middle class, working people, with no apparent aspirations beyond their station. One of my grandfathers was an engineer, the other an accountant. Among my parents' generation there are farmers on both sides, teachers, more accountants, and a public servant. My generation is more of the same. There are no artists or writers. There are no entrepreneurs. There are no unemployables.
The biggest family scandal is that one of my aunts got married and swiftly divorced in her early twenties, a fact which I have only heard mentioned once when my grandmother was showing some photos and came across one of my aunt in a wedding dress. One of my great aunts never married, and seemed to spend a lot of time with a close female friend, and I have wondered later in life if they may have been lovers, although this is entirely unsubstantiated and never talked about.
There are few vices. Nobody drinks heavily, or uses drugs, or smokes, or gambles, or stays up late. They don't travel widely. Nobody has been arrested. If anybody has ever had an affair, I don't know of it.
All except for my great uncle John.
John died around the time this Cohiba Pirámides was being rolled, some fifteen years before his older brothers. He was a bachelor, and wealthy thanks to the sale of his civil engineering business, which had given him the ownership of a number of apartment blocks. He had retired in his early 50s, and devoted his life to his hobbies. In his sprawling Toorak home, he had an extensive library of rare books, and a large dark room for his photography. Up the mountains he had 80 acres of bushland where he had someday planned to build a weekender, although at the time of his death the only completed structure on the property was a marble tryptic fountain with classical statuary.
He was a member of all the best clubs, and his funeral was attended by his peers: rotund lawyers and businessmen in expensive suits, who no doubt held a wake for him at the Melbourne Club after the service. My family were not impressed, and scowled disapprovingly across the aisle, no doubt uncomfortable in their ill-fitting polyester-blends.
I only ever met John twice, and barely remember either occasion. I mainly know the man through his possessions. What I know of him is that John liked the finer things.
I remember going through his house after his death with three stickers to put on anything I wanted, and having my mother veto my selection of his set of crystal decanters. I don't remember what else I selected – I'm sure all my first choices were rejected – but I ended up with a heavy gold silk robe and large detailed map of Melbourne in the 1950s that hangs on my wall to this day.
My family had a big furniture upgrade after John died. Our home furniture had previously been cheap and miss-matched, mostly purchased by my parents after their marriage in the 1970s. After John we had heavy antiques in dark wood, and guilt framed ancestral paintings on the walls. Two decades later, and the trickle-down continues; my own apartment is furnished mostly by John, and came to me after my parents upgraded their stuff with John's nicer pieces from my grandparents' home.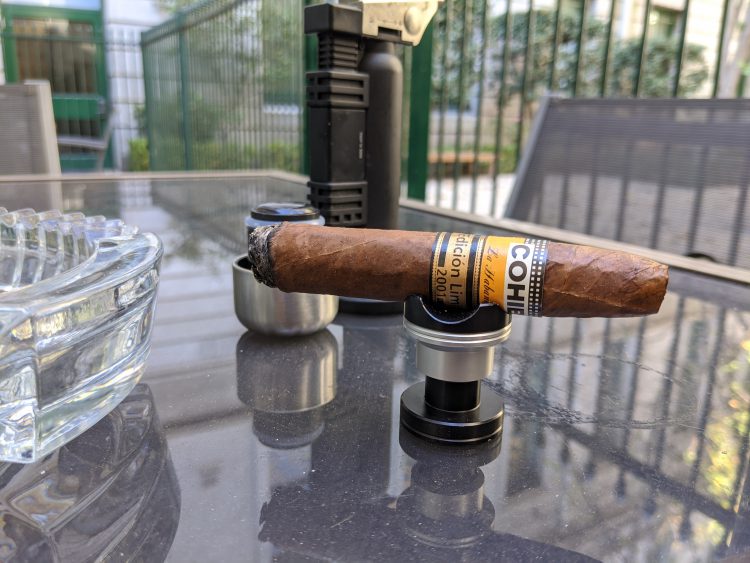 At the midway, the Pirámides is still on the mild side, but with a sweet nutty note on the back palate. There is also that lingering lactic thickness that I prize in a cigar. Walnut up front, and almond milk in the aftertaste.
Among the few items bequeathed to a specific individual was the "family silver:" a 200-piece set of antique silverware that John had had engraved with the crest of a dubious ancestor, and left to my mother. His will, although recently updated, also left a multi-million-dollar block of flats to a woman he'd dated decades prior, and not spoken to in years. He gave no explanation for this. It was the exact kind of pathos riddled gesture that a well-resourced Groom would make, and my sensible cousins wouldn't.
I was still a teenager when John died, and had little input into the disposal of the smaller items. I remember my mother poured the contents of the decanters down the sink, along with a large number of other half empty spirits bottles, paying no heed at all to whether the labels were red or black or blue, or if the number below the name read 12 or 18 or 30. My dad does like a glass of wine with dinner, and the thousand or so bottles of wine that filled John's garage did make it to our house, with the theft of one of them later becoming the subject of a Dusky Beauty.
Bag after bag of ephemera went to the op shop, including many vintage sunglasses (and monocles, for some reason), the aforementioned decanters, and old watches, along with hundreds of books, and dozens of bespoke suits.
"Were there any cigars?" is something I've often wondered: I'm quite sure there would have been. Even if John didn't smoke himself, I have no doubt that a Melbourne Club buddy would have handed him a box of Dunhill Cabinetta at some point as a gift for some or other favour. Whichever of my family came across the humidor, I'm quite sure they would have emptied it into the garbage and sent it to the op shop labelled "storage box."
The biggest pity of all, of course, is that he didn't live another ten years. He might have enjoyed not being the only black sheep.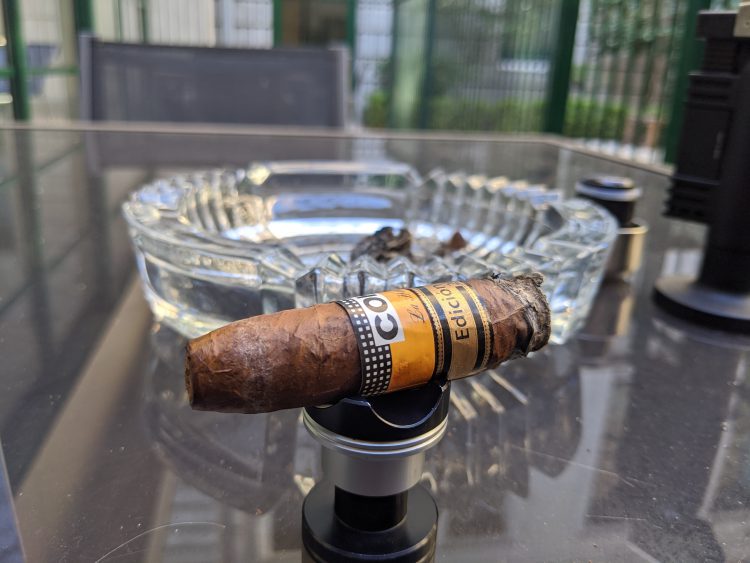 With an inch and a half left in the Pirámides, the chocolate comes in strong. Lindt 80%. Fantastic. I smoke it as low as I realistically can.
Ultimately this is what you want in an old cigar. Mild for the first two thirds, but in a way that allows you to appreciate the nuances, and not flavourless cardboard as some over-old cigars can be. Once it has built up a head of tar, the flavours are strong, but never overpowering.
Between this and the '06 rendition though, I'd probably give it to the younger version by a hair. They are both excellent cigars, but the younger one has a bit more to it.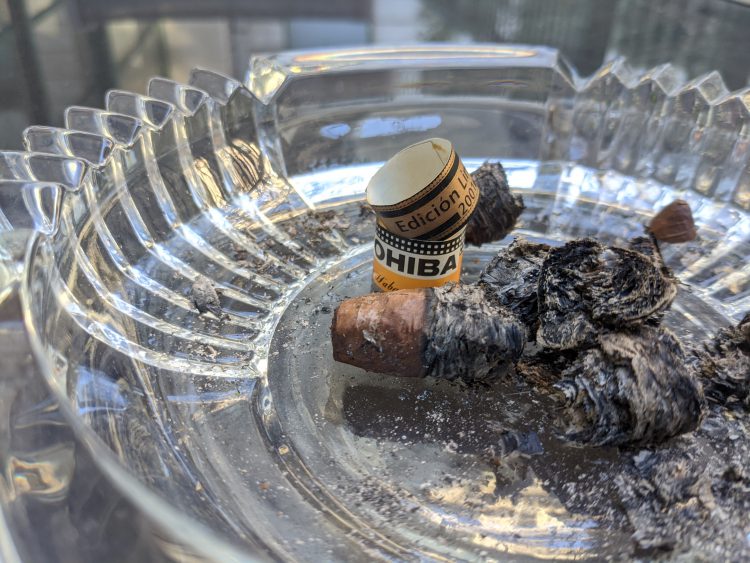 Cohiba Pirámides Edición Limitada 2001 on the Cuban Cigar Website.