The Cohiba Cohiba 1966; a cigar named for the year the marca Cohiba was given a name, having previously just been "those cigars Fidel smokes." Being a Limited Edition from 2011, the 1966 celebrated the 45th anniversary of the brand. At 52 x 166mm, the dimensions of the cigar are nothing too outlandish, and should please those wish their 52 x 150mm Siglo VI lasted fifteen minutes longer. It's hard to find a negative review of any Cohiba Limited, and this one is no exception.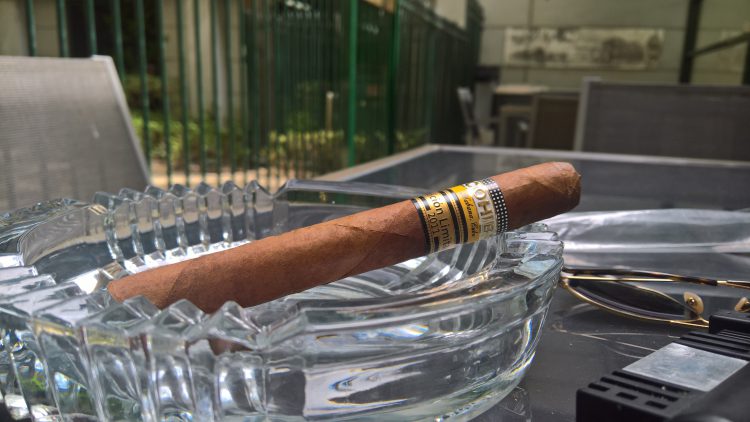 Once lit, the first puff from the cigar hits me like a bucket bong: the thing is a wind-tunnel. In no sense is this a Cuban draw. It feels like an entire leaf is missing from the middle. I squeeze up and down the length, checking for soft spots, but don't find any. Can this be intentional? After moderating my smoking technique somewhat to only sip the slightest sips, I get to a place where some flavour is discernible. It is burning too hot, and is a little bitter, but there is dry grass and vanilla bean behind it.
2011 was a grim time for old Groom. I had arrived back in Australia at the start of 2010, having been dismissed and despatched from my job in China with a few days' notice due to a visa issue, coupled with a general over-paid, over-entitled gwailou attitude on my part.
At first it wasn't so bad. I was living with my parents, and with few expenses and a bucket of cash saved from my offshore revenue, getting a job didn't seem like a high priority. I spent my days in my room playing video games and re-watching Seinfeld. I spent my nights drinking and smoking cigars with my buddies.
My friend Buckley had remained in Japan while I was in China, and in 2011 he too was newly returned and unemployed. Where I had had a fat foreign consultant package on my overseas adventure, Buckley had worked a lowly grad job in a university. Back in Australia, he too was living with his parents, but with the government teat for succour. He had videogames to play and sitcoms to watch also, but on Friday mornings after his pension cheque cleared, he usually felt like a little socialisation, and we would usually hang out.
On some Fridays we would go to the local shopping centre and drift aimlessly down the fluorescent lit mezzanines checking out the girls who worked in the fashion stores. On other occasions we would walk down to the Not Quite Right discount supermarket, which sold expired food and products that had failed disastrously in the marketplace for cents on the dollar. My fondest memory of the time is when Buckley purchased ten packets of grape flavour liquid-centre gum for a dollar, and crammed at least fifty pieces in his mouth at once. "I've always wanted to do that" he declared, with purple goo dripping down his chin. The girls at NQR weren't as well dressed as the fashion store girls, but they had a certain scruffy charm.
Eventually though, my blissful unemployment began to wear a bit thin, or at least, my mother's nagging me about it did. I began to search for a job. In China I had felt like a king, with my salary providing me many times more than I could ever hope to spend in that country, and the simple virtue of being the only white guy in an all Chinese company giving me an authority well beyond my job description. I applied for many jobs, but few would even interview me, and the ones that did I saw as far below my station. It made their eventual rejection of my application sting all the more. When one eventually made me an offer, it was with a heavy heart that I accepted. It was an office job in the outer suburbs, where an hourlong commute in rush hour traffic would bookend my every day. "Just for a few months" I thought. "Something better will come along."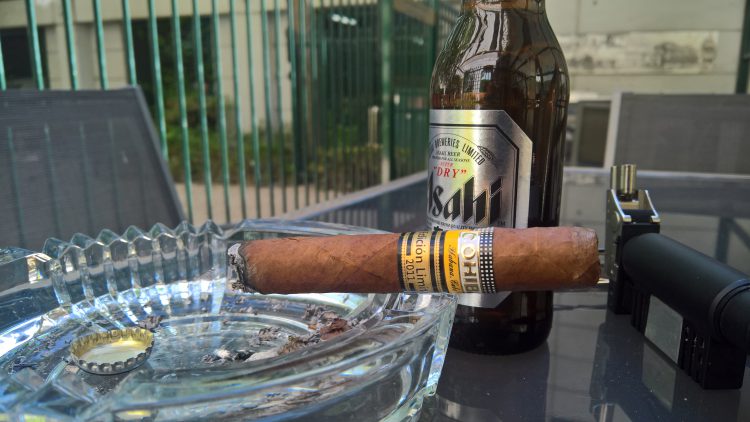 With a few inches burnt, the cigar is quite delightful. Somewhat implausibly, the draw has tightened up, and while nowhere near Cuban, it is perfectly acceptable. The taste is smooth and sweet, with honey and hazelnut. When I talk of cream in a cigar, it is usually a lactic thickness on the roof of the mouth, which isn't present here, but there is something milky in the aftertaste, which reminds one of honey nut cereal.
A year later, when the Cohiba 1966 made their way to Australia, I was in the deepest funk of my life. Our office was a rundown cream-brick box in a light industrial park. The blinds were perpetually drawn against any hint of natural light or outside stimulation. My colleagues were all ten or fifteen years older than me, and used to nervously laugh and say I was a "whizz kid" when I would make some suggestion that seemed to me like it should have been elementary to anyone who was remotely abreast of the  technology we were working with. I hated them on the deep level that only someone who you are confined in a box with for most of your waking hours can be hated; for their incompetence, sure, but also for the way they chewed sunflower seeds, or ate apples loudly, or told the same stories about their kids again and again, or took personal phone calls at their desks, or squeaked their chairs, or sniffed, or blew their noses, or their smell, or the sight of them, or everything. We were perpetually behind on our deadlines, and had a culture of working late in pursuit of them, until at least nine each night and often later, and some weekends too. I kept a log of this unpaid overtime and passive-aggressively emailed the running total to my boss each night. Theoretically it would be reimbursed in leave, but it had accumulated to more than three weeks, which seemed to large a sum to ever materialise.
Between twelve hours at the office a day, and two on the road, I didn't have much time for anything else in my life. It was the Era Before Tinder, but I wouldn't have been a lot of fun on a date even if I'd had one, and hadn't been laid in a year or more. I'd struggle to fall asleep often, tossing and turning and ranting to myself. Sometimes I would smoke weed to knock me out, until one incident where it filled me with energy and I spent all night staring with loathing at myself in the mirror.
I bought my box of ten Cohiba 1966 for $470 AUD delivered. It was an impulse buy, the small solace of a luxury item in a dark time. I never touched them. The cigar I am smoking today is a single I picked up somewhere else along the way.
The darkness is long behind me now, vanquished later in 2012 by the scent of feminine perfume, although that's a story for another time. The 1966 box gives me solace still: today on the secondary market they are going cheap if you find them below $2000 AUD.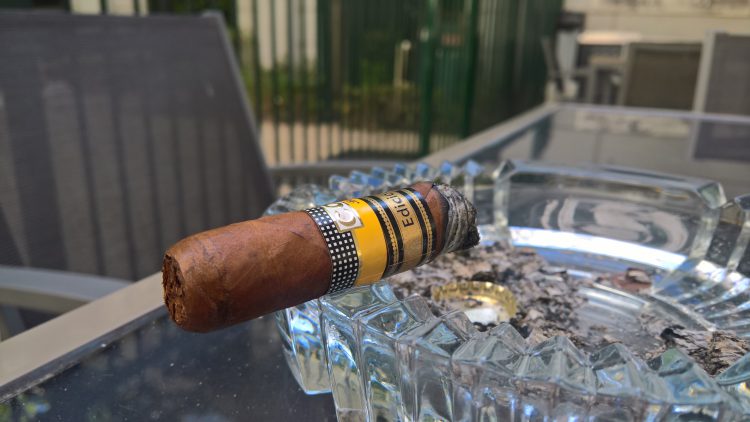 Throughout its consumption, the burn of the 1966 has been disgraceful. I keep my humidors a little wetter than conventional wisdom dictates, my theory being that for aging the preservation of oils is key. Normally if I plan to smoke something, I will take it out a few days beforehand and let it dry a little, but in this case the perfect afternoon came on the back of a week of rain, and I pulled one straight from my aging box to take advantage. Perhaps then it is me who is to blame, but nonetheless the cigar has gone out three times, and burned unevenly for the duration.
Even so, the Cohiba 1966 is impeccable. A little dirty on the finish, but otherwise very smooth, with notes of dry straw, sweet nut, and black coffee. The final inch is a little bitter, but nothing I can't handle. A note of cocoa in there somewhere, and a sweet herbaceous tang. A fine end to a fine cigar. Better than the Novedosos, not as good as the 2006 Piramide.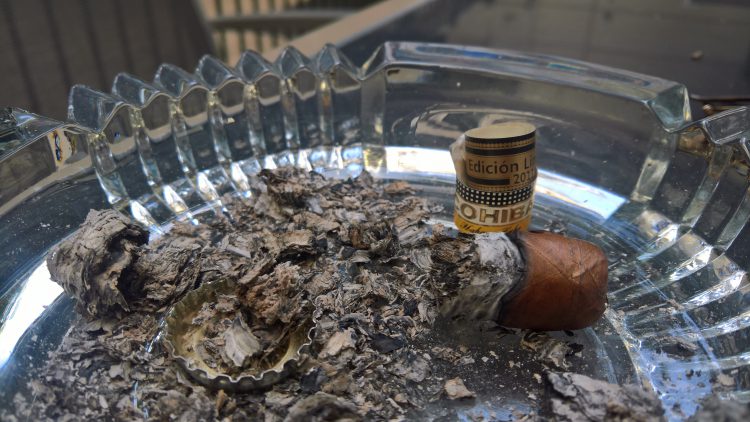 Cohiba Cohiba 1966 Edición Limitada 2011 on the Cuban Cigar Website.