2000. A chaotic year for Cuban cigars. A decade prior the Soviet Union had collapsed, and forty years of a Cuban economy propped up by subsidised sugar had come to an end. The last two tobacco harvests had been bad. Hurricanes Georges and Irene had flooded fields and demolished curing barns, and the crop was almost completely lost. The nineties had been a boom decade for cigars, and its legacy showed in Havana's empty tobacco storehouses.
What was lacking most of all were the wrapper leaves. Traditionally, the wrapper for a Habano comes from a single large middle leaf of a shade grown plant, pale brown, and thinner than paper. In Havana in 2000, these were in short supply. They did, however, have a few of the upper leaves. Thicker and much darker, these sun exposed leaves were normally deemed unfit for the export grade Habanos, and were used instead for domestic cigars. But times were hard, and quotas had to be met.
This is the origin story of the Edición Limitada program. Those first four cigars, wrapped in thick, dark, and oily domestic wrapper leaves, pumped out to fill out a quota. Today, the program is considered a great success, and the black and gold bands signal high prices, low supply, and a good opportunity for a speculator to flip them at margin. Back in 2000 though, the sticks were priced very reasonably, and the bands were more of a scarlet letter. "Don't worry too much about these" they read. "There aren't many of them. They're only here for a year."
An 'A' size cigar is always a journey, and at 12:33 in the afternoon I touch the flame and begin this one, the Hoyo de Monterrey Particulares Edición Limitada 2000.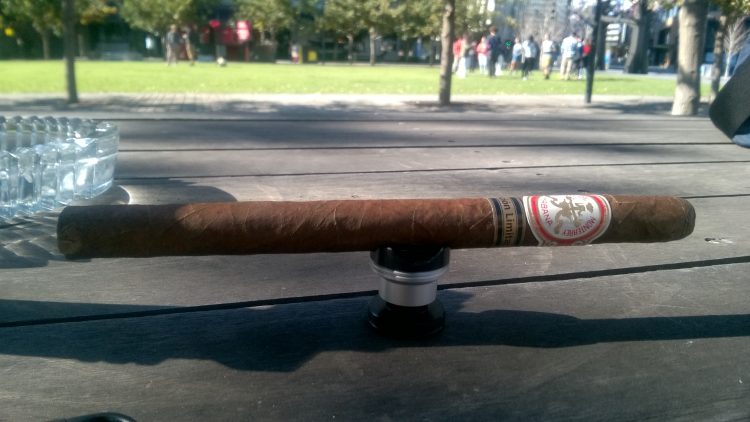 The first few centimetres surprise on all fronts: of an old cigar, of a giant cigar, and of a Hoyo de Monterrey, one expects mildness. Instead, the cigar is quite punchy, high medium tobacco notes, with burnt toast and charred mushroom. There is a touch of cedar, and just a little bitterness to the aftertaste.
The blue smoke curling ever upward, my memory strays to Victoria Sargent, the next in my half-decade long reminiscence of girls I liked in high school; of that which could have been, and wasn't.
I first became aware of Victoria when we were fifteen or so. My school was boys only and she went to McRobinson's, our all-girls sister school down the street. It was considered very cool to complain about how ugly the McRob girls were ("McDog" got thrown around a lot), and yet we all seemed to wind up dating them. My clique at school was the film geeks crew; a bunch of greasy dorks with long hair, who talked a lot about the twin idols of every teenage film nerd in the '90s, Quentin Tarantino and Kevin Smith. I wore a beret completely unironically on more than one occasion.
We were a band apart, but at parties there was a lot of overlap with a few of the other cliques who didn't take scholarship too seriously: the stoners, the music club, and the theatre kids. The theatre kids' parties were the ones you wanted to go to. The theatre kids did a lot of mixed productions, and the theatre kids knew girls.
At some point I had would up with a McDog of my very own. Minh Nguyen was short and squat, with bad skin and braces, and my friends teased me relentlessly for dating her. I was fifteen though and she smelled like shampoo and let me French her and that was good enough for me. Besides, those dudes were gay, anyway.
Minh wasn't one of the theatre clique. I'd met her at one of their parties, but she was a film geek through and through. Somehow, she and a few of her friends managed to infiltrate themselves into our movie nights, where the etiquette remained unchanged, despite the addition of females. No drinking, no drugs, and no public displays of affection; just eight guys and three girls soberly watching art-movies until late, then all sleeping on somebody's parent's loungeroom floor. Once the lights were out, the couples would exchange furtive caresses, while the others pretended to be asleep, and stifled giggles at any unconcealed noises.
A taken man, and still subscribed to the fairytale of monogamy, I would appreciate Victoria only from afar in those early days. Minh was very much a creature of this earth. Her short legs were purpose built for squatting in the gutter in a south-Asian market, and her powerful forearms were ideal for separating the heads from chickens with a cleaver. Victoria, by contrast, was an ethereal. Victoria was built for the lobbies of luxury hotels. She was tall and lithe, with perfect teeth and sparkling green eyes, and a smile that raised her high cheekbones and lit up her flawless white skin. She was a ballerina, trained since childhood, and the practice was evident in her every move. She glided across rooms. She reached for drinks en pointe. Usually at a theatre party I would be slumped in a beanbag in some darkened corner with the other movie nerds, when across the room I would catch Victoria throwing out a spontaneous arabesque, her friends laughing, and falling over trying to imitate her. Her form was perfect.
After high-school, and with Minh long behind me, I began to develop something of a friendship with Victoria. She went to a ballet university, and once in a while I'd see her clomping around the city in her leg warmers, and she would smile and hug me and if nobody was in a rush we'd get a coffee. When I saw her at parties we would always gravitate to each other, the two of us on a couch in some quiet room, our easy conversation flowing unceasingly. She always seemed to be dating a much older guy, or an athlete, or someone else beside whom I was grossly inadequate, but she was always polite enough not to mention him when we were together.
Eventually I would lose track of Victoria for a year or so, and somewhere in there I started dating Audrey (who, by the way, was also a McDog, although she was far too aloof and standoffish for even the theatre clique). Our relationship was about eight months in, and the cracks were starting to show a little, when out of the blue Victoria started chatting to me on MSN Messenger.
It turned out that I had lost track of Victoria for a reason: she was overseas. She had graduated from ballet school and, having already been rejected from all the big Australian ballet companies, had moved to London to try out for the European ones. She was alone, house sitting a flat that belonged to an aunt, and was lonely. Her days were filled with training, try-outs, and eventually rejection. She was struggling with the looming reality that most of those who devote their youth to a high aspiration must someday face: that she wasn't going to make it. At 24, she would have to completely rebuild herself.
We talked most nights, often for hours. As ever, the conversation flowed easily and unceasingly, me about my life of IT drudgery, and her of her trails and fading dreams, and it began to become clear that she was developing a pretty big crush on me. She would send me pictures of her on her travels, en pointe in front of European landmarks. Once in a while there would be one that seemed like it was taken just for me, her in a leotard in her messy bedroom, an arabesque with perfect form. We made plans together, of things we would do when she came back, keeping a list of restaurants and bars and sights that we should see together. In my head I was doing the calculation of Victoria's return date verses my lengthening cracks with Audrey. Of course, I was polite enough to never mention her to Victoria.
One night I found myself at bar with the old set, the film geeks, the stoners, the music club, and the theatre kids all strongly represented; mostly people I hadn't seen in years. It was a farewell party for Julia, a theatre kid from way back, who was off on a European gap year. First stop: London. "Are you going to see Victoria?" I asked her. "Sure," she replied. "I'm staying with her tomorrow night." With her typical grace, Minh barged into the conversation. "Oh my God, Julia" she squawked. "Have you the goss about Alex? He's dating Audrey Cates."
Two nights later I saw Victoria online at the usual time, and sent her my normal greeting. I could feel her hurting through the screen. "You didn't tell me you were dating Audrey Cates." I fumbled a response: "Oh, didn't I? Well, it's not that serious." It was to no avail. We were through. She never messaged me again.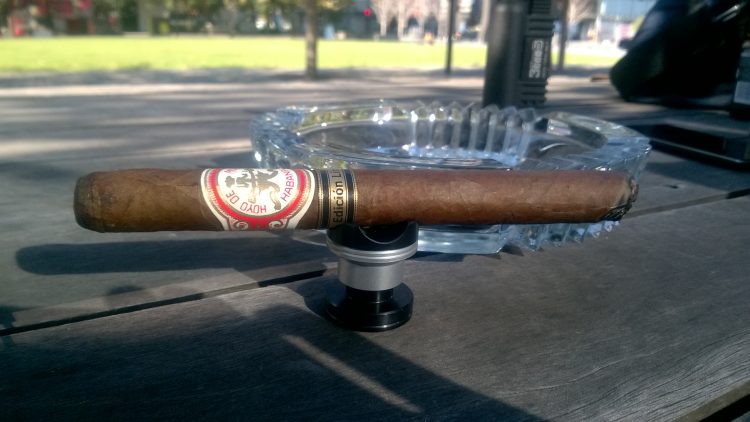 The initial robustness of the Hoyo de Monterrey Particulares lasted longer than you'd expect, and even at the halfway there are still some signs of it. The Hoyo wood has arrived, as always, but there is a strong char to it – a campfire in a cedar forest. In the aftertaste is a sweetness that is not at all unpleasant. Although not as bad as either the Monte or the Party of the same vintage, the Particulares does suffer from the famous flame-retardant tobacco of the early 2000s. It has extinguished itself perhaps five times already, and been touched up a few others, and even when it remains lit I feel like I must puff more than usual in order to keep it so. I suspect that all this is keeping the coal too hot, and is probably the source of some of the cigar's strength.
It was about three years later when I next saw Victoria. She had circulated an open invitation to her Facebook friends to come up to her family's hobby vineyard to help with the annual harvest. I was probably the last person she was expecting to respond, but time had passed and wounds had healed, and when I messaged her to ask if I could come she said "sure."
It was a big mistake.
In the intervening years, Victoria had given up on ballet, and like every person who gives up on something they love, had gone for the most practical choice possible. She was doing an Information Systems degree. The other takers for this winery invitation were three of her friends from uni, all nineteen-year-old guys. Worst of all, Victoria was clearly smitten with one of them.
Although Victoria and I were the same age, in the eyes of the others she was one of them and I was some random old man. In deference, I was given the front seat on the drive up, and watched jealously in the rear vision mirror as Victoria leaned into her beau far more than was necessary with each bend in the road. Once we had arrived at the farm, the four of them mostly ignored me, leaving me to chat with her brother and parents, while they gossiped about people in their course.
The bedroom we were to share had one bed and a few camping mattresses on the floor. "Victoria should have the bed" I declared, "it's her place," but the others we adamant it should be me. One of the guys snored loudly all night – loud enough to keep me awake, but not enough to drown out the sharp intakes of breath, and slurps and squeaks and moans and muffled giggles of Victoria and her guy exchanging furtive caresses on the floor below me.
The final twist of the knife came the next day. I was standing with Victoria and her mum, watching Victoria casually do a few barre exercises on the side of a plastic grape bin.
"Alex changed my life, y'know mum," She remarked, offhandedly. "When I was in England we used to chat a bit, and he gave me the idea to go into IT. It just seemed like pretty easy work."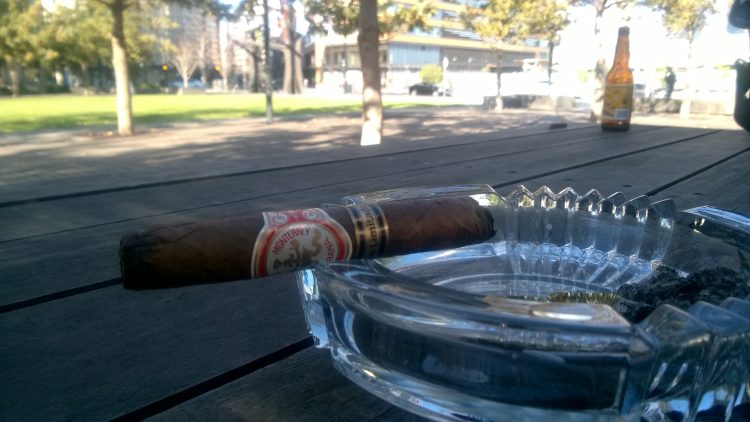 By the three-quarter mark, the strength has faded out of the Particulares, and smoking it is a constant struggle. If I puff on the cigar to keep it lit then the coal will core. When I touch a flame around the edge to burn the wrapper, it will become too hot, and the flavour will be bitter tar. If I leave it a moment to let it cool, the cigar will extinguish itself, and I'll need to relight it, and the process will begin again. Perhaps a more skilled smoker than I am could get something out of it, but for me it fluctuates between bitterness and tastelessness.
It is 4:45 in the afternoon by the time I finally lay it down, a little over four hours since the flame first touched the foot. It has never really been unpleasant at any point during the journey, but it also has never been easy. With a better wrapper I'd take this over two Epi. 1s, but as it stands it's only really better for the novelty value.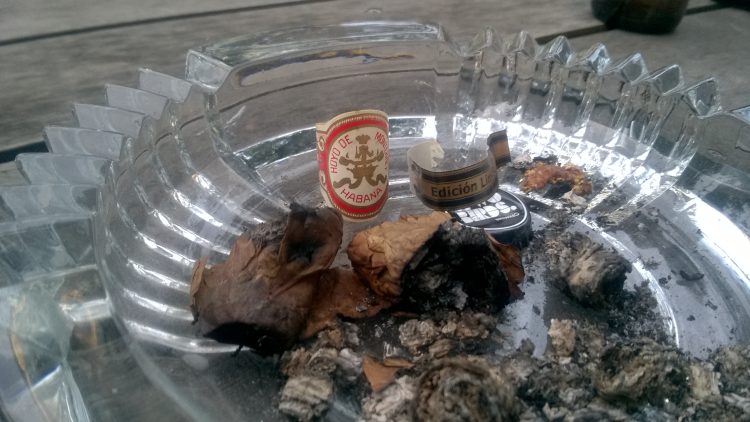 A postscript: Years later, Victoria would wind up marrying Rod Plumber, another from the periphery of the old set (one of the stoners), and as undeserving a doofus as could win a girl like Victoria. Their courtship? She was working as a product manager at IBM, and he was doing a multi-month walking tour down the east coast of the US. He had downtime in the evenings, which coincided with the time when she was bored at work. They did a lot of chatting online.
Hoyo de Monterrey Particulares Edición Limitada 2000 on the Cuban Cigar Website