Osaka, Japan: hot, humid, overcast, with just the occasional touch of drizzle. A fairly typical afternoon at the end of the Osaka summer.
I lived in this city for a little over a year, mainly in 2009, and have returned here many times since. Today I am on vacation. My friends in this part of the world are all either bartenders or English teachers, but either way, they live the same lifestyle: rise at noon, work until late, drink until dawn. Now in the third week of my vacation, my body has entered a kind of toxin survival state where I no longer get hangovers, which means my afternoons are free. I have decided to take a walk.
Despite living here, I really have no idea about the geography of this city. There are no hills to speak of, and the whole place is tall buildings, there's never anywhere you can get a clear line of sight. I know certain areas quite well, but only in relation to their nearby subway stops – how the districts fit together into a city I really have no clue.
I have decided to head to the aquarium, starting near my hotel on the Dōtombori canal. I know that the aquarium is by the harbour, and my logic is that the canal must eventually wind up at the water. The aquarium has the world's largest Ferris wheel right next to it, so once I'm on the waterfront I figure I should be able to spot the wheel and head toward that.
It's not a sound plan, but the point is the journey, not the destination. I'm bringing a traveling companion with me, a Romeo y Julieta Duke, Edición Limitada 2009, a handsome brute with a deep red wrapper.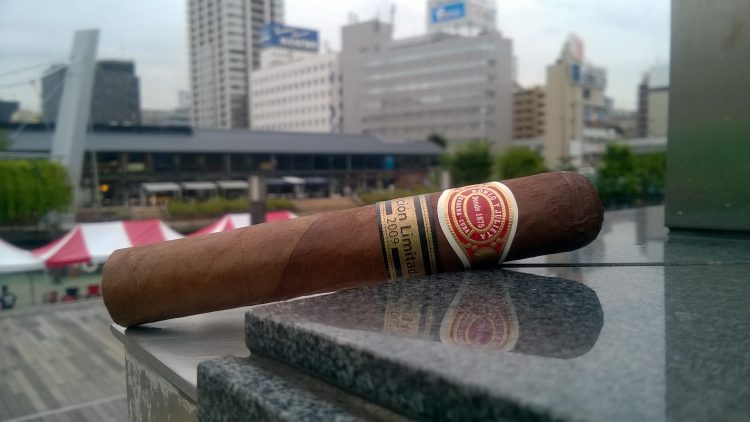 The Duke begins well, sharply floral, like chewing on rose petals rather than sniffing them. Somewhere behind there is a nice, beany coffee and more than a little cream. There's no EL chocolate here yet, but you can clearly see the dust of its approach on the horizon.
Like most people in their mid-20s who wash up in a foreign land, I came to Japan mainly to get away from my mother. At the time I had just spent two years working in my first real job, eight hours a day sharing a cubical with a guy who crunched sunflower seeds unrelentingly throughout the entire workday. The money was great, and I was basically running the show, which is an unheard of career progression for a guy my age, and yet, I had come to ask myself that inevitable question, "what am I doing with my life?" My mother had the answer, "you have a good job, you're doing well, you need to work hard, get some security, buy a house, meet a nice girl maybe."
She was right, of course, but my young brain couldn't see that. "Why is my mother trying to enslave me," I wondered. "Why would she want me to spend all day in that prison?" I was a lost soul, and I needed to find myself. And so I fled.
A friend had recently moved to Osaka, so I applied for a job with his company, teaching English. They told me I had it, but after a month or two of messing around, they changed their minds, so I decided to wing it and just left. Tourist visa. One-month booking in a foreigner friendly flop house. No plans.
It was cold the night I arrived: January in Osaka is a marked shift from January in Australia. Somehow I found my way to my guest house and checked in. It was around 10pm, I think, by the time I settled in and ventured out. I found a pay phone around the corner and called my friend. "Hey man," he said "I'm a bit busy right now. I'm in Hiroshima having a bath with an old lady. I'll be back in three days."
It was an odd three days. I had no phone, no internet access, I didn't know anybody, I didn't speak a word of the language, and I knew nothing about the city. If I got lost there was a non-trivial possibility of my dying on the streets, so I wasn't too willing to venture far from my home range. Japan has one of the lowest levels of English in the world, but it is a strangely friendly country for the non-vocal illiterate. The western idea that Japan has a vending machine for everything is a myth (they do have a block of vending machines every ten meters, but they all just sell drinks and cigarettes), but in most mid-range restaurants you order from a machine that has pictures of every item, and don't have to interact with your waiter beyond a curt head nod. In any event, I think I spent the next three days mostly in my room watching Japanese television.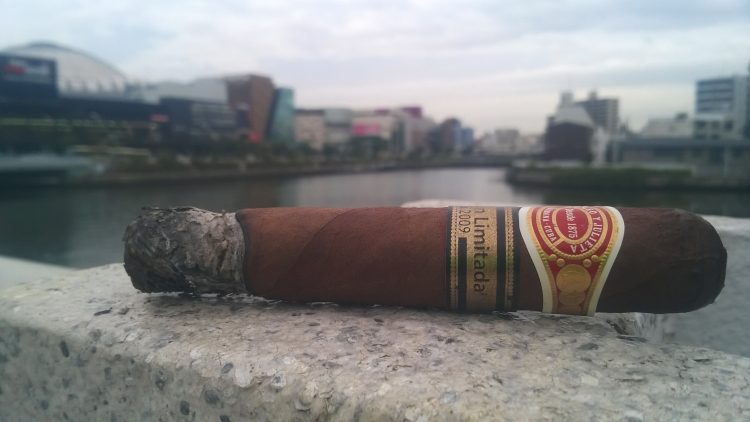 Back in the present, all is lost. The canal I was following branched, and then zig-zagged, and then I came to an industrial district where the walkway along the canal bank ended, and large warehouses obscured my view of it long enough that I lost it. I am walking in the direction that I think is toward the bay, but really I have very little evidence to back up that theory. The Romeo is holding together nicely though. Earthy. Christmas pudding. Cherries. Nice fruitcake. Strong coffee notes. Eventually I find my way to one of the huge bridges that span the harbour, and scale it, and from there I am able to determine the magnitude of my navigation issues. The Ferris wheel is visible, but several kilometres away. The only landmark that looks attainable is the giant IKEA on the next island, so I head towards there. The new goal is a $1 hotdog.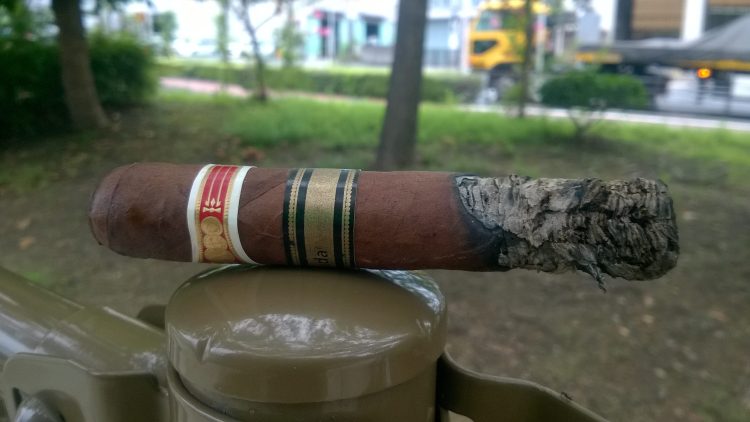 When my friend finally returned to Osaka he picked me up at my guest house and took for a tour of the surrounding district, which I would later come to know as Shinsaibashi, the main entertainment district. At the time it seemed completely alien, a maze of crowds and tall buildings. That night he took me to a club. I was delighted, my first social interactions in three days, my first exposure to Japanese girls, and the nightlife scene. I was a little tipsy and chatting in broken English to a girl in short shorts when my friend tugged me on the arm and said he was leaving with a girl.
"Should I come too?" I asked. "I don't know how to get home."
He shrugged it off, plainly not wanting to chaperone me when he had a female in his sights. "Just go outside and go straight, it's just down the road. You'll be fine."
An hour or so later the girl I was talking to left with her friends, and I decided it was my bedtime too. I headed out to the street, and instantly realised I was in trouble. I had no idea where I was, or which of the four cardinal directions he meant by "straight."
For the next four hours I wandered, first by heading about a kilometre or so in each of the cardinals before deciding it was wrong and heading back, and eventually just roaming at random, hoping to find some landmark I knew (which at this point in time was essentially limited to the 7-11 down the street or my guest house door). Eventually the sun rose, the trains resumed their service, and I was able to find one to take me to the station that I remembered as the one I had got off at upon my arrival. I didn't have the map I had had then, so there was still a little random wandering before I found my bed, but I got there eventually.
I saw a lot of the city that night, and over the next year I was constantly finding familiar things, landmarks from my ramblings. If you want to find yourself, you first have to get lost. It's a good way to get away from your mother, also.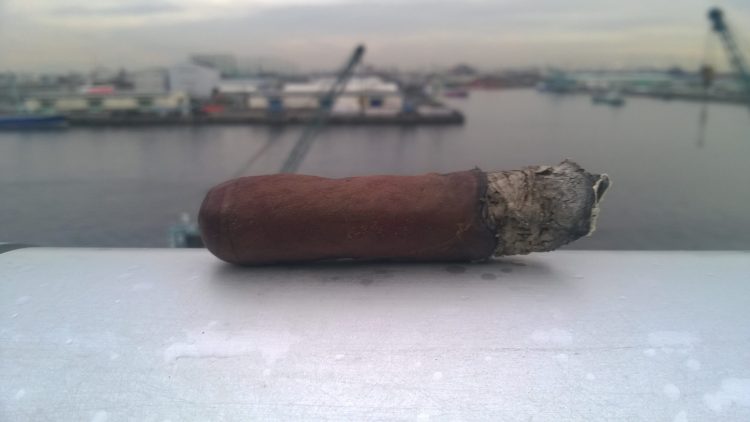 In the final third the chocolate emerges, deep, bitter swathes of it. The coffee remains resilient also. The burn has not been great, requiring several relights, but I blame that mainly on the humidity. The ending could be smoother, but it's not as rough as some. All in all, the Romeo y Julieta Duke is a fine cigar, and much better than the Petit Coronas.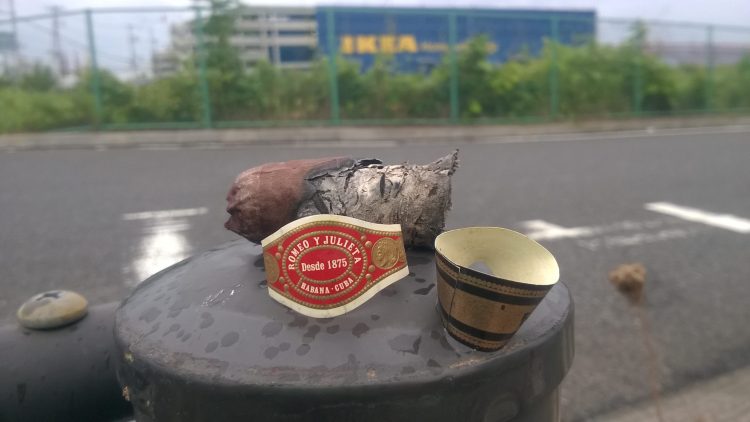 Romeo y Julieta Duke Edición Limitada 2009 on the Cuban Cigar Website