It is the summer and Davidé and I are on our customary trek north. We have made it as far as Sydney and, as one usually does when spending any amount of time in this humid sweatbox, we have wound up by the water. In much the same fashion as a young boy will mimic his father, strutting around impersonating his swagger and talking into a pretend telephone, Davidé has recently developed an interest in cigars. Ever the evangelist, I've brought him down here to show him a thing or two about the leaf. His cigar is a Romeo 2 from an olive green Australian plain packaged tube (he bought it from a suburban bodega this morning – I had to literally step behind the counter and rummage through their cabinet to find him something better than the vanilla flavoured nub the shop keep was recommending). For my own part I have something lovely – a Romeo y Julieta Romeos from the 125th Aniversario Humidor. It's a nice, perfect perfecto, and it already has something on the last one of these I smoked: the printing on the band is excellent.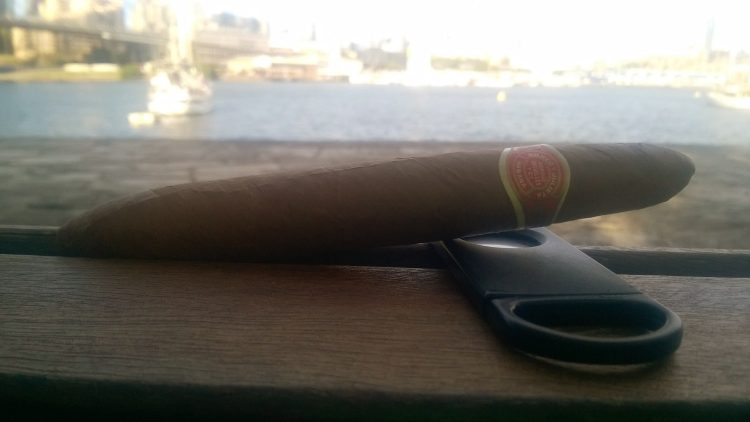 It's windy by the water, and with a flight in my near future, I have neglected to bring anything more serious than a Bic lighter. Getting the Romeos lit is a long and frustrating process, with a lot of crouching against the seawall, my hands cupped around the sputtering flame. Once I finally get it ablaze it starts light, but moves rapidly to full as the coal widens. Sour cherry notes dominate, with herbal undertones and a bit of dry spice on the back end.
It's a Monday afternoon, and being young men on vacation, last night found us out on the prowl. I don't want to cast aspersions on this fine city – certainly, in Melbourne you wouldn't find a lot of action on a Sunday night either – but in this town they seem to have a certain anal retentiveness for the rules that we don't share. Our first port of call (having wandered past several closed or empty bars), was what seemed like a busy pub. It was 9:30pm on the knocker when we approached the bar keep, never thinking that we might be rebuffed. "Sorry guys", he told us. "Legally this till has to be locked at 9:30. I can't serve you."
Dejected, we returned to wandering, finding few options. In desperation, Davidé poked his head in the door at the Church of Scientology, where a crowd was milling, holding plastic cups (a banner read "Happy Birthday LRH.") "Is there a bar here?" Davidé asked. The woman who answered him looked horrified. "No! This is a church!"
It was 10:15 by the time we found another place, a cool jazz bar that seemed to attract the local bohemians. We ordered gin and tonics, and the barmaid proffered some advice. "Guys" she told us. "Legally I have to lock this till in fifteen minutes. Why don't you order triples?"
Pint glasses of gin in hand, we headed out to the beer garden. The only occupants of the place were a couple in their sixties, and all the seats save for theirs were leaned up against the tables. The place was obviously closed or closing, so we started to head back inside when the female half of the couple, obviously in the advanced stages of drunkenness, hailed us. "Sit down," she said. "It's not closed. That old black bastard just put them like that. Sit down. He'll come out here in a few minutes and tell you to move, and you just tell him 'no.' What's he gonna do? Can't throw us all out."
We sat, and as we sipped our drinks she engaged us intermittently, repeating the same general instructions: "when the old black bastard comes tell him 'no.' Refuse to move." I was on board, and Davidé is always keen for some civil disobedience, but when eventually someone did approach us, it was a well-dressed and charming black guy in his early forties. "Hi guys," he said, smiling, "sorry, but we have to close this area now, would you mind moving inside?" I had already complied by the time I realised that this was the bastard of legend. The couple held their ground, the woman heckling us with vigour as we skulked indoors. Ten minutes later they passed us on their way out. The woman gave us a haughty silence. The man, who heretofore had been silent, and I assumed must be the designated driver, gave us one word. "Pussies."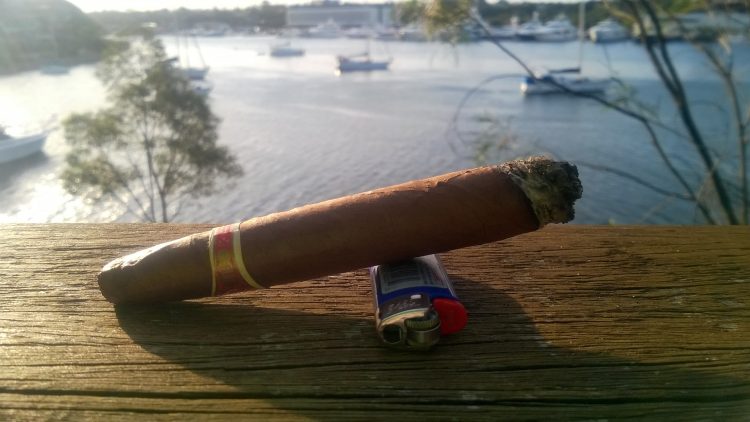 The wind got the better of us, and Davidé and I have moved around the coast a few hundred meters, improving the situation immensely. Our new nook is a sheltered platform with benches, a view of the setting sun, the yacht marina, and the jogging track where firm young things are exercising. The cigar responds well, with any bitterness falling away. At the midpoint the tobacco is light with a herbal tang, some straw and barnyard, and some saltiness on the lips.
As the evening began to wind down, we found ourselves in the front bar. At this point the bar was technically closed, the blinds drawn and the door locked, but the owner was not as much of a stickler as some of his compatriots, and kept the liquor flowing for us. He had an ulterior motive: aside from us, the only other remaining customers were two women, Amiee and Shana, and he needed someone to keep the more boisterous Amiee busy while he chatted up her friend. The girls were in high spirts, flush with success. They had arrived in Sydney two days ago for some trade show, hawking the produce of their candle business, and were going home with $20,000 in orders. They were a lot of fun, the very epitome of stereotypical rural Australian women, with no compunction about bellowing phrases like "where's me phone, ya moll?" at each other in mixed company.
Amiee clearly wanted to take her celebrations further, complaining to us at length about her boyfriend, Brett, about how he didn't love her, and about his tiny dick. She gave us both her number, and asked for each of ours. Multiple times she told us breathily "I let guys do anything to me… anything," and when Davidé went to the bathroom she squeezed my thigh and said "are you going to let your friend have me all to himself? You need to be more aggressive."
The night was suddenly aborted by the barman, who approached us quietly. "Sorry guys… Amiee, your friend is throwing up outside." I had noticed them doing Sambuca shots before, but obviously he'd miscalculated her capacity for Italian liquor. Amiee rushed out, while Davidé and I settled the tab for everyone. By the time were got outside (the barkeep locking the door firmly behind us), the girls were gone, a puddle of watery vomit on the steps the only sign of their passing. "C'mon man," said Davidé, "let's do it. Call that chick. We'll double-team her. She's up for it." I shook my head slowly. "Sorry friend, not this time. Some wallabies it's better to let hop away."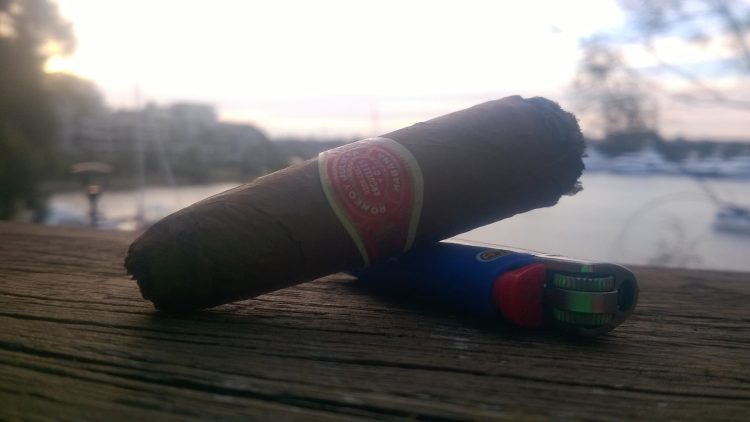 The construction of the Romeos has been fantastic, holding its ash in a perfect, solid cone. Davidé is in the final centimetre or so of his Romeo 2, and has been spitting incessantly for a while now, complaining of acrid tar. As he tosses the nub I give him a puff on my cigar, which still has a good two inches left, and is exhibiting sweet honey notes. He pronounces it a "whole different ballgame." And it is.
The ending is woody, with the pleasant bitterness of coffee. The Romeo Romeos from the 125th Aniversario humidor is quite a different cigar to the Romeo Romeos from the Replica Ancient Humidor, but by no means its lesser. It's certainly better than the Romeo Petit Coronas.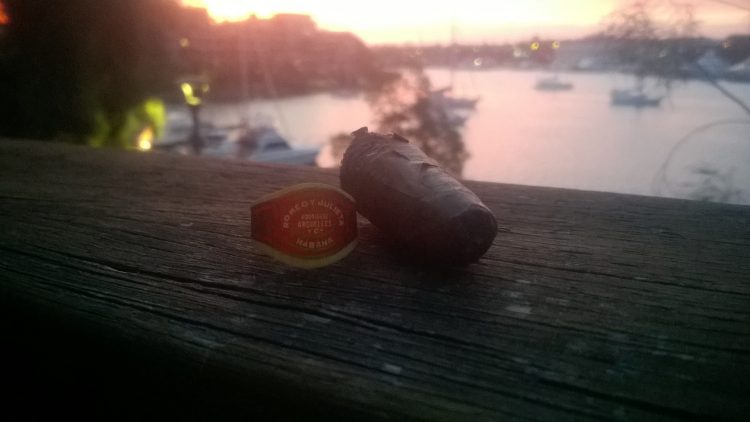 Romeo y Julieta Romeos 125 Aniversario Humidor on the Cuban Cigar Website