The theory behind the Grand Reserve series goes that once in a great while (a great while being every two years) an especially good tobacco harvest might produce a small amount of absolutely peerless leaf, leaf that will be aged for as long as it takes to perfect it and then rolled by the highest ranking torcedoras into cigars that are the best of the best; into cigars that are absolutely without compromise. The theory behind the Grand Reserve series goes that Habanos can charge six or seven times as much for them as they do their single banded analogues.
The cigar I consider today, the Montecristo No. 2 Gran Reserva Cosecha 2005, is the second release in the Gran Reserva series, following 2009's Cohiba Siglo VI. The third instalment has been announced, but at time of writing has yet to surface: the Partagás Lusitania. Of the three the only one I really understand is the Lusitania. If you're going to roll the best of the best for a given brand, it should be that brand's flagship, which for Partagás is the Lusi. The Sig VI makes some sense for Cohiba, I suppose – while my Cohiba flag carrier will always be the Lanceros (or maybe the Espléndidos at a stretch), I understand that it might be the Siglo VI as far as Habanos SA is concerned. Montecristo is a hard brand to pick a flagship for; you've got the A, which is their most expensive and impressive cigar, but is too big for even aficionados to smoke with much pleasure; you've got the Especiales No. 1, which is a beautiful, elegant thing, but I don't think sells very well; then the Edmundo, but that only came out about five years ago… what else, the No. 1?
At any rate, it's not the No.2.
Perhaps they have no choice what Gran Reserva they roll? Perhaps the blenders say "no, no, this peerless tobacco is only suitable for Montecristo No. 2s." I hope so. I hope in a few years they say "no, no, this peerless tobacco is only suitable for a Fonseca Cosacos."
I'm joined this evening by my colleague T. Rex, and have issued him with a cigar to smoke alongside my Gran Reserva: a Montecristo No. 2, box code DEB OCT06. 2006 was the first year of Habanos' new ageing policies – all leaf is aged for at least one year before rolling (certain varieties are aged for two and three years, but let's not complicate things) – so a box date of October 2006, therefore, means that most of this tobacco comes from the 2005 harvest – cosecha 2005, if you will. The point is that these cigars are the same cigar, made of the same tobacco, aged for the same period of time (albeit one aged in a warehouse pre-rolling and one aged in a box after it). If any test can reveal whether or not the Gran Reserva is worth the premium, this is it.
And, to its credit, the Gran Reserva opens wonderfully, with notes of cream, and very, very smooth tobacco. We're smoking outside, but the evening is perfectly still: both cigars lit effortlessly: we used separate matches, but could easily have shared one, as neither of us burnt more than a third of the wood.
We're drinking a Grosset Pinot Noir 2002, which T. Rex informs me is a Very Good Wine. I'm not much of a wine aficionado, but judging this purely by the look of the label I'd put it in the $10 – 15 range. T. Rex takes a sip and grimaces, saying that it needs to breathe. He's right: the opening nose is vinegar mixed with high fruit compost.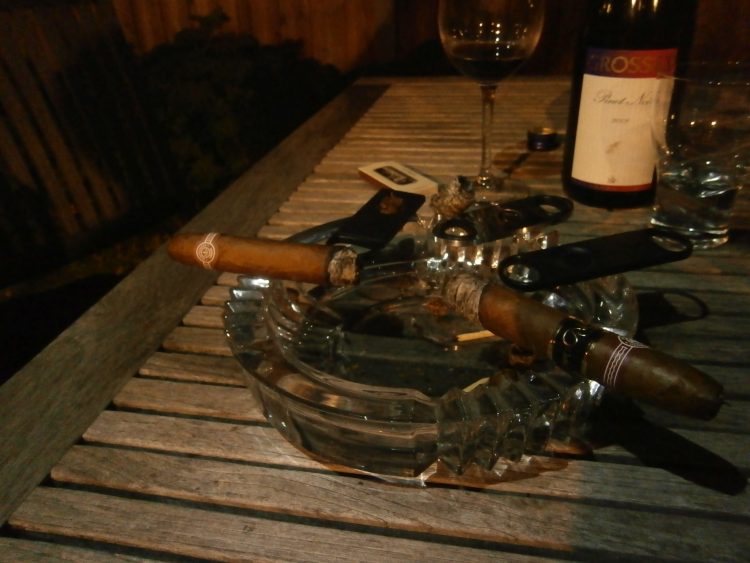 An inch or so in we swap cigars for a few puffs, and, my main observation being that the regulation Monte 2 has a much tighter draw, I suggest to Tybalt that he take a few hairs' breadth from the pyramid tip to open it up a bit. Flavour wise, the cigars are honestly on par; if anything the regular 2 is the more flavourful, if heavier on the tobacco. T. Rex describes it as "more sulphurous," but I'm loath to pin such a loaded adjective on it as it really is an excellent cigar. Cedar predominates both, with a splash of cream and mild kidney bean.
We swap war stories for a while, and then, washing down a hearty guffaw with a drizzle of pinot down the back of my throat, I have what alcoholics refer to as a "moment of clarity." I am struck by the notion that everything really is excellent. The wine has opened like a lily to the light, a delicate, pungent fruit bowl that pays good compliment to the smooth, refined tobacco of the Gran Reserva. It's sweet; earth, leather, coffee… the whole bag.
I spend a long moment absorbed in my screen writing this bullshit, and when I come to T. Rex suggests that I try both cigars again. I try the regulation 2 first, and am amazed at how good it is; a smooth, perfect 2. Next I try the Gran Reserva, and am shocked: it's very good, but of the two, it is by far the rougher. I hem and haw a moment… this is the Gran Reserva, the hot tip to top the leaderboard of Montecristo cigars that I'll publish in a few weeks… how can I admit that a humble standard issue No. 2 is its better? As soon as I stammeringly articulate the thought T. Rex's smirk betrays him: he has switched the bands on me. It's a good test, that proves beyond a shadow of a doubt that there is more to the Grand Reserva than the psychological bump from the fancy band, but it will sow a seed of doubt in me the rest of the evening, especially once we get down to the business end and the bands come off… am I smoking the cigar I think I'm smoking?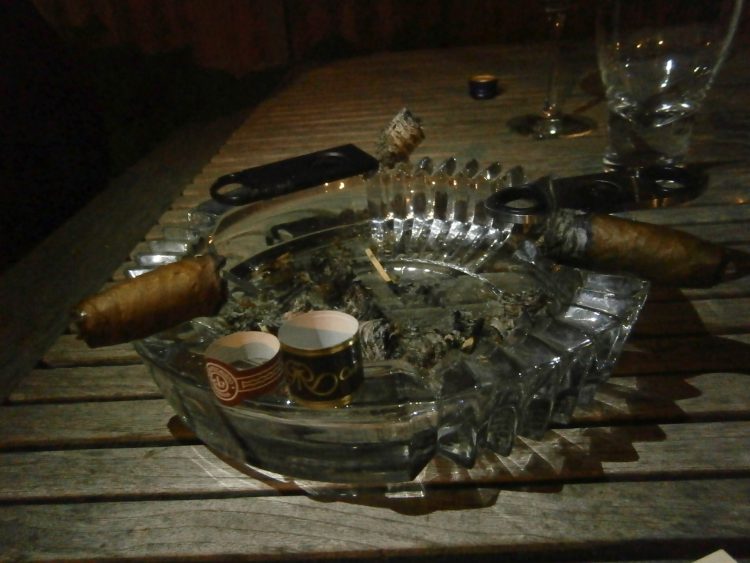 In the last few centimetres the regular No. 2 shows a quite a bit of tar, then the Reserva shows some, and then the tar dissipates from both. Neither cigar has required a relight or touch up, and they both get smoked till we burn our fingers.
The main problem with the Gran Reserva was the Monte 2 I put it up against. I don't know what happened here – maybe 2005 really was a great year for Montecristo No. 2 tobacco – because this one was one of the very best I've ever encountered. The Reserva was better, don't get me wrong, and if what you want is an absolutely flawless Montecristo No. 2 every time, then the Grand Reserva version is exactly what you should buy. If you were to shop around though, if you were to buy well reviewed box codes, and stock up during the good seasons… well, there are some flawless regular Monte 2s out there that don't have the Reserva band, and there's a lot of room for trial and error in that price margin. Also, when all is said and done, this is just a perfect Monte 2. If you have a little coin to drop and are looking for something that's better than an average Monte 2, why not try a Cohiba?
All that said, I really don't want to disparage the Monte 2 Gran Reserva at all; it is a flawless cigar that delivers everything that can be delivered within the scope of its responsibilities. It's not the best cigar in the Montecristo line-up, but it's in the top few, and it's a lot better than a Monte 4.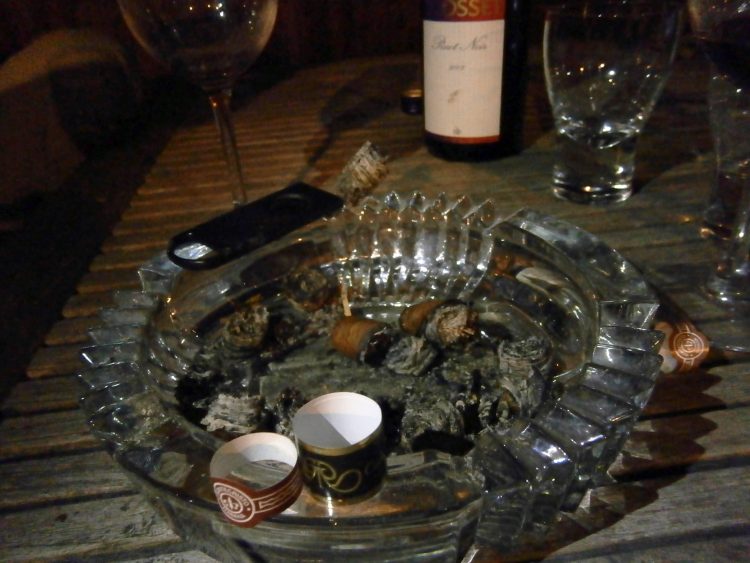 Montecristo No. 2 Gran Reserva Cosecha 2005 on the Cuban Cigar Website