For the first release in Mexico's regional program they created a truly interesting cigar in the Edmundo Dantes el Conde 109. It was from a new brand, Edmundo Dantes, a sort of faux-Montecristo created for the occasion, and had all the trimmings of that in its unique packaging; it was also a beautiful size, a 109, an old classic size from the distant past that is no longer present in any current production, recent examples existing only in the most exclusive of special production humidors (it has since appeared in a few other regional editions, but Mexico got it first). Based on this alone the collector's market would have sold out as much as they could produce, but on top of everything it was also a great smoke.
So what of the sequel? How do you follow up a classic like the el Conde 109? Perhaps with something bold, like a Montecristo Culebras? Perhaps reach into the archive and bring back the Montecristo No. 7, something like that? No. For the second release in their regional program they chose to do another cigar from Edmundo Dantes, this time the Conde 54, a 54 x 164mm Sublime, a size that was invented in 2004 to fulfil what demand I can't say, an by 2011 had already appeared in five regional editions and two limiteds.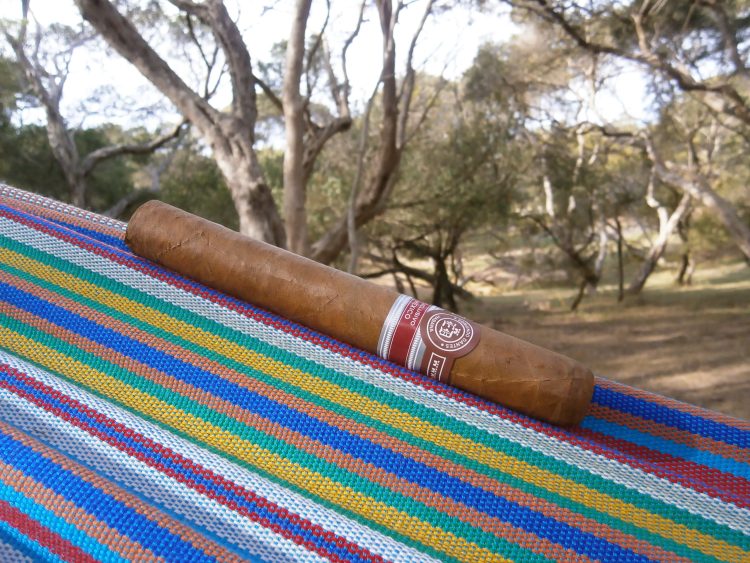 For reasons I'm not totally clear on, I've decided on this pleasant morning to hang up the hammock, and to subject myself to the unique set of physics problems one encounters when trying to balance a small fire, a full cocktail and a laptop (not to mention my ungainly frame) in a sack hanging between two trees. Access to additional rum and ginger beer are also important considerations: they're on the ground next to me, at a height where reaching for them will take me right to the edge of my centre of gravity.
The cigar takes a while to light (I can't keep everything steady enough), but once it's going it begins very well, light tobacco over a gentle, herbal spice and alfalfa sprouts. Draw is a little modern (read loose) for my taste, but perfectly workable.
I used to associate at one point with a man named Job, a nine fingered deviant of the highest order, who would occasionally travel to Mexico on business. He told me that before each trip he would pack a large cleaver in the outer pocket of his checked baggage, withdrawing it immediately upon picking up his bag from the carousel. This, he said, was an important security measure that would give him enough of a weapon to get through the arrivals hall to meet his driver, who would offer him a gun before a handshake.
Job was in liquor, and perhaps the tequila factory towns that he frequented were more dangerous Mexico City, where I spent the entirety of my two visits to that country. I never felt in danger, staggering through the dimly lit streets, drunk as much on altitude as the 1L bottles of Corona I bought for less than a dollar at every 7-11. It's definitely a dangerous city: cops carry automatic shotguns and wear bandoliers, whether they be on beat patrol or horseback riding lawmen in elaborate sombreros… but day to day? Violence on the streets? I don't know, seemed safe enough to me.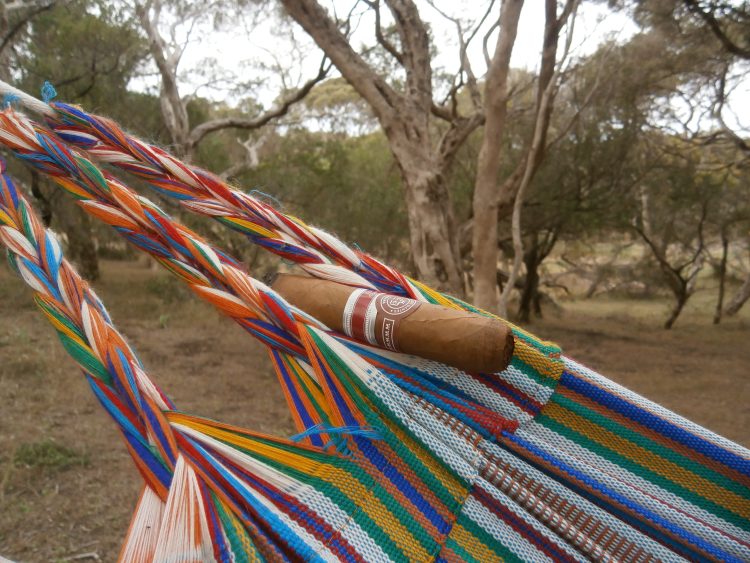 With the second half gone the cigar has become woody, not cedar, oak maybe. It's definitely thicker, anyway, and there's a little peaty whisky in there. I wish I could say that the predominant flavour in this cigar was chorizo and agave, but alas, much as the German regionals rarely evoke flavours of beer and sausage, the Mexican ones taste only of Cuba. I suppose the Swiss ones do occasionally have some chocolate.
The Lucha Libre, Mexico's acrobatic masked wrestling code, is held at a colosseum in Mexico City. The cheap seats are in the dress circle, where a cyclone wire dome above the ring prevents the screaming fans from falling onto the mat below. The beer seller quickly clocked my friends and I as foreign party-boys out for a good time, and kept the five peso (50c) plastic cups of Sol in ready supply. My favourite wrestler was Mr. Mexico, who looked like Freddy Mercury in silver pants; I hoped that at the end he would be revealed as the President of Mexico performing a publicity stunt, and perhaps he was: my Spanish is mediocre at best, and my knowledge of Mexican politics even worse.
I remember that on the walk back to our hotel my friend observed that the streets were very dimly lit, and that the guidebooks had characterised this area as "rough." He suggested that we had best be on our guard. I also remember that we stopped at a street vendor for chorizo tacos, and that those tacos were more or less the most delicious thing I've ever eaten in my life. I've ordered chorizo tacos at every opportunity since then, but have never been able to recreate the experience.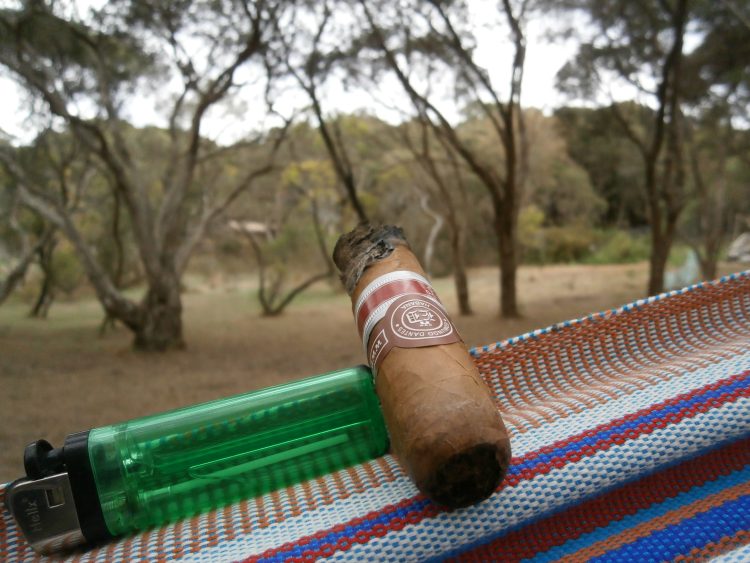 In the final inch the nicotine begins to catch up with me, a slight wooziness and pain around the temples – one should never underestimate the amount of leaf getting burned in these fat boys. I also have a huge crick in my neck from trying to type in a hammock. It ends well, not nearly as bitter as I'd expect, with final notes of grass, wood, and a sweet herbal tang.
At the risk of drawing a very long bow, I'd say that like Mexico City, the Conde 54 is a safe cigar, and more or less indistinguishable from many similar regional editions (major metropolises). Perhaps it's in the countryside that you find the real Mexico, the dangerous, beautiful, crazy Mexico; the El Conde 109 Mexico.
Overall the Conde 54 falls somewhere at the upper end of good, not as good as it's predecessor, but better than a Monte 4, many of the collector's humidors, and the more lacklustre LEs.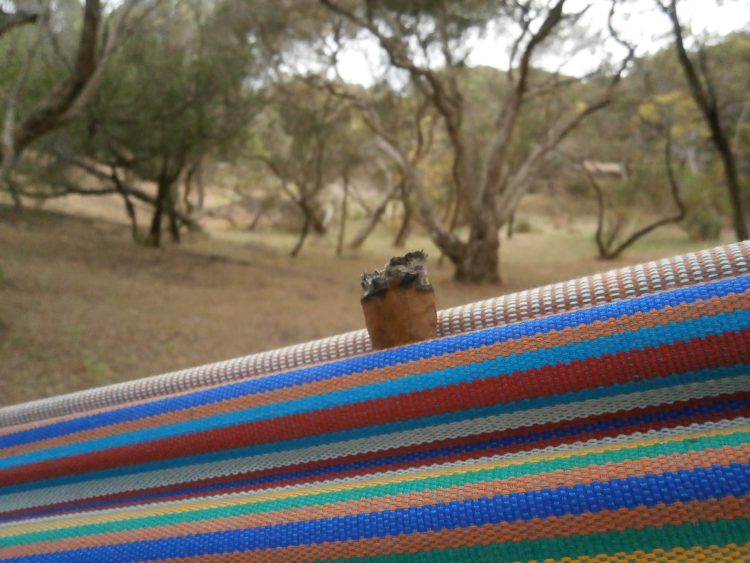 [Note on hammocks: I debated making this article entirely a blow by blow journal of things falling out of my hammock, but decided ultimately that writing about Mexico would be more interesting for the reader. Suffice to say that after I spilled my cocktail on my crotch for the third time, I went and dragged over a seat on which to rest my various apparatus. From there, the following steps repeated ad nauseam:
1)      The cigar would blow off the seat where it was resting.
2)      I'd lean over to get the cigar, and the cushion that was doing a very lacklustre job of preventing neck pain while using the laptop would fall out.
3)      I'd pick up the cigar and place it on the bench, then go for the cushion.
4)      While dusting off the cushion, the hammock would start swinging, and I'd knock the cigar back onto the ground.
An ashtray really would have helped. You don't even want to know the process involved in balancing the cigar on the edge of the hammock for the photos.]
Edmundo Dantes Conde 54 Edición Regional Mexico 2011 on the Cuban Cigar Website