The Replica Antique Humidor series is an annual release of a few hundred humidors: one brand per year; fifty cigars in each box. The cigars are generally large, a trophy smoke, but nothing too spectacular: normally it's a repeat of something that appeared a few years prior in an LE or commemorative humidor. The humidors themselves are always very beautiful, classically styled things, supposedly modelled on ancient humidors, although the provenance of these has never been explained to my satisfaction. Are they custom humidors from private collections? Old special releases? I've wandered around the Tobacco Museum in Havana, I don't recall seeing an old humidor and thinking "that looks just like a replica antique!" I like to think that there's a humidor sleuth, travelling the garage sales of the world, looking for a particularly choice old box to bring back and copy.
I often think that the market for these things is people who want to buy themselves a nice humidor rather than cigar collectors. As releases they're not that significant, but the humidors are beautiful. I've had the pleasure of inspecting a few firsthand: exquisite marquetry. Set fire to those pesky double coronas and you'd have yourself a very nice desktop.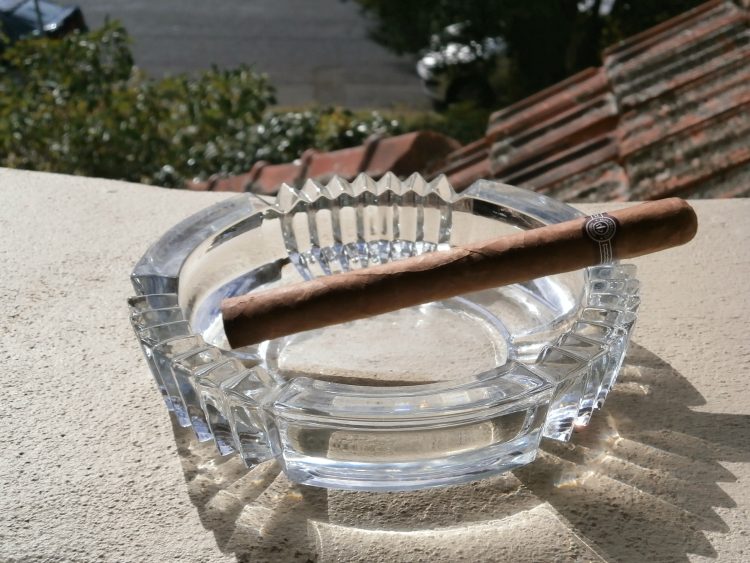 I set fire to the pesky double corona, and find the draw on the firm side but very acceptable. It opens mildly, dry paperbark tree over light tobacco, a hint of earth and dusty haylofts.
I've mixed myself a rough mojito; a few leaves of mint from the garden (placed in a palm and heartily slapped – releases the menthol), a spoonful of sugar, and a few chunks of old fridge-dried lemon (I didn't have any limes or even fresh lemons), macerated together, then topped off with a free poured slug of rum and about twice as much soda. It's surprisingly not bad. Not bad at all.
The rum in question is a cheap Cuban rum that appeared in Australian markets with the rum boom of the last few years, named for Santiago de Cuba, an industrial shithole on the opposite end of the island to Havana. When travelling in Cuba I tracked the price (and mainly subsisted on) Cuban 'pizza,'* and found that it decreased linearly the further I got from the tourist towns. Nowhere was it cheaper than in Santiago de Cuba.
Santiago de Cuba was once the seat of the Bacardi Empire – there's a Bacardi museum there, and a statue of their patriarch, and I think I saw the old family home. On the waterfront is the old Bacardi rum factory, atop the pinnacle of which is a giant bottle, visible from all over town. The factories have been nationalised, of course, and I had always assumed that they were making Havana Club in there; Havana Club, after all, seemed to be the national rum, and what else would they produce in their nationalised rum factories? I realise now that that assumption was incorrect. I realise now that they were producing Santiago de Cuba.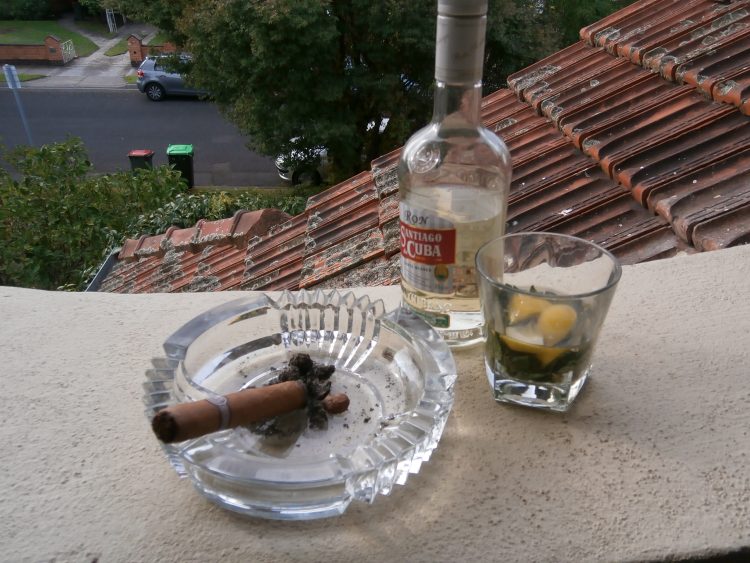 In the middle the cigar has thickened up into heavy tobacco, bit of tar. Bitter coffee is certainly present, and some note of vanilla.
It was Saint Valentine's Day the day I first set foot in Santiago de Cuba – I was having dinner with a male friend, and I remember that we'd remarked on the date in passing (he'd mentioned trying to call his girlfriend back home later on when the time zones were right). Unlike Havana, Santiago doesn't get a steady trade of tourists, and English speaking private restaurants are few and far between, and rather than seek one out we decided just to take the easy way out and dine at the main tourist hotel, a beautiful old place on top of the hill.
The waiter was overjoyed to see us, and ushered us into an intimate little dining room where he seated us at a lace covered corner table, a single rose between us. We ordered a bottle of red and two steaks, and while we waited the entertainment came over, two elderly Cuban men, one with a violin, who serenaded us with Spanish love songs. The wine that arrived was a good deal sweater than we'd anticipated, and a perfect pale rose pink, and was served in very dainty glasses, and the steak, when it came, had suffered the unfortunate Cuban treatment of being battered with cheese and ham. The other treatment the steaks had received was slightly less usual: they had been cut into love hearts. We ate quickly and quietly, and summoned the bill as soon as the last morsel had been swallowed, but the waiter wouldn't bring it. Dessert, he told us, was on the house. One slice of cheesecake. Two spoons.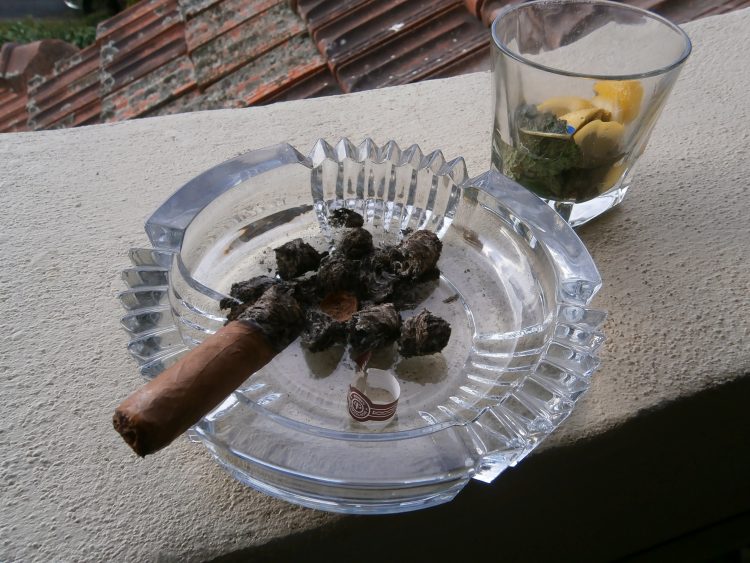 We quickly skulked away after dinner, down the hill and into the dimly lit streets, looking furtively for somewhere where we wouldn't look quite so much like a homosexual couple on a special Valentines date. We followed the sound of music and voices to a dank little low ceiling club, where the kids were smoking unfiltered cigarettes and grinding against one another. It would do. "Dos mojito, por favour."
The bartender was sceptical of my convertible pesos, but eventually we reached an accommodation and two mojitos arrived, served in old jam jars. They were rough mojitos, free poured, with old limes, undissolved sugar, flat soda and too much rum. They were surprisingly not bad. Not bad at all. A lot like my mojito today.
Maybe it's the rum.
The double corona is a good cigar, but in the field of Montecristo super exotics there is little to distinguish it. The tobacco is obviously first class, and it presents a good Montecristo profile, but there's not a lot to distinguish it in either direction. It's better than a Monte 4, and the C, and D, and the others that I had problems with, but it's not up there with the greats like the Maravillas No. 1 or the Edmundo Dantes.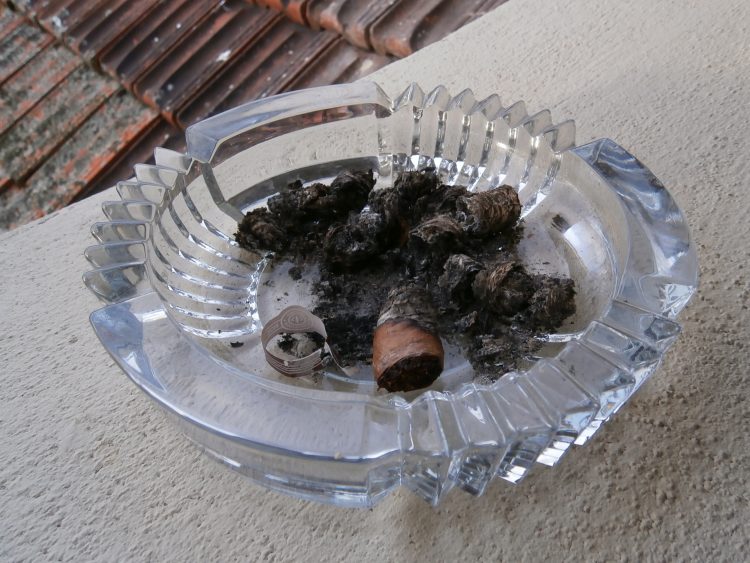 *Allegedly, Fidel Castro's favourite foods are pizza, ice-cream and Coca-Cola, a facsimile of all of which is universally available on the island. The Coca-Cola equivalent is Tu Cola (English: Your Cola), and tastes kind of like Pepsi Max; the ice-cream is sort of watery soft serve (I only had one, it tasted like rose water); and the pizza is a thick, doughy slice of bread with melted cheese on top. Very occasionally you find it offered with ham or some other additional topping at a higher price. The standard procedure is to fold the slice in half and pour about a cup of scalding hot cheese oil from the fold before eating; you usually burn your mouth anyway, but it helps. Prices ranged from twenty five local pesos in Havana (one euro, approximately), to five pesos in Santiago de Cuba.
Montecristo Double Corona Réplica de Humidor Antiguo on the Cuban Cigar Website