Amongst the more inexplicable releases of 2014 was the Romeo y Julieta Cedros de Luxe, that year's addition to the La Casa del Habano Exclusive line (which are not especially exclusive, either to La Casa del Habanos stores, or the year of production, and least of all in number produced). The Romeo y Julieta line can loosely be broken up into several lines: the numbered series, which come in tubes, are available in gas stations, and are smoked mainly by non-aficionados; the Churchill series, which have the classic name, command a premium price, and are smoked by both the aficionado and non-aficionado alike; and the Exhibición series which are the exclusive domain of the aficionado. Then there's the en Cedros cigars, which fall strongly into the "sell well in Spain" category (or to put it another way, are smoked by nobody).  Why Habanos felt that adding a Gorditio to the cedros line (a size that was last seen de cedros as the 2007 Escudos EL) was a good idea is beyond me, but so it is. Today one shall burn.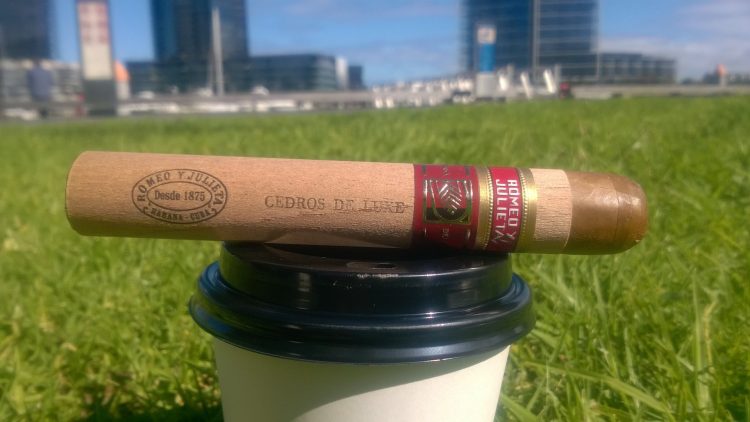 Readers are sometimes surprised to learn that I don't really smoke all that much. Aside from the odd social event – where I'll hang a cigar out of my mouth and not really think about the flavours – the cigars you see burnt in these pages are pretty much the sum of it. Because of this I am approximately the world's most spoiled smoker, with a palate accustomed exclusively to ancient limited editions and other rarities. Despite being 2014 cigars, the Cedros de Luxe only finally materialised in mid-2015, making this example the youngest thing I've smoked in years. It's got a real tang to it up front, like biting into a vine leaf. That note only lasts for a second on the palate though, quickly fading into a sticky, milky sort of taste, with a walnut bitterness. Tobacco strength is a light medium. It's not bad at all.
It's mid-morning on a Tuesday, and I have decided to call today a Vitamin-D break. I logged into the office chat-program first thing, and when somebody addressed a question to me I replied "I'm out of the office this morning, will get back to you this arvo." Nobody seemed to question it. There is a cool breeze blowing, but the little park I'm in is sheltered, and it's nice in the sun.
I picked up a coffee on the way over. The sprightly young waitress took my order, but told me to wait for the barista, and made small talk with me until he arrived. He turned out to be an elderly Italian man, who was delighted when I declined his offer of sugar. "Good, good!" he said. "The last guy, he want hot chocolate with two sugars! Two sugars! It's like can of coke! He want to kill himself, I think." I smiled along, and murmured the platitudes one murmurs when somebody rants passionately at you about something you don't have a lot of stake in. While he was talking the waitress had started wiping down the large tables, and was bending deep to reach the far side. The barista caught me checking out her butt and winked at me. "I think maybe sometimes you like the sugar, eh?" I threw up my hands, and smiled. "Sometimes I like two sugars."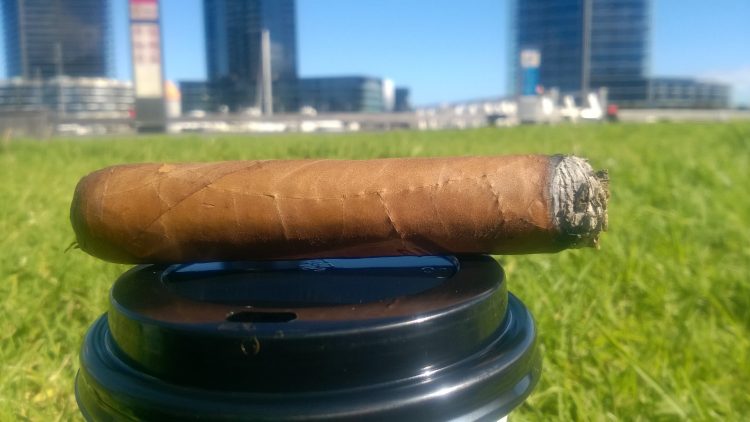 The burn of the Cedros de Luxe is not great, the coal burning only in the centre, and leaving the wrapper untouched. It has yet to totally go out, but has required several touch ups to keep a semi-decent smoke volume going. The ash seems unusually white for a cigar this young. By the mid-point the initial tang has transformed into a dryer one, resembling the herbaceous element of a martini. Hendricks gin, if I'm not mistaken, with a tiny splash of Noilly Pratt. Dry is a good word to describe this cigar. It sucks up the saliva.
The park I am in is a little patch of green between office complexes in Melbourne's desolate docklands, so on a sunny morning like this it is naturally deserted. A beaded man, of a similar age to myself wanders by, a large pipe between his lips. He does a double take when he sees my cigar, and nods to me. Brothers of the leaf. The man wanders down to the water and out onto a small pier there. As I watch he places his pipe on a bollard (the very same bollard that my dusky beauties have rested on from time to time), and takes several photos. I wonder if he's writing a pipe website somewhere.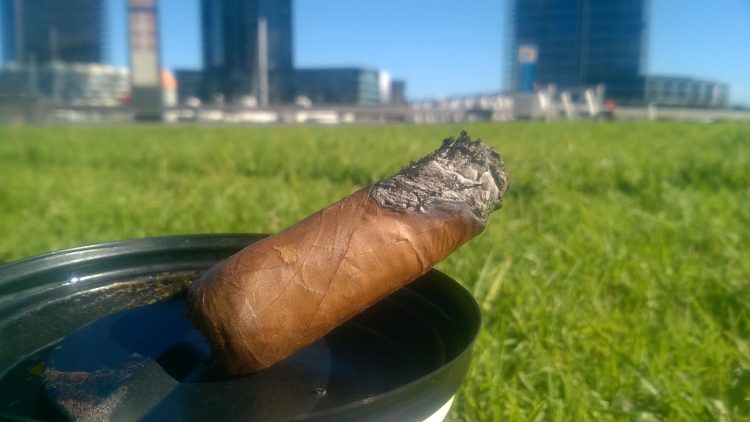 As the coal touches the final inch of the Cedros de Luxe the tang is stronger, the tobacco strength thickening to a full medium. It goes out, and I relight it, and puff vigorously for the last ten minutes or so, finishing it off. Surprisingly it never grows bitter. The final notes are very herbal, quite milky.
In theory, en cedros cigars will gain a cedar quality over time, but at this stage the Cedros de Luxe doesn't really exhibit one. It's not a bad cigar, undergoing several flavour transitions while I was smoking, even if those were more or less variations on the same three notes. Still, for what it's worth, I'd much rather smoke another of these than head back to the office. I even rate it marginally higher than the Escudos, and certainly the Petit Coronas.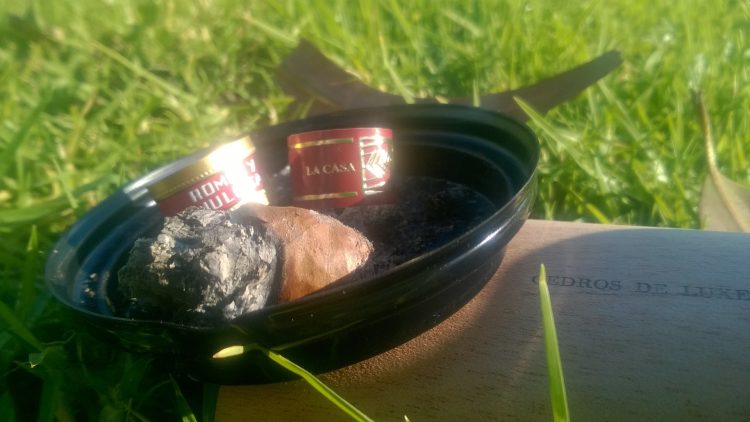 Romeo y Julieta Cedros de Luxe La Casa del Habano Exclusivo 2014 on the Cuban Cigar Website