The first half of the Dusky Beauties season is always a lot of fun; the days are warm, the nights are long, and I have the full spectrum of whatever series I'm working on before me and can pick whatever suits me most at the moment of combustion. When I begin publishing in January I have a hefty buffer of completed articles ready to go, and so for the first few months there is no pressure to write each week; if the weather doesn't comply, or if I'm busy, or just don't feel like it, I can always run one of the buffer. The second half of the season is miserable. The only cigars that remain are the ones I never had time for before and, my buffer exhausted, I have to find the time to smoke no matter what the weather. Inevitably I wind up spending four hours a week wedged into some nook, sheltering from the driving rain while I choke back a Salomones II.
This afternoon seemed sunny, and as sunny days are an increasingly scarce commodity in Melbourne this time of year, I thought I'd get the H. Upmann Colección Habanos Magnum Especial review out of the way. It's one I've been nervously anticipating, as I reviewed it last year with the rest of the Colección Habanos and it was garbage. Would a second example be the same, or was that one somehow contaminated? I pulled the cigar from my exotic singles humidor, headed down to a nearby park, photographed it, rinsed it, cut it, and was just applying the first flame when I observed that the cigar had a ring gage of at most 50, practically a Lanceros by Colección Habanos standards. Of course, I had made my first mistake: it was not the Magnum Especial at all, but rather, the Tacos Imperiales: the 2006 replica antique humidor cigar.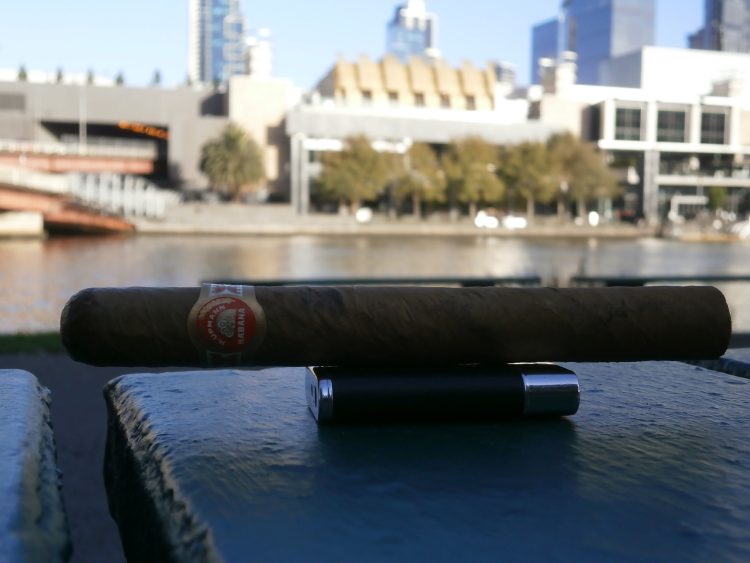 It begins very nicely, with a great sweet, nutty cream and salted toffee, a high end dessert in a good restaurant. The ash is a very deep grey, almost black. It is, in fact, probably the darkest ash I have ever encountered and highly unusual in a nine year old, super premium cigar. It's becoming increasingly obvious that my second mistake was coming out here this afternoon. The day may be sunny, but the long shadows of the approaching sunset fall increasingly on my little table, and the icy wind that blows off the polar icecap and into Melbourne has numbed my necessarily bare fingers.
I've spiked my ginger beer with a hefty dram of Buckeye Rum, the cheapest dark rum available in Australian liquor stores; "Buckeye Rum, a classic Caribbean rum," the bottle proclaims, and then in smaller text "made in France." Mixed it's not bad at all, but when filling my flask earlier I accidentally got a little on my fingers: pure methanol, with the chemical sweetness of gasoline.
The barbeque area in which I am seated is gradually filling up. On the bench to my left a man in a beanie plays with his phone while enjoying a surreptitious beer that he carefully withdraws from and returns to his side pocket between draughts. On the right hand bench a couple, he in fluorescent green shorts, her in thin leggings, snuggle together sharing a cigarette. We are all of us vice worshiping exiles, cast out from society and into the frigid wilds of an inner city park at dusk.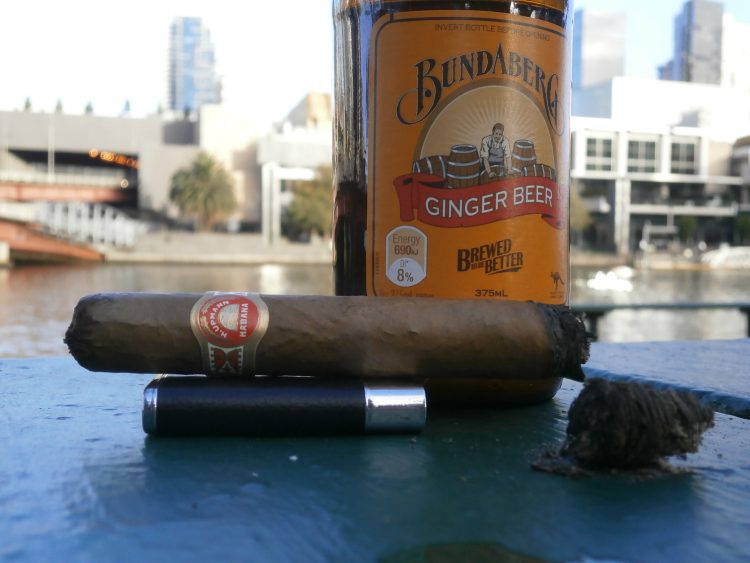 At the halfway point the cigar is thickening up a bit, a hint of cream still apparent but the sweetness largely replaced by a complex herbal tang, with notes of straw and oregano.  It goes out while I'm faffing about with the photos, the first sign of anything remotely wrong with the burn, and with my numb fingers and the wind, relighting it with my Bic lighter it proves almost impossible. I have a jet lighter with me but as usual it's out of gas. For a moment I almost consider giving up, an absolutely criminal act with a cigar this rare. Eventually it comes good.
The lovers have left, but my friend with the beer has found another can in his other jacket pocket and soldiers on. I wonder why: his is a vice that could happily be indulged in any number of warmer places than this. Periodically he switches phone hands, rubbing the relieved one heartily before jamming it deep in his pocket. From the very dimmest corner of the park, that grim land beneath the railway viaduct, the sharp odour of marijuana smoke drifts by. I glance over to see two young men in business suits sharing a joint. A passing derelict gives them a pained expression.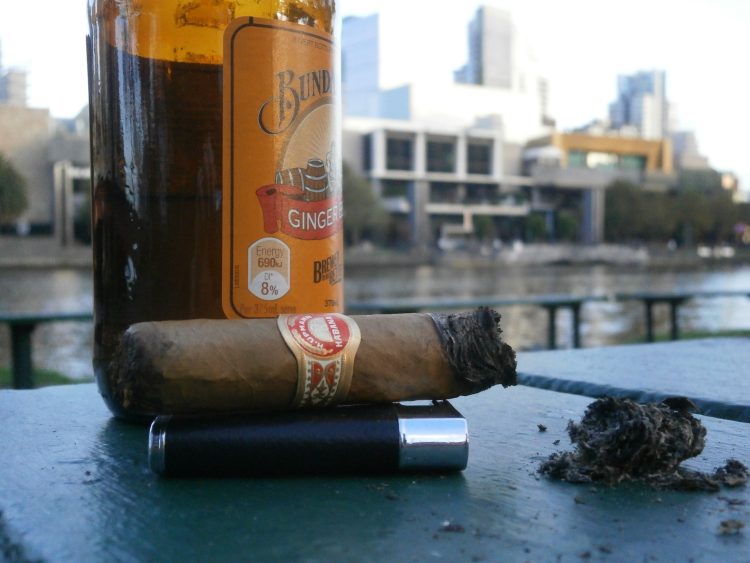 With an inch or so to go the cigar has strengthened and roughened up a bit, the taste now heavy burnt tobacco with a note of forest fire (as distinct from the rubber fire of an inferior cigar). The aftertaste is strangely thin and almost seems to disappear on your tongue like Tab cola. I have smoked this cigar quicker than I would like, a hair under two hours: on cold, windy afternoons there is no time to linger on fine Havanas. In any event, the Tacos Imperiales is a really good cigar. She's not up to the standards of some of the really fantastic Upmanns, but she is better than her sisters in the Replica Ancient humidor series, which I have previously lambasted as mediocre cigars in fancy packaging. I may have to reconsider.
Finally, of course, she's much better than the H. Upmann Petite Coronas.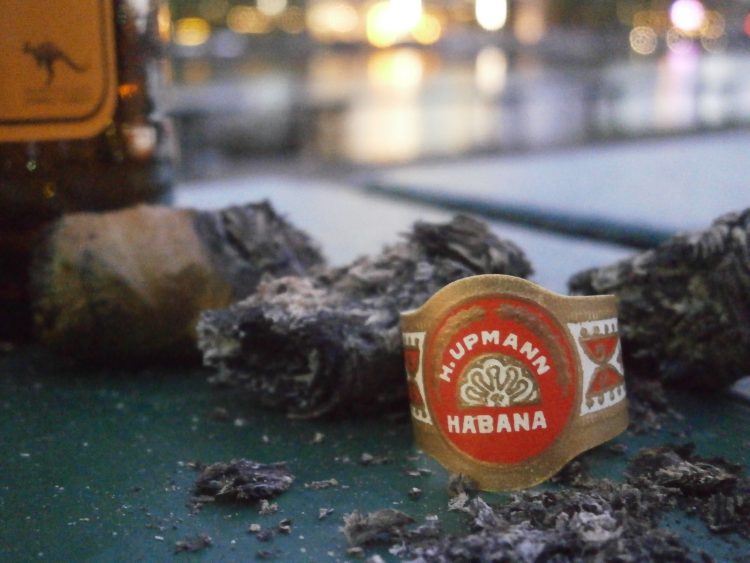 H. Upmann Tacos Imperiales Réplica de Humidor Antiguo 2006 on the Cuban Cigar Website