Throughout my retrospective of the Colección Habanos, I've felt that there's been a shadow hanging over every review. I don't have a basic cigar, a Montecristo or Partagás Serie D. No. 4, to hold these against, so I've increasingly been comparing them against each other, but there is one comparison I've refrained from making, one giant, who, silent on his lofty pedestal, nonetheless looms over every review: the Montecristo Maravillas No. 1. Regular readers will recall that in my Montecristo retrospective I awarded this cigar a considerable accolade: I declared it to be the best of all the Montecristo cigars. If the weather holds I'll revisit the Monte before this jig is up, but even so, the existing review makes the Montecristo the one to beat as far as the Colección goes. The Cohiba, obviously, is the favourite to upset it, but no good punter plays favourites, and if I were to have an outside bet at longer odds, I'd put my money on today's cigar, the H. Upmann Magnum Especial. Cohiba cigars rarely disappoint, and their price bracket reflects this, but Upmann cigars more than any other brand in my experience, exceed expectations.
Like most of the Colección Habanos, the 55 ring Magnum Especial is too big. Fans of big ring cigars like to say that the thicker rings are manlier, but it's not a statement that makes any sense to me, except in the Freudian sense. It is glorious looking though, very new Habanos, with a beautiful smooth wrapper. The oversize Upmann band is vividly coloured and cleanly embossed – night and day from the scrappy printing of the Hoyo. The draw is loose – not quite a wind-tunnel, but a distance from the classic Cuban draw that is my preference. Through the first inch the flavours when drawing are excellent, full-bodied top quality tobacco that tastes like the breeze in Vuelta Abajo, over lashings of cream, and dessert spices: nutmeg, cinnamon, cocoa and vanilla. In the very last aftertaste, however, something is badly wrong: a bitter, soapy, vaguely chemical taste. I have twice in my life consumed stale pine nuts, which left me with a bitter taste in my mouth at the end of every swallow for three or four days, and more than anything, this reminds me of that. That and soap.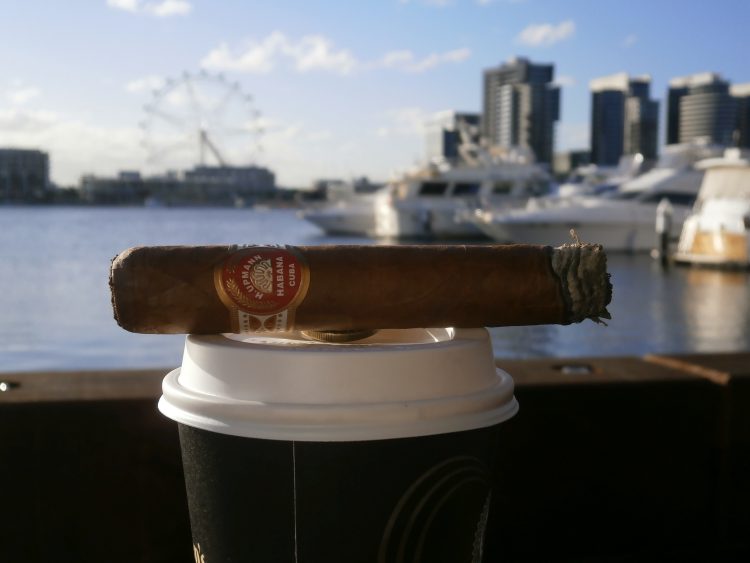 Passed the halfway mark, and the tobacco has lightened considerably, now mid-strength at best. With it, the flavours have become more delicate and sweeter, strongly gingernut cookies, hot from the oven. The bitter soapy aftertaste has lightened too, but it's still present. There is something strongly green in it, perhaps pine sap. Once in a while you see a report of a cigar that tastes soapy, allegedly as a result of a roller who failed to entirely wash the cheap soap they have in Cuban factories off her hands before returning to work, but I don't think this is that, as it's way too subtle a flavour. It's not the chemical rubbery bitterness of a cheap non-Cuban, it's not the bitterness of tar, or smoke build up, or the hot bitterness of tobacco burned too fast, and it's only present in the aftertaste; there is nothing of it in the initial puff. Honestly I think the cigar might just be way too young. I had such hopes for this cigar that I'm starting to make excuses for it, to seek out an environmental cause: I'm sitting down on the docks, and a few construction sites are nearby… perhaps some odourless gas is being emitted from a solvent or glue at one of them, and somehow causing a soapy taste on my tongue, or maybe I'm in the midst of some kind of physical problem, and the soapy taste is a symptom of an issue with the brain or heart. Just to be certain I pour out the cappuccino I was pairing this with, and fill the cup with water from a nearby drinking fountain.
Within ten minutes or so of ditching the coffee, the soapy aftertaste is gone, so perhaps it was that. The barista at the chain coffee shop that sold it to me certainly didn't come across as the pinnacle of professionalism (he did a French accent and asked "would you like a baguette with that?," and when I looked at him blankly he pointed to the Dutch flag on the shoulder of my light, military surplus jacket and asked "are you French?"). An inadequate cleaning of the machine perhaps? Laying the blame on the coffee is a big leap, honestly, as when I was drinking it it tasted fine; the soapy taste was the very last flavour on my palette after either a sip of coffee or a puff of tobacco, the flavour left once all other flavours had melted away. Oh well, another mystery of the leaf. Good riddance.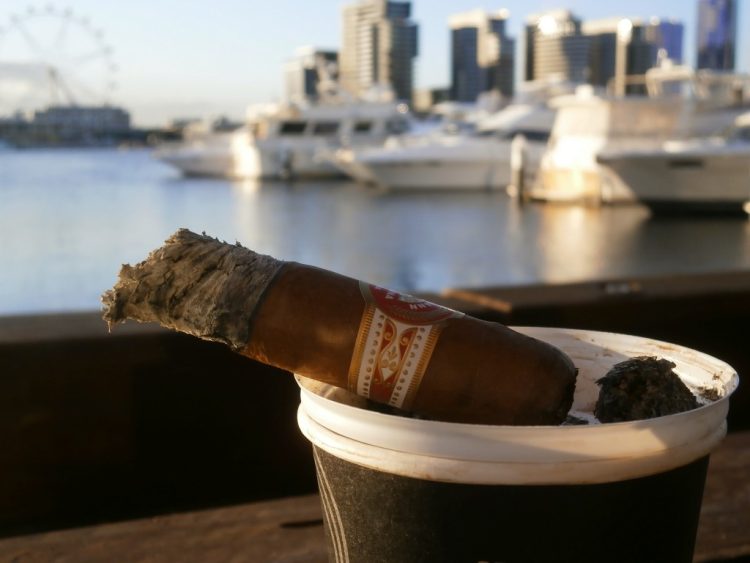 Throughout the final third the cigar is strongly herbal, with star anise and dry grass dominating. In the final inch it turns a little bitter and sours on the tongue, with a doughy sort of element in the aftertaste. It leaves a thick coating on the pallet, not unlike an under ripe banana in texture. I'm not entirely sure what to make of this cigar: it has greatness within it, no question about that, and in its own way was unlike anything I've ever smoked before, but it's also pretty flawed. If you're offered one today, accept it politely but make an excuse for not smoking it, and leave it in cedar for five years or so. Or maybe you should smoke it. If ever there was a Dusky Beauties to take with a grain of salt, it's this one, as I strongly suspect the soapy taste that so ruined my experience came from something outside the cigar. As with all things though, I have no experience but my own to go on, and to me, the H. Upmann Magnum Especial is a lot of things, but it's no Montecristo Maravillas No. 1.
H. Upmann Magnum Especiales Colección Habanos 2007 on the Cuban Cigar Website.