And so we come to the Sir Winston.
There are only about six famous cigar smokers in history (seven if you count Bill Clinton, although his tobacco habit is more infamous than famous), and of them none more so than Sir Winston Churchill.
Cuba's contribution to the Second World War involved the sinking of one U-Boat, the execution of one bumbling spy, arming Ernest Hemmingway's fishing sloop and, most importantly, sending the British Prime Minister case upon case of cigars. The most famous is Romeo y Julieta, but almost every factory offered Churchill a similar deal: an unlimited supply of gratis custom cigars as a small token of thanks to the leader of the free world. After the war many of these brands released Churchill's customs to the general public, and at one time Romeo, Bolivar, Hoyo de Monterrey, Saint Luis Rey, Partagás, Punch and H. Upmann all had a cigar named after him, and the Julieta No. 2, the vitola that he preferred, and of which nearly every marque has a representative, became forever known as the Churchill.
All of which seems a bit excessive to me, as by all accounts he smoked ten cigars a day and dipped them all in cognac, a perfectly good way to ruin any nuance that fine tobacco might possess.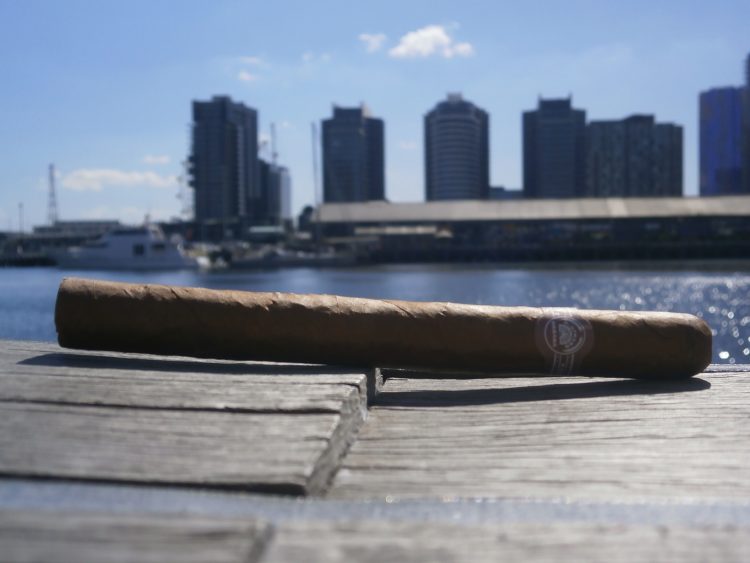 The H. Upmann Sir Winston is the flagship of the Upmann line. It comes in a substantial box, especially designed for aging, and commands a higher price than its colleagues for its allegedly superior tobacco. This particular example is about fifteen years old: not quite the twenty that the Min Ron Nee encyclopaedia recommends for the cigar to reveal its full character, but well beyond the minimum eight.
The cigar begins badly: for the first few puffs it is bitter, the sting of my botched light leaving it hot with a chemical note. Once the initial heat fades I would expect an Upmann this old, especially a Sir Winston, to become mild, but it doesn't at all. Once it settles down it is dark and brooding, medium strength tobacco and earth notes. Strong coffee. Cocoa. Floral on the aftertaste. Fantastic.
There's an olive grove that sits on a hill an hour or so out of Melbourne, and I am vaguely acquainted with its owner, Samwise. He's seventy five or so now, with three divorces and two strokes under his belt, and his faculties aren't what they used to be. His estate is large and very beautiful, with the long, straight lines of the groves sweeping down from the house to the lake far below, and he rules it like something of a demented king. Once I enquired about the trap on his porch, a steel cage big enough for a lion, baited with a hefty chunk of steak. "It's for the neighbour's cat" he told me. "If I catch him I will shoot him."
Samwise is a true epicurean, who maintains a full bar, a comprehensive wine cellar, and can casually throw together a feast in a matter of minutes, but it is in his humidor that our interests primarily intersect. I have great fondness of our time together, long evenings looking out over the valley with the leaf, him sharing the tales of his lifetime of adventures, and me sharing mine of the imprudence of youth. It is bittersweet, however, as his decline is plainly visible: his stories ramble or trail off, or repeat themselves, and sometimes his jokes don't make a lot of sense.
There is, however, one sure fire way to get old Samwise back to the top of his game: introduce the scent of a woman.
At the mid-point the cigar has weakened, light herbaceous tobacco with an aromatic, hoppy aftertaste. It is very pleasant.
Samwise is always at his best around women, if your version of best is a quick witted, flirtatious letch. Once I watched him spruiking his olive oil at a farmer's market, proclaiming it as the oil of a thousand uses. A middle aged woman enquired as to what they might be, and when she looked put off by his first suggestion of "massage oil" he simply winked and said "well, if you don't like that one I'd better not tell you the rest."
My favourite moment came as we enjoyed some cigars (for the sake of cohesiveness let's say they were Sir Winstons) outside a café in town. The waitress was in her early twenties, blonde haired and blue eyed, with that freshly scrubbed country charm. "That smells great," she said, as she cleared away our coffee cups. "Is it a good one?" Samwise grinned. "Yes, yes, it's the best" he said. "I got it from Bill Clinton." The smile falling from his face, he looked at her intently. "Would you like to try it?"
The girl turned beet red, and giggled nervously, and stood before us for fifteen seconds or so. Searching for a retort but not finding one, she turned and went back inside, giggle all the way. I congratulated Samwise on his joke, and he looked at me seriously. "Did you see her reaction?" he said. "I think she is in love with me." A guy brought out our cheque.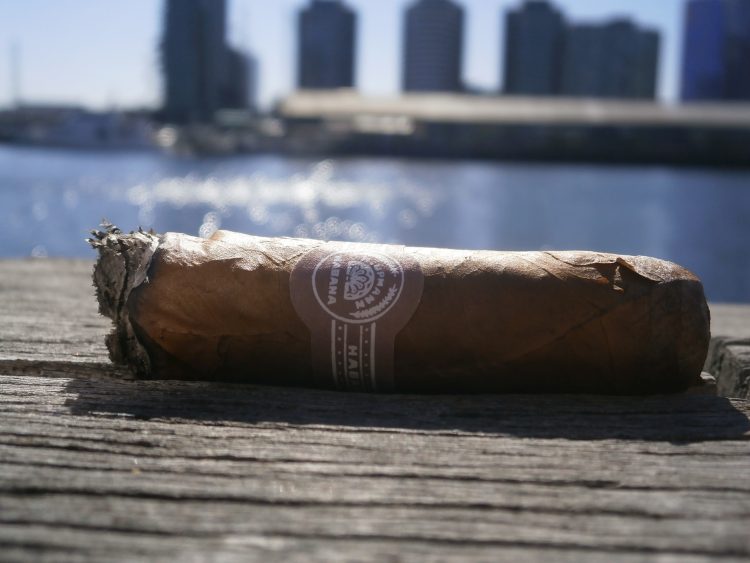 Throughout the last half the cigar has been growing steadily thicker, and with a third left it has a heavy, smoky note that borders on tar. It feels a little ridiculous to say that a burning leaf tastes like smoke, and then to opine that one kind of smoke is superior to another, but that's exactly what I propose to do. This is smoky in the same way that Highland scotch is smoky: there is a hint of charcoal, of iodine, and of long dead monsters. It is an acquired taste, but I have acquired it. It does not taste like a tire fire.
In the last inch or so it does begin to taste like a tire fire: it is bitter, with ash and tar, although not unreasonably so for a two and a half hour cigar. The lingering aftertaste is straw and oats. It is notable that I have had two cold beers in my bag this entire time, and never felt a need to touch them.
The real cigar to compare this one to is not the H. Upmann Petite Coronas, but rather the Romeo y Julieta Churchills that I smoked last year. Both cigars are exactly the same size and of a similar vintage, have been kept in similar conditions, and were combusted in a similar way. The difference between them, however, is night and day. Where the Romeo was bland and papery, the Sir Winston is punchy, rich, and anything but tasteless. The Upmann wins.
H. Upmann Sir Winston. Lives up to the hype.