And so it begins, Dusky Beauties, season three: we open on a shirtless boy in the bush, dirt on his pants, blisters on his fingers and sweat on his brow; alone but for a small fire, a bottle of dark rum, and a H. Upmann Petite Corona.
It was a hard decision, the comparison cigar for the H. Upmann vertical that will form the first dozen or so posts of the season, as there isn't really a default Upmann like there was with Montecristo and Partagás. At first I thought about the Connoisseur No. 1, a cigar fits the size requirement (which is to say it is neither exceptionally short, nor long, nor fat, nor skinny, and not oddly shaped in any way), and is very widely held by the members of Cuban Cigar Website. I didn't have one in stock and time was of the essence, so I took a tour of the major brick and mortar stores in Melbourne, all of whom turned out not to carry them. I was in my final choice of store, the La Casa del Habano in the Grand Hyatt, and marvelling at a fellow customer spending $3500 on 60 regular production cigars, by the time I realised that I would have to make a compromise. The LCDH didn't stock my second choice, the Magnum 48 and so I settled on choice number three, the well sized but not especially well known or well liked H. Upmann Petite Corona.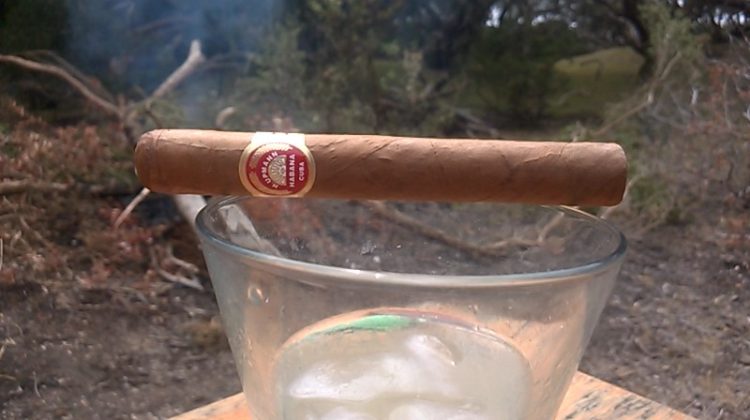 The construction of the cigar is good, the draw firm but not overly so. The first notes aren't great; bitter, with tar predominating and a chemical aftertaste. After the first few puffs it mellows to a sort of vague straw flavour. Mid-tobacco. A very generous soul might claim a coffee note.
Upmann is one of the oldest current Cuban cigar brands, having been founded (as Min Ron Nee tells it) in 1844 by the hermanos Hupmann, two of four German brothers who had all emigrated for the island to make their fortunes. The business was a big success, and prospered under the brothers and their descendants until the First World War when German businesses were blacklisted in Cuba. By 1922 the bankrupted Upmann factory and the brand were sold off to a major tobacco conglomerate. Upmann languished until 1937, when the Menéndez family, flush with cash from the recent launch of their power house brand, Montecristo, purchased the Upmann factory and propelled it back to greatness.
As a brand Upmann sits somewhere at the bottom of the top tier of Cuban cigars: it doesn't have the brand recognition of Romeo or Montecristo, the prestige of Cohiba, or the popularity of Partagás, but it is still a global brand with a large market share. It has had a lot of discontinuations over the years, but it hasn't been cut to the bone like some of the smaller brands, and even gets the occasional new release. Overall, I think it should make for good vertical: the typical Upmann profile is one of light, clean tobacco, with the occasional hint of straw, leather, and creamy sweetness. With a bit of age they can be fantastic, and some real gems lurk in their special releases. Finally (and most importantly), the Upmann line is short enough that I won't be stuck smoking the bloody things all the way into June.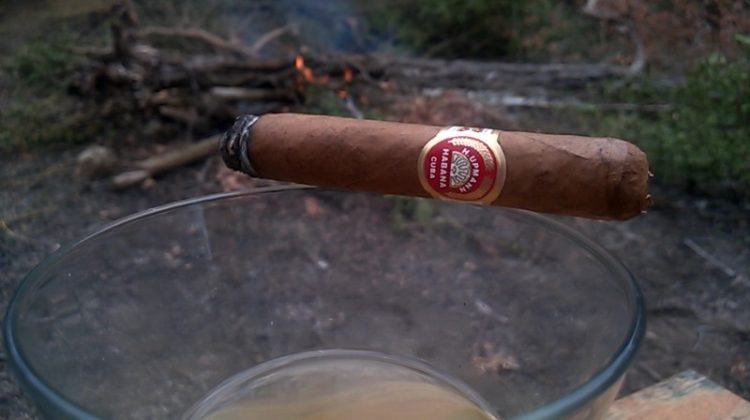 By the mid-point the Petite Corona has improved, and is cruising along as a decent, but by no means excellent cigar. It is dry grass and leather, vaguely nutty, but still with tannic tang. I'm down in the backblocks of my ancestral sprawl, where I've lit a small fire that is a particularly poor example of the art. The wood is far too green, and more than a little wet, and I couldn't be bothered with proper technique, choosing instead to ball up some paper, throw on the odd piece of damp bark and leaves, and hit the mess with my jet lighter until the flames caught on something more substantial. As always in life, you get what you deserve, and I have gotten a smoky, sputtering mess that is not much good to anyone, and a row of blisters across my knuckles where I got a little too fresh while rearranging some burning sticks. As is typical at the Groom compound, I'm sipping on a Bacardi Gold and ginger beer, that is taking the edge off my afternoon pretty nicely. Normally I find it a good match with cigars, being sweet enough to take the bite out of the tar, without being cloying on the palette like some other soft drinks. I'm not sure what it's doing to the Petite Corona, but certainly isn't improving it much.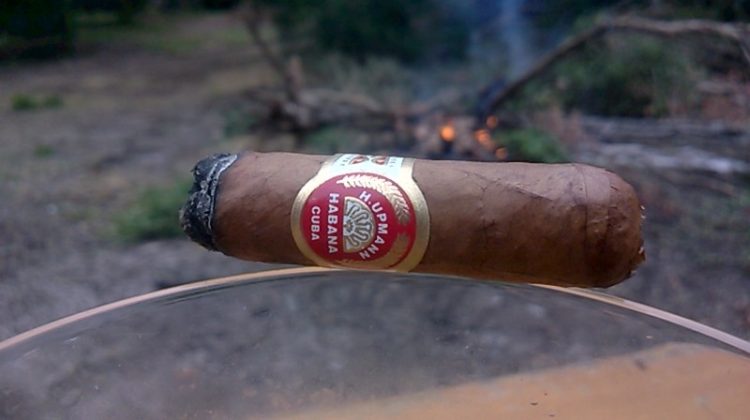 The end of the H. Upmann Petite Corona is surprisingly mild, dropping to light tobacco. As always, I smoke it down to a punched nub: the smoke is scorching in these final moments, but not all that bitter. Overall it has been a mediocre cigar; not hugely complex, and not offering any especially interesting notes, but also fairly smooth and inoffensive. It would be perfectly acceptable as a cigar at a drunken poker game or barbecue, anywhere where the principal focus isn't on the smoke. It does not set the bar high for the rest of the Upmann range, and it certainly wasn't as good as either a Monte 4 or a PSD4.