Eight PM on a Monday night finds me indoors and lounging, deep in a soft leather armchair and the company of stalwart fellows, a high-end rum before me. The room rolls with the viscous smog of sixty or so fine cigars being puffed on heartily. I'm in Baranows Lounge, and these are the final days of Melbourne's last true cigar bar.
Between my own lips hangs an H. Upmann Magnum 48, Edición Limitada 2009, a smoke that drew considerable praise at the time of its release. The first notes are extremely light, almost indistinct from an inhalation of air not through a flaming faggot of dried leaves. If anything there is a slight grassy taste, mildly sweet. If the current profile continues throughout the cigar it will have to be deemed a flavourless failure, but to my reckoning mildness at this point in a short cigar like this bodes well for the future. The rum I'm pairing is a Diplomatico, the trademark of the house (they're the local distributor), and it goes very well indeed.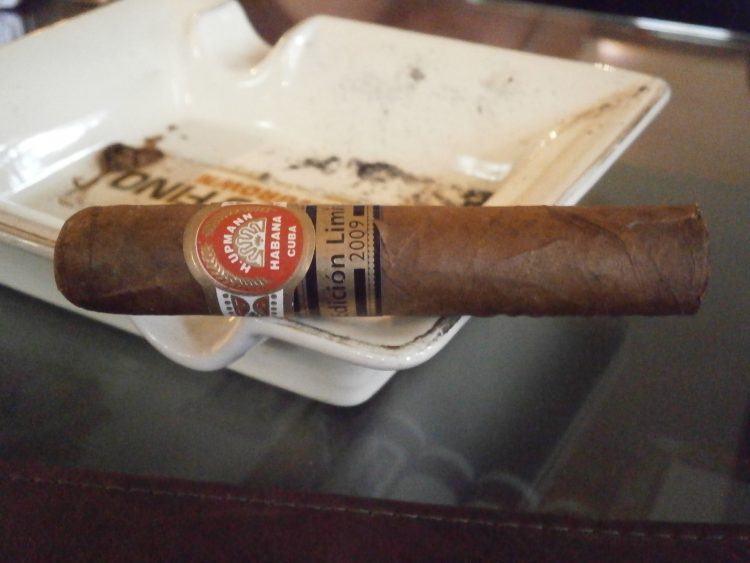 At one time Baranows was the best brick and mortar cigar store in Melbourne: their vast humidor held not only the city's best range of Cubans, but a large selection of non-Cuban trash to boot. Those days, unfortunately, are long behind it, and they haven't restocked in several years. When I stopped by a few afternoons ago to check the lay of the land before this soirée, the proprietor, Wal, seemed disinterested, most of all in showing me the humidor. He shook his head slowly when I asked what he had in the way of H. Upmann limiteds.
"Nope, none of those at the moment."
"How about a nice aged Upmann or something… Sir Winston, maybe, or something discontinued?"
The head shake continued.
"Nope, no Upmann at all at the moment."
He sighed, and waved me lackadaisically toward the walk-in.
"Take a look around if you like."
It was my turn to shake my head.
"Sorry mate, I'm only interested in Hupmann."
In the months leading up to the ban of indoor smoking in Melbourne there was much uproar about what it would do to the hospitality industry, about all the bars that would be driven into bankruptcy, but in reality there was only one real casualty: Baranows. I'm sure that many bars and clubs saw a brief decline in profits as the smokers headed outside and didn't drink so much, but they all soon fenced in their loading docks and put decking on their rooftops, and with them developed a culture of lazy afternoons spent drinking summer punches in outdoor bars, rather than warm VB tinnies around barbecues in the suburbs. The three other serious cigar stores in Melbourne at the time were Alexander's in Toorak, which had one or two armchairs for smoking, but did most of their business in the takeaway trade, the LCDH in the Hyatt, that never had a smoking area, and Fidel's in the casino, which closed almost immediately, but put their stock under the counter in the high roller's rooms of the casino. Fidel's, though, was always just a side business of a major corporation, and never anybody's livelihood, and it doesn't count. I dated a former clerk from Fidel's briefly, and the day it closed she was simply transferred to being a cashier in the casino cages.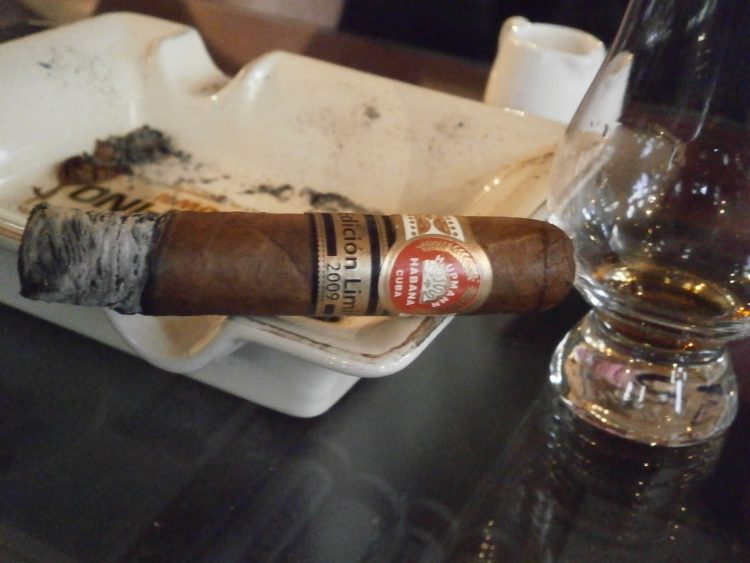 At the midpoint the cigar is fantastic: the tobacco is still very light, but there is a wonderful, changing undercurrent of flavours in the back of the palette, first leather, then coffee, and then a sweet cocoa that I think will build to chocolate in the final third. The construction is perfect, with a razor sharp burn and pure white ash which remains intact for more than half of the cigar, before inevitably winding up on my pants.
No, the only casualty of the smoking ban was poor Baranows. They'd opened their lounge a couple of years prior to the ban, no doubt at great expense, taking a beautiful old bank on a corner block in a nicer inner suburb. They'd renovated it and done it right: big cane arm chairs and comfortable couches, overhung by slow moving fans. Behind the long mahogany bar stood a world class collection of scotches and exotic rums. A friend of mine fell in love with the place not long after it opened, and spent almost $2000 there in a fortnight, enjoying three cigars a day and working his way through their entire menu of $40-a-glass rum. But then came the ban. At first Baranows respected it, hoping that once the smoke had blown over an exemption would be granted for cigar bars. Eventually they put a shade-cloth around their parking lot and wheeled out a few plastic auditorium chairs, offering it as a very humble sanctuary for the smoker.
Some years in they decided to flout the ban, and smoking moved back to the main room, but this soon ended with a handful of council citations, a large fine, and a threat on their liquor license. From there they became a non-smoking cocktail bar, and then a member's only smoking lounge, with an initial membership fee somewhere around $200. The fee soon lowered, and was eventually dropped entirely. With every change of local government they had to renegotiate the rules – I think for a time in the middle they may have returned to a late night non-smoking venue that did most of its business serving coffee to the after theatre crowd. I subscribed to their mailing list, but could never follow it.
In the meantime the anti-smoking movement went federal: a health minister whose father had died from emphysema was in office, and she made it her personal mission to stamp out the vile habit wheresoever it lurked. The taxes on tobacco almost doubled in four years, and the plain packaging legislation stripped cigars of their ornate bands and cedar boxes, leaving Baranows' humidor a sea of non-descript olive grey.
If you are reading this, then Baranows is gone: my smoke takes place about two weeks before its final day of trading, December 31st, 2014. The scuttlebutt is that old Wal is retiring to Cuba and a salsa dancer girlfriend several decades younger than himself, and leaving the lounge in the charge of his son, who will reopen it as a whiskey bar. Goodbye old friend. You gave it your best shot. Sorry I didn't visit you more often.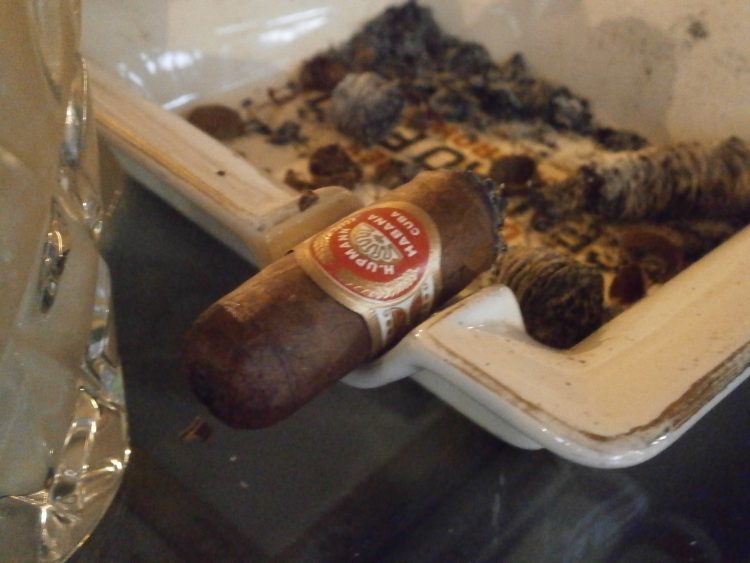 The cigar thickens toward the end, showing me a hint of tar before it puts itself out with three quarters of an inch to go. I blow out through it and relight and am rewarded with dense, rich chocolate (95% cocoa) and deep espresso. The flavours fade on my palette, leaving almost no aftertaste. Some light spice, maybe. Slight grass. It is a fantastic finish to a wonderful cigar.
Much better than an H. Upmann Petite Corona.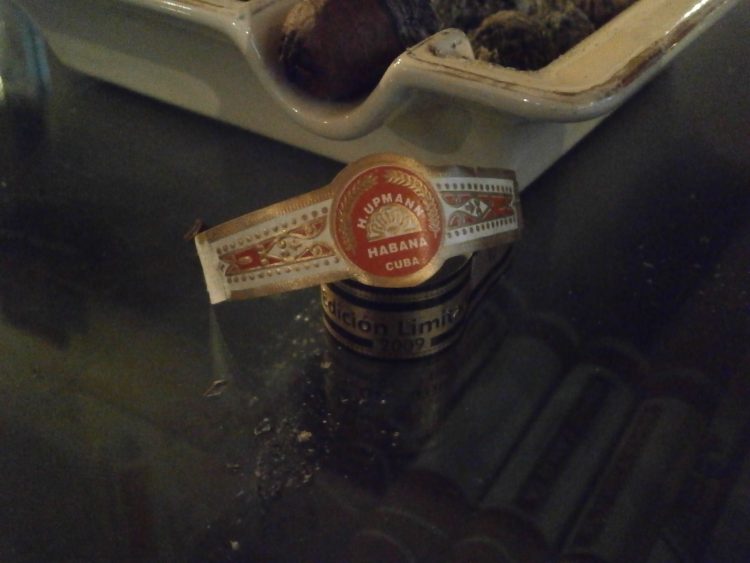 H. Upmann Magnum 48 Edición Limitada 2009 on the Cuban Cigar Website