It's a temperate evening in the late summer, still, and not too humid. A good night for cigars and white wine. Let's hope the fragrant smoke keeps the mosquitos at bay. I'm in a backyard and, lit only by a dim yellow spotlight from the porch, there is one element of the experience that won't be up to par: the photos. Apologies for that, friends. I simply can't bear to use a flash.
The cigar of the moment is the Romeo y Julieta 109, from my 130 Aniversario Humidor – at least, that's what the official literature calls it; really a Nro. 109 vitola cigar should have the trademark bullet tip, which this cigar does not. Then again, the official literature also says there were 500 humidors released (actually 250). Official literature has never been Habanos' strong suit.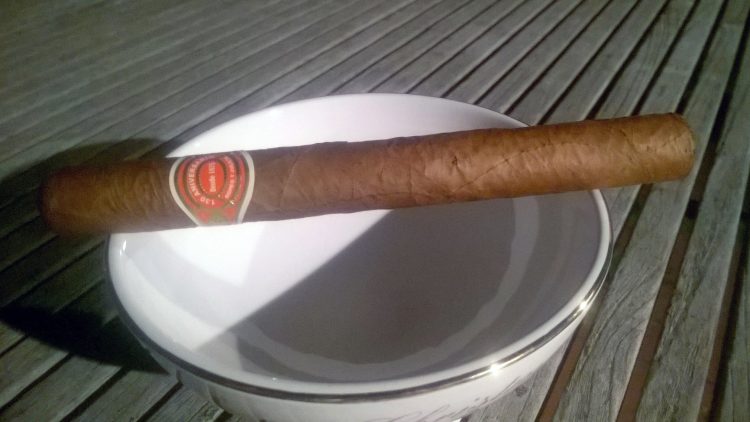 Alight, the cigar begins well, somewhat reminiscent of its baby brother, the Aguilas: nutty, very light tobacco, with hints of dessert spices: nutmeg, cinnamon, and cloves. There is a deep creamy sweetness that bodes well of things to come.
In the summer of 2006 I was still somewhat new to cigars. I had been a fan of the leaf for around three years, and although my regularity was increasing, I was still smoking no more than once a month. In the world of exotic cigars I was a complete neophyte, with perhaps three Edición Limitadas in my ashtray. My knowledge though, was definitely on the upswing. In June of that year I had been given the bible: Min Ron Nee's An Illustrated Encyclopaedia of Post-Revolution Cuban Cigars, and read it cover to cover and lustfully. I had a lot of free time that summer, much of it in front of a computer with a high speed internet connection, and I read voraciously of an online cigar forum run by a local merchant.
In 2006 Texas Hold 'em Poker was also on the upswing, and at some point that summer the forum added a new feature: a poker room. It was an online Flash based thing, with daily games at midday Australian time (playing mostly against Americans in their evening).  I've always had a good instinct for games. To this day my boyhood next door neighbour Matias still complains about how relentlessly I used to beat him at Monopoly, Cluedo and The Game of Life (I had to cheat to win Life). In any event, I won the first poker game ever played on the forum, and was therefore the first incumbent of the no. 1 slot on the leader board, something I wouldn't relinquish for almost four years. I was hooked, and when I wasn't reading about cigars that summer I was reading about poker strategy.
In November the proprietor of the forum announced the first occasional poker tournament, with ten rounds, the winner of each moving on to a final table to play for a winner-takes-all grand prize: the Romeo y Julieta 130 Aniversario Humidor, number 244 of 250. Retail price $4500USD. $8000AUD, thanks to our taxes. My qualifying round was the first one played, and I won. It would be three weeks until the other rounds were finished and the final was played, however, and in that I was headed on a vacation.
It is here that this story picks up from an old Dusky Beauty: it was Paris in the intermingling into one puff of steam. A lone snowflake fluttered down and caught in her hair. "Won't you stay the night with me?" she whispered. "Sorry babe," I replied. "I want to, but I really have to play this poker game." I kissed the girl goodnight, and bolted the 200m or so back to my hotel, logging into the poker room at 12:03pm Australian time. I was late, but they had waited for me.
In the end the game really came down to one hand. There were four players left, all with about even chips. I was dealt the ace and six of spades. The player with the least chips folded before the flop, which included two spades. All players bet, and the turn revealed another spade, giving me a flush. Again, the betting was strong, but nobody went all in, nobody folded, and we saw the river. An inconsequential diamond.
Coolly I assessed the table. There were no pairs among the shared cards, which meant that nobody had a four of a kind or full house. The spades were spread enough that it was impossible for anyone to have a straight flush. With the ace high flush then, I had the mathematically best hand that could be made from these cards. The other players obviously liked their hands. Perhaps they had king and queen high flushes, cards that on any other day would take the pot, but not today. Today I was going to win. I went all in. They followed. I won. That one hand eliminated half the table and gave me a stack of chips more than three times the size of my last remaining opponent. Five minutes of aggressive play later and I was the owner of an $8000 commemorative humidor.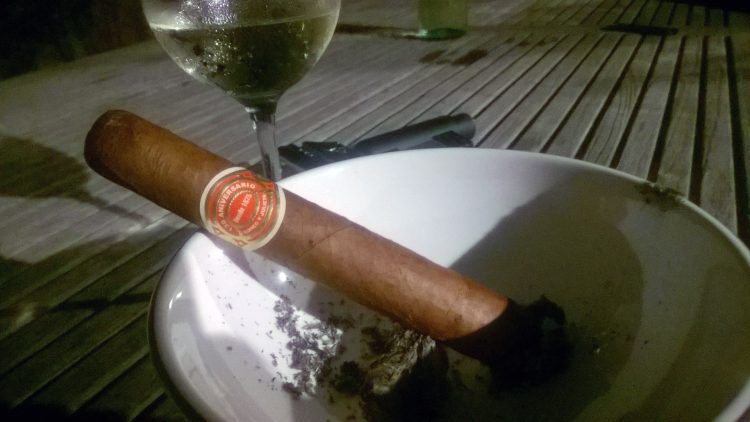 At the midpoint the cigar is progressing wonderfully, with a rich, creamy sweetness that sits viscous on the lips. The spice palette is much the same, and reminiscent of hot cross buns or mother's bread and butter pudding. With three inches to go, however, disaster strikes. The cigar goes out, seemingly of its own accord, and when I relight it it is ashy and tasteless. Desperately I huff through it, trying to purge out any stale smoke – I even cut the coal off and start the blaze afresh at one point – but nothing I can do brings the old flavours back.
A month or so later, after I had returned to Australia, the humidor arrived. It came in a crate. A proper wooden crate! I had to open it with a crowbar! Inside, packed in shredded copies of Granma (the Cuban state newspaper), was a custom made leather satchel, and inside that, the humidor. It really is a lovely thing. The red lacquer is thick, and silky to touch, the hue richer than any plastic. The thin gold plated handles are strong and solid, more than able to take the weight of the full humidor, and even ten years later they swing smoothly and silently. It holds temperature and humidity perfectly, almost never needing maintenance. I've never had the pleasure of owning a high end humidor from Elie Bleu or the like, but compared to my $150 eBay job, the 130th Aniversario humidor is a league apart.
One criticism: the little magnetic hygrometer it came with is total garbage. I guess there must be a short circuit in it or something, because while it does work, it drains any battery you put in it in less than a day.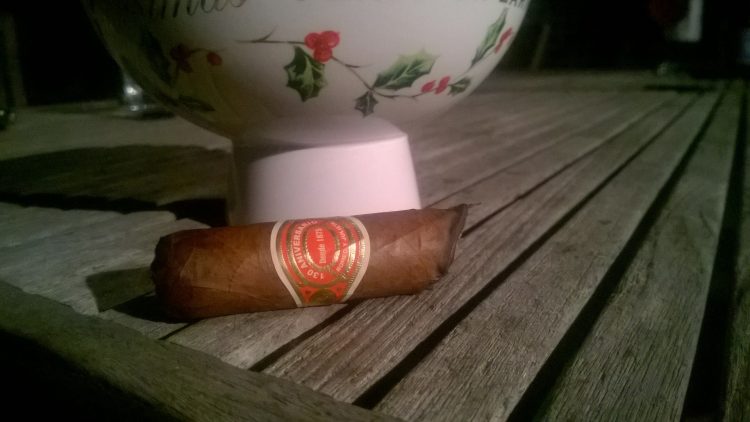 The Romeo 109 never recovers from its extinguishment, unfortunately, remaining bitter and ashy till the last, despite my considerable efforts to restore it. I suppose it was largely user error: a man with a better smoking technique would have kept it ablaze, and had a better experience for it. I apologise, Romeo 130 Aniversario Humidor. A creature as lovely as you deserves better than a ruffian like me.
The first half was very nice, though. I'd take that over a Petit Coronas any day.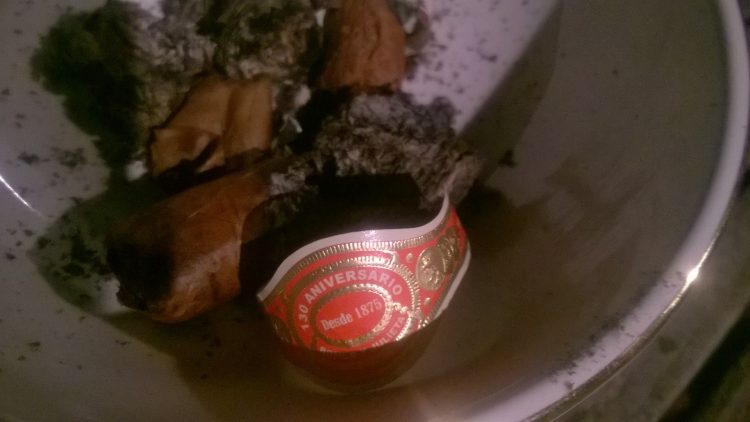 Romeo y Julieta 109 130 Aniversario Humidor on the Cuban Cigar Website