If last week's cigar, the fantastic Partagás 150th Anniversary 109, was history, well, so is this week's, the Partagás 155th Anniversary Robustos Extra. Where that was a snapshot of a glorious past when anniversary cigars were epics made with passion out of extinct tobaccos found after decades lost in long abandoned silos, and put to use in the making of singular, never to be repeated smokes, this represents the moment when everything started to go wrong, when the capitalists began to take over, and when everything became about money.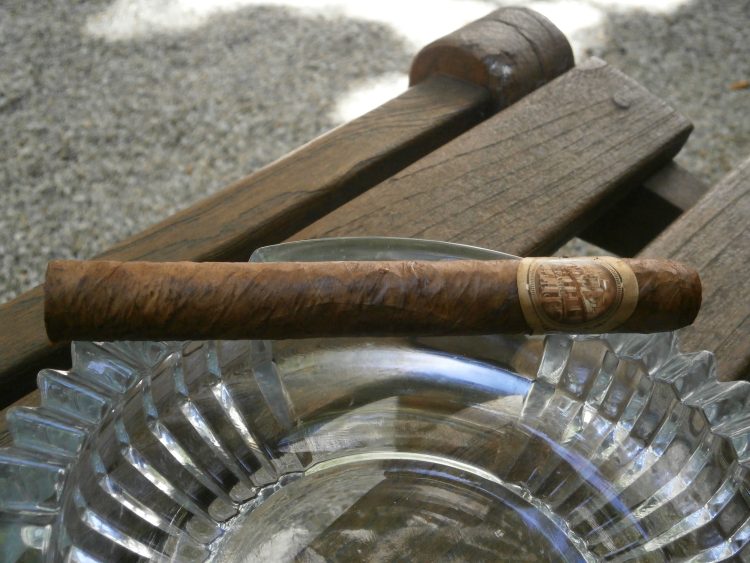 Well, perhaps that's a little unfair. While the release comes far too hot on the tail of the 150th for my taste (a century and a half in business is one thing, but a century and eleven twentieths?), this release is still a far cry from the slick anniversary humidors that today come at a rate of one a year. The box is a presidencial, a humidor that might have otherwise ended up as a diplomatic gift for a head of state, with a Partagás logo hastily glued on the lid, and is a far cry from the slick humidors made by international luxury brands that we see today. The band is basically a prototype for the mafia special bands that adorn so many of the unofficial production cigars that come out of the Partagás La Casa del Habano, and like them it features a large, gaudy landscape of the Partagás factory façade – for the panels on the sides someone has used the Photoshop gradient tool to good effect. Like the mafia specials, this band has not rolled of the giant, antique presses at Vrijdag in Holland, and is not made from the premium stock of the regular Habanos band. I'd say it was probably printed at the copy-shop down the road from the Partagás factory, but I don't think that there were any copy-shops in Cuba in 2000. I'm not sure there're any now, for that matter. Perhaps someone flew over to Mexico. Either way, there is no embossing, the gold is faded and peeled off in places, and I can clearly see the grid pattern from the Inkjet printer on the panels. It seems to have been made for the salomones size that is also found in the humidor, with no thought for how it would look on the smaller ringed cigars – the word "Cuba" is obscured by the overlap.
From the get go the cigar is much heavier than the 150th, with an early tannic bite and heavy tobacco. It quickly mellows out, with a strong coffee and bean flavour. The draw is perfect, classic Cuban. I'm sure that a fan of non-Cuban, 60 ring gage cigars (n.b.: to avoid further accusations of racism, I cast no aspersions as to where this hypothetical cigar smoker might originate from, or what rubbery treats he and his countrymen may or may not enjoy) would consider this to be completely plugged, but to me it's perfection in a draw – it takes about the same amount of pressure as to get the smoke through this cigar as it would take you to get a McDonalds thickshake through a straw: enough to make you earn it but not so much that you hurt your jaw.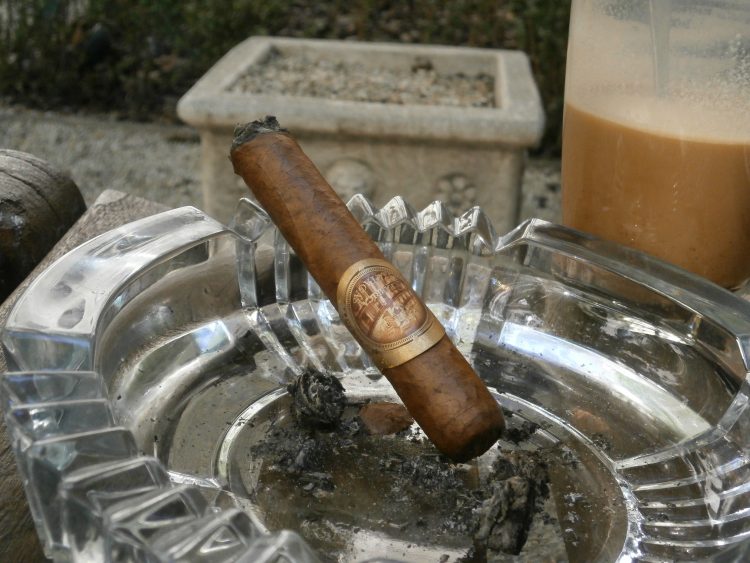 An inch in and there is a strong, dominating cream flavour (the true mark of elegance in a cigar) over a slight, sandy earthiness. The day is a lot breezier than it was when I was enjoying the 150th, and my ash has fallen more than once, never holding on for more than five millimetres or so. I've managed to get a chunk on my pants. Low points for construction (I jest of course; with a perfect draw and straight burn, the construction of this cigar could not be improved upon. The low points here belong to the smoker and his inability to move a delicate object from an ashtray to his lips and back again without mishap.)
I don't often taste nuts in a cigar, but they're there in this one: almonds, lightly toasted. Overall this is a much fuller, stronger, and rougher cigar than its compatriot in the 150th, although that's not to take anything away from it, as it's still first class in every way. I wonder what five years more will do to it.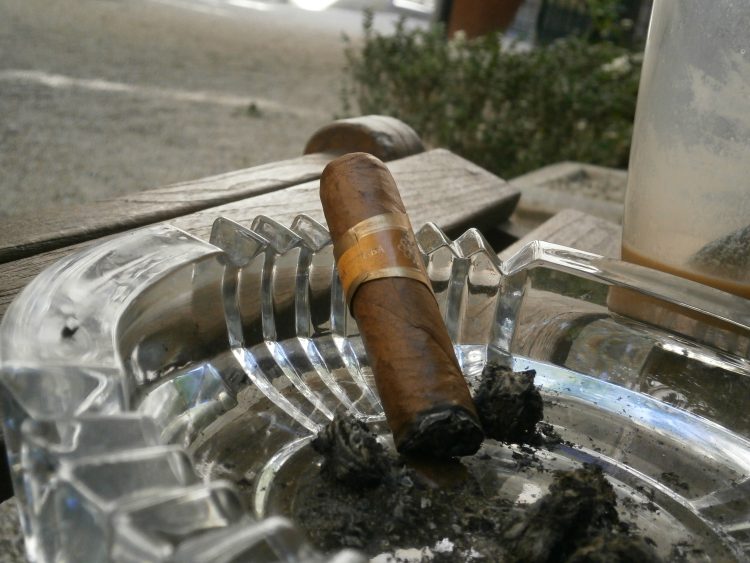 I don't fully understand the process by which a big cigar remains mild until the end. Cigars essentially act as a filter for their own smoke, and just as the filter in a range hood over time becomes soaked with the evaporated oil of a thousand stir-fry dinners, three hours of smoking will drench the nub of a long cigar in oil and tar and cause it to become bitter. Except sometimes it doesn't. While the last inch of the 155th Anniversary is not the light, practically refreshing finish that I found in the 150th, it is nonetheless very clean. I feel no desire to spit, and am not reaching for my iced-coffee any more than I have at any other point during the smoke. The age of the cigar plays a part: fifteen years in a cool dark box have caused the oils to evaporate and distil into a cleaner fuel than they were in their youth, but the lion's share must go to the tobacco, the quality of which is unrivalled. The final notes are of grass and wet mud. The last few puffs reveal for the first time a heavy, dark cocoa. I'd love another inch to explore the flavour, but my fingers are being scorched. Despite being a little shorter than the 150th 109, this cigar took me quite a lot longer, with a smoking time of three hours forty-five.
It's no 150th Anniversary 109, but the Partagás 155th Anniversary Robusto Extra isn't too far off, and it's a whole lot better than a PSD4.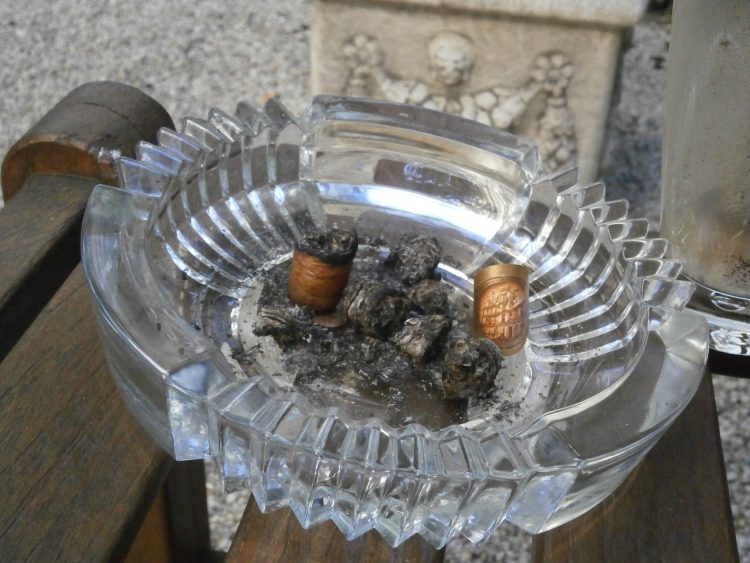 Partagás 155th Anniversary Humidor on the Cuban Cigar Website