Homewood bound, The Blue Valkyrie, a 1990 Mercedes-Benz 300CE coupe cruiser, charges through the empty brown fields of rural Australia, my maladroit manservant, Davidé, at the wheel. It is hour five of a Sydney-Melbourne run, a journey of some 900kms, and having recently completed our rest stop at Wagga Wagga, my driving duties are over, and I recline in the passenger side with a tubed H. Upmann Monarcas.
The exact difference between the proletarian Monarcas and its upper crust cousin, the Sir Winston, has never been entirely clear to me: they are the same size, and particularly with some age, present similar notes, yet it is always the Winston that aficionados speak of in hushed and reverent tones. This particular Monarch comes from the final run of tubos before their discontinuation. Eight remain in my possession: the dearly departed were all excellent, elegant smokes, and this one promises to be the same, with its mid-brown glossy wrapper and perfect texture.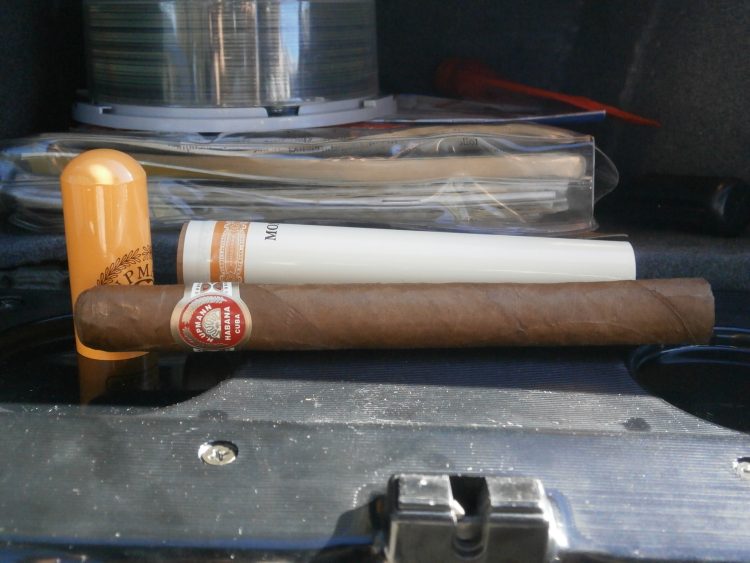 For appearances sake I attempt to light her with the provided lighter (which, I note, the manual refers to exclusively as a cigar lighter), but alas, the quarter-century old electrics provide only enough heat to slightly blacken the foot. I switch to my trusty mini-blowtorch, which does the job, but, Australian country roads not being as smooth as the autobahn to which The Valkyrie is accustomed, my juddering hands blacken most of the first inch. I chastise Davidé, but he is unrepentant. The first notes are mild, light, smooth tobacco with a heavy sweetness on the back palette. Davidé notes that the aroma is like beer freshly spilled in a country pub, and he's right, there is an element of malt in there that I have often tasted before in Upmann cigars but never thought to name. As the first inch burns away a light spice appears.
I bought this car five years ago, choosing it because a friend (perhaps sarcastically) told me that the 300CE was the best car ever made, and because as an aspirational youth I felt an urge to trade in my aging Honda Civic hatchback for something with some heft to it. I initially aspired slightly higher even than the humble E-Class, looking instead to this car's Sir Winston, the 560SEC, which adds some rear legroom, and more importantly replaces the 3.0L V6 of the CE with a 5.6L V8. In the twenty-teens there is precisely one kind of Australian male who drives an old Mercedes coupe: an ethnic thug from the suburbs, and so although I spent a few months visiting car yards in the outer suburbs looking at SECs, I was unable to find one that hadn't been lowered and had the once ample boot space diminished by a phat woofer. Eventually I found a CE in light blue at a lot out in Werribee: the miles were low (suspiciously low, a more experienced used car buyer might have noted), but everything seemed to be original (right down to the unopened first aid kit), it boasted a full service history, and the price was right. A boy with an unbroken voice answered when I rang up to enquire: "oh yeah, the blue one? Yeah, that's a real beauty, come on down."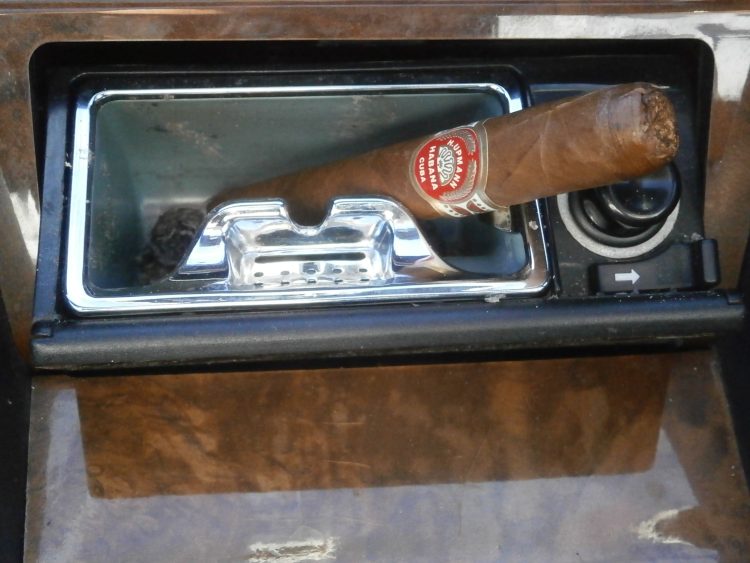 At the midpoint the cigar remains mild, slightly thicker than the first puffs, but still on the light side of medium. The sweetness has faded a little, but still remains. To my palette the malt has been replaced by heavy cedar and grass; Davidé notes that beer is still the chief aroma he is detecting, although it's highly likely that his palette (along with everything else) has been dulled by decades of heavy indulgence in the stuff.
The dealership, like many of the suburban used car yards with which I had developed a recent familiarity, was a chain-link fenced paddock filled with the classic cars of yesteryear in varying stages of decomposition: some pristine, some that had obviously recently been an integral part of a heavy impact, and others on blocks, rusting hulks stripped for parts. Leaning next to the door of the fibro shack that passed for an office was a gypsy boy in his early teens, casually smoking a cigarette. He hailed me as I approached: "can I help you sir?" Dubiously, and expecting that the request would be immediately relayed to some authority figure, I asked after the blue 300CE, and he immediately lit up. "Ah, yeah, the blue Merc, a real beauty, just over here."
He led Davidé and I over to a corrugated iron barn, where The Valkyrie reposed under a thick layer of dust. Lighting a fresh cigarette from the butt of his fast diminishing one, he found the keys and a jerry can of fuel, and pulled her around for me, waxing lyrical all the while about her low miles, intact accessories, and general status as a real beauty. The previous owner, he claimed, was the flamboyant publican of a fashionable inner-city night spot, and were I to mention the purchase of this machine to the bouncer there I would no doubt be whisked immediately passed the lengthy line and straight to the owner's table, where he would be delighted to receive a fellow connoisseur of the finer things in life. As we departed on our test drive he sucked his lip wistfully. "Great car," he said. "Lot of potential. You just gotta drop it a couple of inches and put a big sound system in the back."
We ran around the block, and parked in the parking lot of a local school to get up close and personal with the engine. Despite a lifetime of buying used cars, Davidé's assessment only ran as far as a glance at the underside and the observation of "no drips." When I reminded him that he was here precisely because he was my deputised expert, the oaf merely shrugged, and said "you should have brought one of my friends, they'd be pulling parts off the car right now."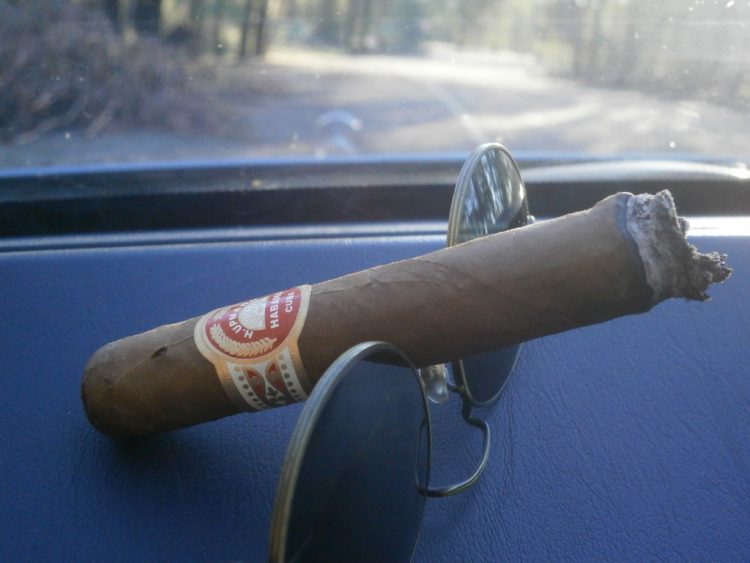 Perhaps it's the confinement of the small ashtray that is doing it, but the cigar is having a lot of trouble staying lit, and my shaky road relights are not doing it any favours. With two and a half inches remaining it comes back from the relight spoiled, its elegance replaced by sour ash and bitter tar. I try the old smoker's purge, a hearty exhale through the cigar in an attempt to blow out the crap, but it is ineffective. In desperation I hold the cigar head first up through the open sunroof for a few moments to see if the 120kph headwind can do what my feeble lungs cannot. I bring it back in and am delighted to find that it has worked: the bitter ash is gone, replaced by a thick, toasted mid tobacco, balanced and strongly herbaceous.
We arrived back at the dealer to find our young salesman waiting for us, his trademark Holiday between his lips. I said I was interested, and after a little coy banter, where I tried to established whether or not he really had the authority to negotiate, we settled on a number about twenty per cent below the asking. He spat in his palm, and shook my hand gleefully when I told him that I would be paying with the only currency that really talks at used car dealerships in Werribee: folding cash. He walked me back to the office, and it was only there that I finally encountered an employee of an age legally able to enter into a contract.
About three days passed before I realised that the odometer wasn't turning, and after sober examination of the 'full service history' concluded that it hadn't turned for more than a decade and presumably 150,000 kilometres. Nonetheless, The Valkyrie has for five years been as reliable a whip as any man could ask for, never leaving me stranded or requiring a major repair. Even now, as we approach the outskirts of Melbourne, having covered the better part of 2000 kilometres in the last two days, she purrs along with power, grace, and most importantly, heft. Whenever I pass through the outer suburbs her elegant, swooping  lines still attract the odd longing stare from a certain type of ethnic thug, no doubt mulling how she'd look an inch or two lower, and with a booming woofer in the back. We come from different worlds, these men and I, but we still have something in common: I didn't choose the thug life, the thug life chose me.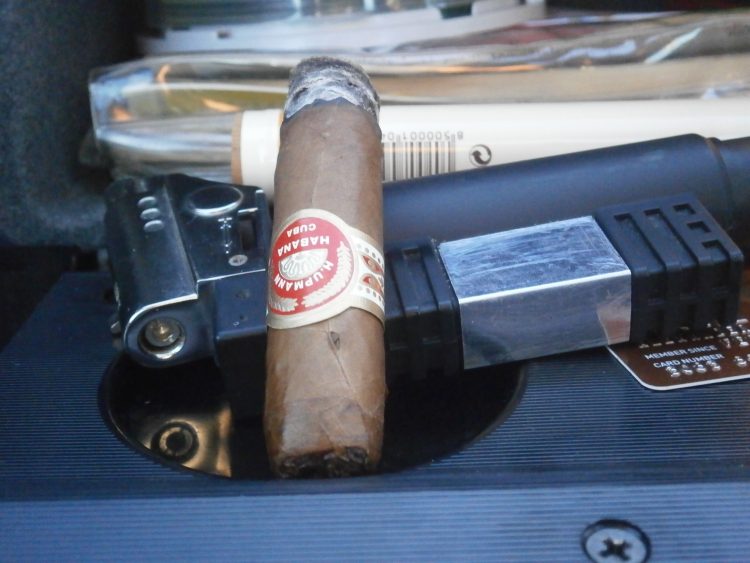 The cigar ends quite wonderfully, thick tobacco but never bitter, the sweetness remaining to the end in the form of a thick musk, with the woody tang of Speyside whisky. A great cigar, that is the poor cousin of no one.