I debated this one long and hard: the day is perfect for a dusky beauty, the sun is shining, the temperature ideal, it's very still, and I have nothing in particular to do for four or five hours. There is only one problem: it is the morning after the night before, and I am hung-over like a dog.
I have selected the Noellas for two reasons, and they're both related. As a smoker of more or less exclusively exotic and esoteric cigars, my smoking roster tends toward trophy smokes: long, thick, precious cigars. There is a very real possibility that a cigar right now will make me throw up, and Noellas is among the smallest I have waiting for me. I also have more than one in stock, so it's replaceable in the event that I have to ditch it.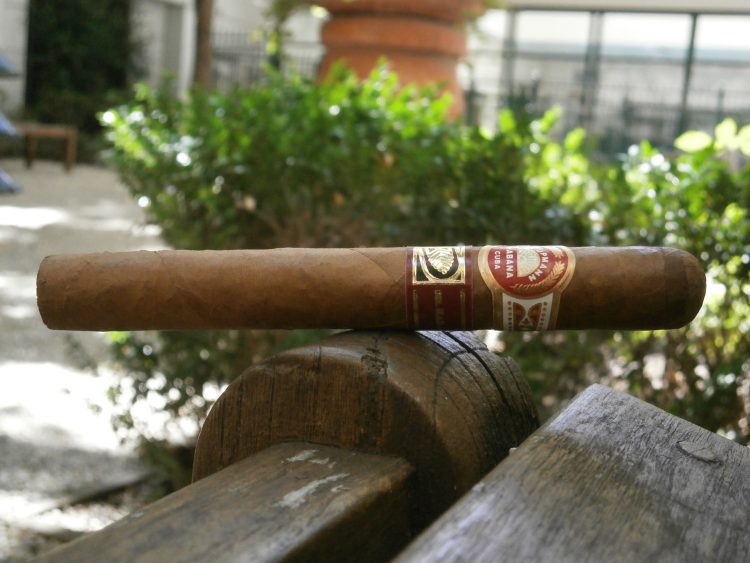 I lift the cap and light the cigar. It begins very well, mid-tobacco, with a sharp herbal tang and an aftertaste of hot buttered toast. The draw is on the firm side, a perfect, classic Cuban.
The Noellas was an old cristales, packaged not in a box but in a glass jar that resembles a preserve jar crossed with a milk pail. At one time these were common, particularly in the Upmann line, but today they are all long discontinued; the Noellas was the last of them, surviving up until the mid-1980s, but this particular example comes from a 2009 rerelease of 5,000 units, theoretically exclusive to the La Casa del Habano chain of stores. They have gone to a great deal of trouble with the replica – not only is the jar pretty much spot on, but the printing on the La Casa del Habano band is some of the worst I've ever seen, with blotchy, smudged gold and misaligned embossing: a true example of 1980s Cuban print quality.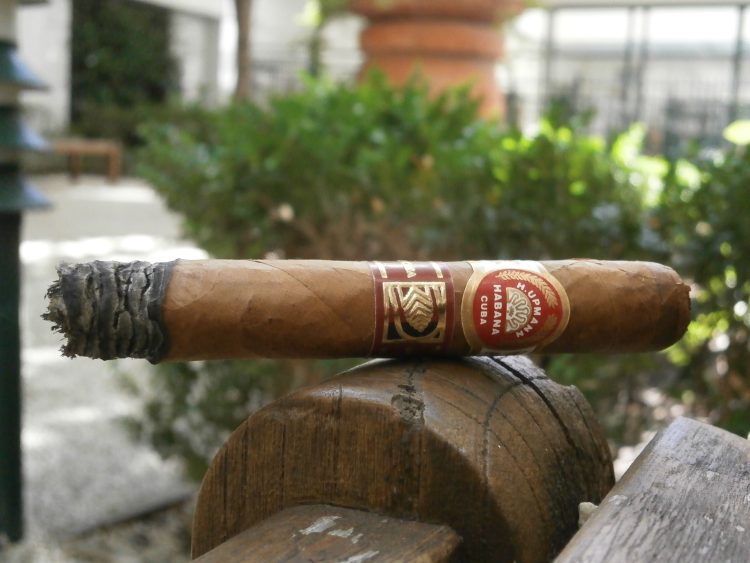 At the mid-point the cigar is full and punchy, but still smooth, with notes of hot grass, heavy tobacco, and a hint of incense; that first heavy breath as you walk into a Buddhist temple.
I'm a good drunk, in that it doesn't take too much to get me feeling jolly, but I don't really show it: in the habitable zone of six to ten drinks my decision making is certainly impaired and my inhibitions are lowered, but I never really slur or stagger, and when I throw up it's always discreet and doesn't really slow me down. Many is the time I've been granted service at or admittance to a bar when an equally inebriated cohort has been refused it. The downside to this is that I never really have bad experiences while I have a bottle in hand, and because of that I never really think about my hangovers until it's too late.
I've had bad hangovers my entire drinking life: rough things where I wake up with a foul taste in my mouth that won't go away and an ice-pick driving into my temple that no remedy homespun or pharmaceutical seems to cure. The worst part is the sickness, a churning mix of acid and gas that the intake of anything, even an innocuous glass of water, will provoke until I retch up spurts of bitter, toxic yellow stomach acid. On the bad days there's blood.
Despite all this, I've only ever had one real moment of clarity. I had been out to a friend's birthday about fifteen minutes' walk from my house, and when it was over I decided to go for a kebab. The kebab shop that lay between my friend's house and mine was closed (permanently, some years before, as a more sober man might have recalled), but by the time my nose was pressed against its dusty window I was very committed to the kebab idea, and so I decided to go well out of my way to the kebab van at the petrol station down the hill.
It was a straight shot from the closed kebab shop to the van, and I made it without mishap, but there were no arterial roads on the way from the van to my home, and I was much less familiar with the route. A man with common sense could no doubt have navigated it easily, but common sense was in short supply on this journey, and so I spent the next hour wandering the streets, climbing fences, drinking out of the taps in people's front yards, making wrong turns and lengthy detours, before finally finding my way to bed.
The next morning I woke up slowly and contemplated my situation, the rancid bitter taste in my mouth and the drill-bit that felt like it was boring into my skull just behind my right eye socket. My stomach churned. "Don't move" I thought to myself "just lie here. Stay as still as possible and maybe it will pass." For a few minutes I lay there, but soon a cold sweat broke out on my forehead and saliva began to trickle down the back of my throat, a sure sign of an impending expulsion. Too late I leapt out of bed and ran for the bathroom: half way there it came. I tried to catch the warm, liquid mass in my hands, but the volume was too great, and my cupped palms only forced it up and out, back into my face and all over the room. I didn't stop to survey the damage, but continued to run for the bathroom, cradling what I was able to catch before me.
Once my stomach contents were expelled and the immediate threat was over, the toilet flushed and my hands rinsed off, I walked gingerly back to my bedroom to survey the damage. A perfect circle of vomit covered the centre of the room, two meters in diameter. I paused to look at myself in the full length dressing mirror: drips of garlic sauce ran down my face, and undigested bits of lamb and tomato were in my hair and clinging to my bare chest. As I stared into my bloodshot eyes and deeply creased forehead a sliver of lettuce peeled itself from my earlobe and flopped gently to my shoulder and from there to the floor.
"What am I doing to myself" I asked aloud. "This has got to stop."
And that was it. My moment of clarity. I think I stopped drinking for about a week.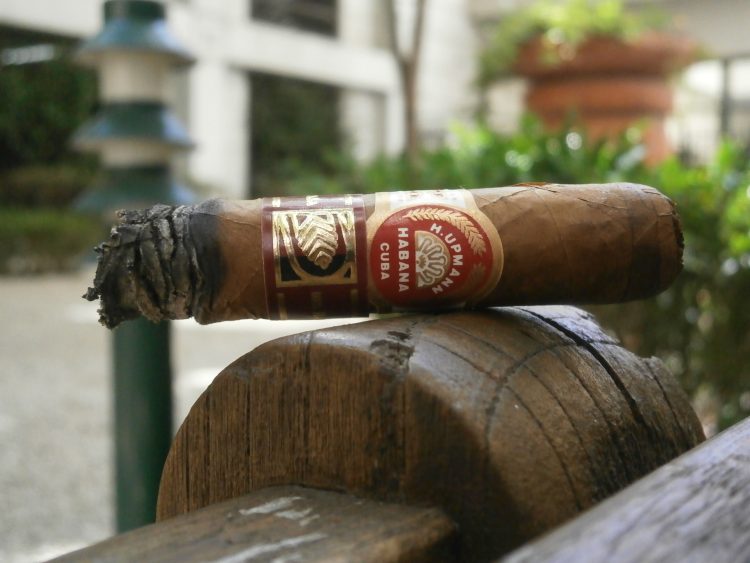 The cigar ends exceptionally well, with no tar at all, just a light, crisp, herbaceous tobacco, with slight aniseed notes, a little sour citrus. Very pleasant, and somewhere in the top echelon of Upmann, the farthest distance from the Petit Coronas.
It's even done wonders for my hangover.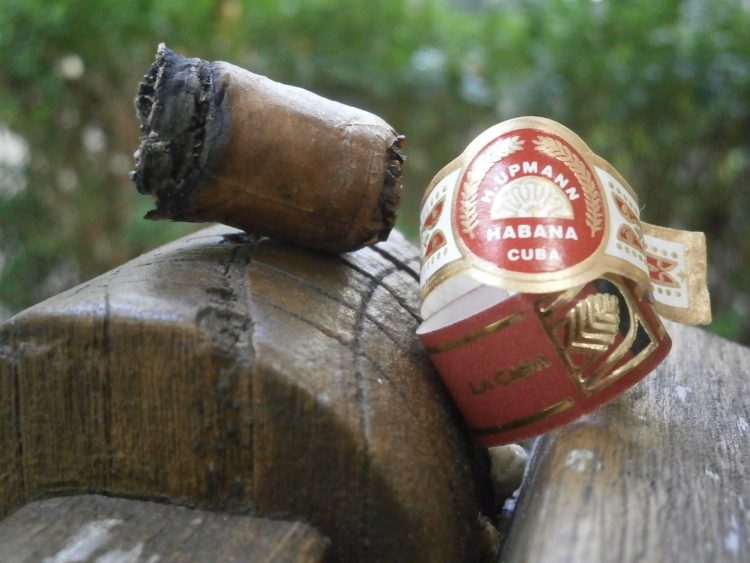 H. Upmann Noellas La Casa del Habano Exclusivo 2009 on the Cuban Cigar Website