A handsome brute with lovely milk chocolate wrapper. A summer evening down at the Groom Compound, a pastoral holding in rural Victoria that has been in my family for several generations. I am about to enjoy this cigar with a friend and colleague. We'll sit on the upper deck, looking out over the trees toward the ocean where in the distance the green lights of the shipping channel markers flash quietly to themselves. Flash, flash, flash, flash, pause. Flash, flash, flash, flash, pause.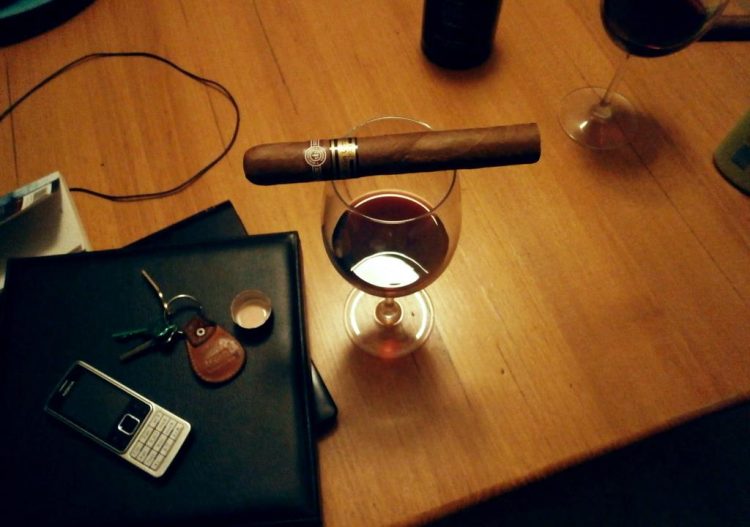 Also visible in this picture: Ernest Hemmingway's Green Hills of Africa (a cigar aficionado who reads Hemmingway? How unusual), a 10 count travel humidor I got free with a box of Cohiba Piramides EL 2005 (more on those later), the keys to the Groom Compound, resplendent on their fake Ralph Lauren Polo key-ring, and the Nokia 6300 (the be all and end all of mobile telephony). Not sure what the cord is from. The wine is a 2007 French cleanskin. I always find the more mild French wines very enjoyable after the brutish Australian reds that make up most of my intake. Just a nice, ripe, refreshing fruit on the pallet.
We head out to the deck and turn off the lights in the house so as to better appreciate the full sky of stars so alien to city boys like us. There will be very few photos. I try a few times, but it is just too dark, and the flash looks horrid.
I pluck the cap of the cigar with my nail, and give the cigar an experimental puff. Draw a little loose, is my first thought. It also occurs to me the second the thing touches my lips that 54 is just too thick. The Cohiba Sublime in 2004 was the first Cuban parejo to breach 52, following the Nicaraguans on their quest for higher and higher ring gauges, and since then there have to have been ten or twenty more. ELs, REs, lord knows those book Humidors seem to find room for another few points of ring gauge every year. It makes no sense to me. It's just too big! It's not comfortable in the mouth! Who enjoys these things? What possible advantage is there to them?
The first flavour that jumps out of this cigar is wet earth. If I had to be specific, I would say that it is the smell of the sandy soil of a peninsula when the rains are coming in downwind. It hasn't rained in a week or so, but it's been hot and blowy and the air is full of dust. The rains are working their way toward you, a kilometre or so off, and the air is carrying the scent of that freshly wet sandy soil to you in advance.
I remember when I first bought these cigars… not these examples, but others like them. It was February 2009, and I had a meeting in Brisbane early in the morning. By 11am I was done, deposited in the Brisbane CBD, a city I had visited only briefly once before, and some decades previous. I was spending the night with a friend, but she was working, and I wasn't scheduled to meet her till 5pm. It was hot and sticky in Brisbane, as it often is, and I was uncomfortable in my woollen suit. I had a pie with mushy peas, a delicacy not often found in Melbourne, and admired the long tan legs that sat below the short shorts of the Queensland girls.
There was a cigar shop I'd dealt with online from time to time in Brisbane, and I thought to myself that perhaps I'd visit it, put a face to the name on my shipping label, and then find somewhere shaded to enjoy a long smoke while I waited for my friend. 2009 was well into the era of the ubiquitous smartphone, but I was still using a Nokia 6300 (although, much like the Sublimes this rambling anecdote is nominally about, it was a different example of the breed than the one pictured above), and so I phoned a friend who I thought would be sitting in front of a computer, and asked him to look up the address of the cigar store and give me directions from my current location.
It was not too far away, five kilometres or so, but I got lost several times (necessitating further phone calls), and the way was very hilly, so when I arrived at the store (more a mail order operation than an elaborate divan), in a suburban terrace house I was out of breath and absolutely soaked through with sweat. Nonetheless, I was ushered into the cool of the walk in humidor (after a moist and reluctant handshake), where I selected a then newly released cigar that was all the buzz of the moment, the Montecristo Sublime Edición Limitada 2008.
I found a café with an air-conditioned terrace down but the river, and enjoyed the cigar immensely. I later bought a box.
Three inches in the dusty wet earth has disappeared, and the classic richness of an EL is starting to come through. Full bodied premium tobacco. A hint of spice. A little salt. Slight bitterness. Could be burning too hot, it's hard to shield the cigars from the sea breeze that is blowing in. My colleague says he tastes Chocolate, "that bitter 95% cocoa stuff," but I don't taste it. It is lovely though. An excellent cigar.
He disappears into the house, and comes back a few minutes later with toast, half a slice buttered and half with a little Dijon mustard. They both complement the cigar wonderfully. The Dijon is a revelation.
It gets bitter toward the end as you'd expect; a 54 ring is a lot of tar. I pinch the nub to suck out the last of the smoke, right to my fingertips. Perhaps that's the point of 54 – they make good nubs. I flick the butt into the trees. A noble end to a first class smoke.
Better than a Monte 4.
Montecristo Sublimes Edición Limitada 2008 on the Cuban Cigar Website.