Ah the Trinidad Funadadores, slightly fatter cousin to the Cohiba Lanceros. Both are long and skinny pigtailed cigars from premium brands, and both have a linage in diplomatic gifts (slightly dubious in the Trinidad's case). The example I have today wears the old band, which gives it at least thirteen years of age. In the normal course of events when smoking a Funadadores I find myself wishing for a Lanceros – the Trinidad just never gives me the creamy elegance of the Cohiba. Perhaps the years will have softened it, however.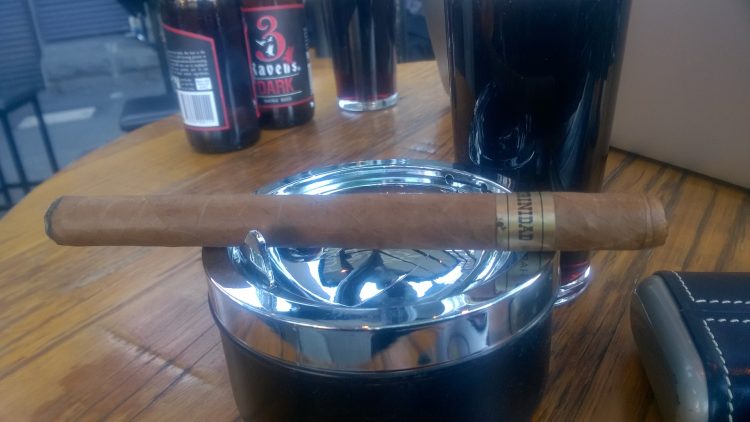 I set the thing ablaze, and it begins well, with very light notes of first class tobacco. It has the perfect draw for a cigar like this – just firm enough that you feel it. There's not all that much flavour, but importantly it doesn't taste like newspaper like some aged cigars can. Just a simple, elegant smoke. Slightly grassy. Slightly herbal. Slightly sweet.
I was a twenty–year-old moron when I met first Audrey; like most people, she just sort-of started showing up at parties. I didn't give her much mind at first. I knew enough about her to know that she had a boyfriend, for starters, and also she was a little bit goth for me. Black lipstick, studded leather dog collars, full length fingerless gloves and ratty, shapeless jackets were her look, whereas I was I getting around in dishevelled op-shop suits and overcoats, and wanted an op-shop cocktail dress kind of girl. Of course, the clothes I was seeing Audrey in were her party clothes. I probably would never have seen her in her day-to-day stuff – probably would never have realised what an angel she was – if it wasn't for Aldo's wedding.
Aldo was a friend from school who at nineteen had fallen in love with a government certified lunatic. I was at a backyard barbeque with them not long after they started dating, and she had gotten ahold of someone's baby, and wouldn't put it down. "Oh Aldo" she crowed. "I can't wait till I have one of my own!"
"Run" I silently mouthed to him, but he didn't take my advice, and eight months later she was pregnant and I was best man at their wedding. The wedding was to be held at a resort up in the mountains, about three weeks after the ski-season had ended, and a month before the hiking season began. The bridal party were to arrive on the Thursday and settle in, then we had the rehearsal on the Friday, and then the wedding proper on the Saturday. Being off-season, we had the resort pretty much to ourselves.
I got in late on Thursday night, after the bar had already closed. With nobody around I went more or less straight to bed. In the morning, having missed the grand tour, I wandered the halls alone, looking for action, and found it when I stumbled across Audrey in the library. She was curled up in the arc of a porthole window, reading a fat fantasy novel. She had on tight black cotton pants and a grey cashmere jumper that perfectly accentuated her tiny waste and full bosom. The light was streaming through the window behind her, giving her a halo through her fine, blonde hair. She lit up when she saw me. "Oh, good, you're here" she said. "I've been waiting for someone to come play Scrabble with me."
She demolished me at Scrabble, of course. She was the kind of nerd that has memorised all the two letter words, and so keeps scoring 75 points with three letters by putting them down the side of something else. Despite the trouncing, when she offered to go again, I gladly accepted. Something much more important than a board game was going on in that library. We were connecting. We liked the same books, the same movies, and we had similar upbringings. By the time we were finished, we had our own private in jokes, and I was staring to fall for her.
Saturday was the wedding, and after the ceremony, conducted in the business centre because of the rain, and after the reception where I gave a meandering speech and made a few too many jokes at the bride's expense, and after we had all watched Labyrinth, the couple's favourite film, the few remaining hangers on snuck down to the indoor pool to go skinny dipping. The lights were off, but the moonlight came strong and bright through the plexiglass roof. Most of us were bashful, disrobing fully only in the darkest corners, and then slipping into the water as quickly as possible, covering ourselves until we were submerged. Not Audrey. She sat for a while, fully clothed on the edge of the pool, sneering at our antics. Once the party was all naked she walked purposefully to the edge of the pool, disrobed completely in a moonbeam, and then slid her perfect form into the water. Lying on her back she floated gracefully, only her perfect breasts and face breaching the surface, Diana bathing with her nymphs.
After an hour or so I tired of the horseplay, and headed for the showers. No sooner had I entered the men's change rooms then Audrey appeared behind me, her glorious form resplendent in the uncompromising florescent lights. "Do you have a towel?" she asked. I handed her one, and watched in a pitiful impersonation of a casual manner as she strode into the showers and washed herself, leaving the cubical door open. When we were both done, I walked her back to her room and lingered for a moment outside the door. "Well" she said. "Goodnight," and kissed me wetly. "Goodnight," I replied, and went back to my room. Like I said, I was twenty and a moron.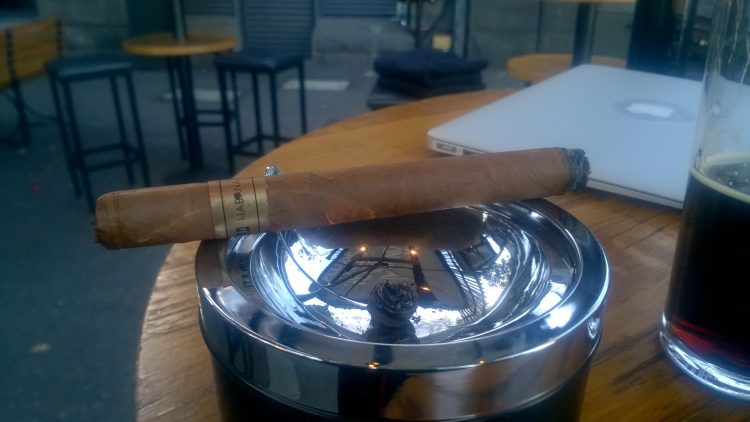 By the midpoint of the cigar the sweetness has gone. The tobacco has thickened ever so slightly, and behind it has bloomed a floral note. Cream is notable mostly for its absence. It's a subtle cigar, but the heater is warm, my beer is cold, and I don't mind a bit of subtlety. Elegance is still this cigar's watchword.
The next morning, Audrey and I both caught a lift back to the city in the same car, next to one another in the back seat. As the car rocked back and forth down the winding mountain roads she slipped out of her safety belt and lay her head down in my lap. I folded my arm gently around her shoulders, praying that she didn't notice the erection that lurked bare millimetres below her ear.
Of course, even the biggest moron eventually comes to his senses and, a few weeks later, Audrey and I became lovers. Her boyfriend was still around, something she seemed nonplussed about. "Oh, I've cheated on him loads of times" she told me. As we got closer the state of their relationship became clearer. They had been together for seven years, but broken up periodically whenever she met someone she liked better. Basically, she hated to be alone, and he was spineless enough that he was willing to be the default bed-warmer she called when there was nobody better around. Or at least he had been. When they got back together after her last foray, he had set her an ultimatum: "This is it," he proclaimed. "If we break up again it's forever." A pre-engagement ring had been presented.
And so, I was relegated to the position of a part-time lover. She liked me, but he was default position, and she wouldn't leave him. As I fell for her harder, this was increasingly a problem. I was addicted to that angel, and Groom wears the cuckold's horns for no man. I hatched a plan.
It was simple enough. I knew that she was going to a barbecue that weekend, and that her boyfriend would be there. One of my friends, a vague acquaintance of her boyfriend, would also be there. One of her sexual predilections was to have her neck kissed and bitten, and so on Friday night, during a particularly vigorous coital session, I indulged her, leaving a prominent purple mark above her collarbone, an unmistakable lover's branding. As she brushed her hair in my bathroom the next morning she laughed about it. "I'm going to have to wear a turtleneck."
Once she was gone a text went out to my Iago. "Hey bro," I wrote. "Tell him to get a look at her neck. She's wearing a turtleneck to hide a hickey." In the evening she called me in tears. "Kip broke up with me," she sobbed. "He found your bloody hickey." I smiled the smile of the victor.
Of course, a year later I was done with her and she went back to him, but that's another story.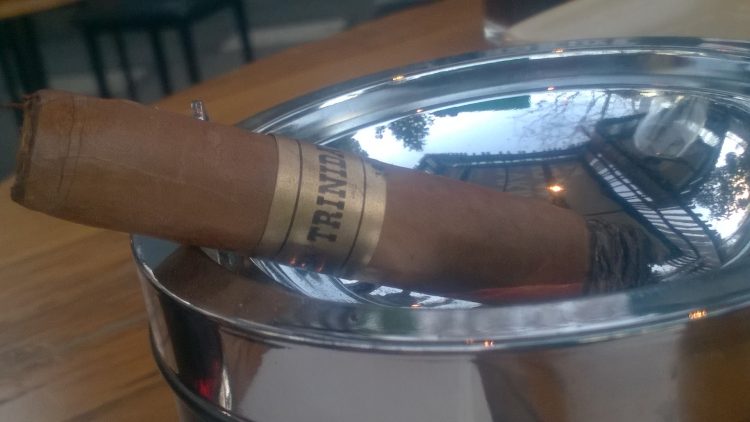 In the final two inches the cigar thickens up as six inches of accumulated tar starts to combust, and the flavour profile changes to notes of earth and wood and gun-smoke. The gentler soul might toss it at this point, but for me it's the perfect way to end a subtle beauty like this one. Flavour country. I smoke it all the way.
The Trinidad Funadadores? Very decent with fifteen years on it.