In its best moments, the La Casa del Habano Exclusivo series is an island of misfit cigars; smokes too weird for mainstream release, produced on an "as many as we can sell" basis. The Partagas Culebras, the Upmann Noellas, the Bolivar Gold Medals, and the Partagas Salomon: all are perfect examples of the breed. To this dysfunctional family came 2012's Hoyo de Monterrey Epicure de Luxe – an utterly standard new release. It is of the Mágicos vitola, proud size of every second regional, and a petite robusto in a brand already sporting robusti petite, regular and extra. If there is one thing that the de Luxe did pioneer, it is in the art of excessive bands: with both a double-sized main band and an LCDH special, fully 42% of it is concealed.
Unlit, the Epicure de Luxe has a wind tunnel draw, the air passing through without even a hint of resistance. Lit, it begins with notes of burnt toast. The tobacco is sweet and mild. There is a hint of the typical Hoyo wood there, but fortunately it takes a back seat to sweetness and cinnamon. After about a centimetre the cigar develops something dry and unpleasant on the back palate. Oddly, the draw has tightened up to a point where it's definitely firm, and on the verge of Cuban. I attribute it to the rinsing, which took place after the cut, but before the light. Yet another example of the glories of running your cigars under a tap.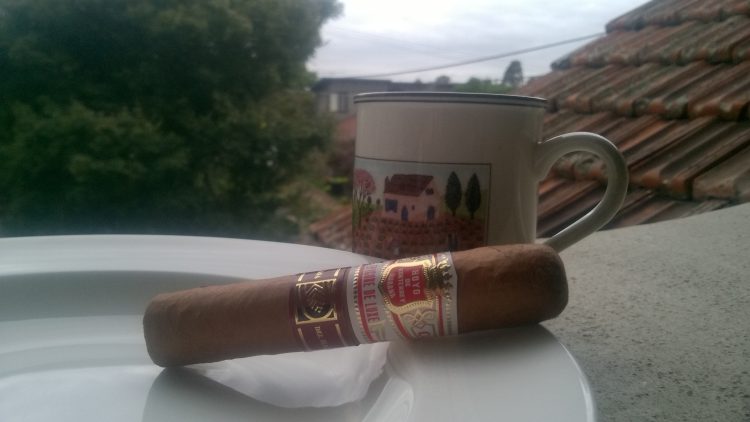 Camellia-Bell Jones was a dear sweet thing when our paths first crossed, and to some extent, so was I. It was the summer of my 19th year, at the same stock-standard teenage riot that I attended weekly in those salad days; forty or so kids and a few slabs of Melbourne Bitter arranged around the tumbledown share-house of a friend-of-a-friend. That night, my attention was laser focused on Victoria Sargent, a Toorak ballerina who'd been in and out of my circle for four-or-five years. She was utterly out of my league, but treated my dotage with good humour, even as she casually rebuffed my fumbled advances. I went home that night delighted with myself: another evening well spent in the radiant light of The Sargent. "One day" I thought "I'll wear her down. Good ground work, Groom." I had no awareness that even as my gaze fell limpet on Victoria, other eyes were regarding me just as covetously from across the cold void of the dance floor.
Camellia-Bell got my number from the host and rang my house the next morning. "It's a girl," my mother announced loudly, for her own benefit more than anyone else's. Camellia said she'd really enjoyed meeting me last night and wanted to have coffee sometime. I accepted, despite having no memory of her at all, an amnesia that continued well into the coffee date itself.
She was a waifish wallflower from the suburban fringe, who had moved to the big city for university; 45kg of blonde hair, bright blue eyes, and big dreams. Unlatched from the parental teat she was all about taking charge of her life. She'd never had a boyfriend – never even been kissed – and first item on the list was to find a man. Her first real date had been some weeks earlier with Ben Plumber, a vague acquaintance of mine. It had not gone well. In a lanky teenaged Groom, though, she thought she'd found something promising. She was wrong.
At nineteen, I still succoured from my parental teat nightly. My 6pm curfew wasn't strictly speaking enforced anymore, but I still respected it most of the time. I liked video games and pizza and goofing around with my friends. I knew an awful lot about Civilization 2 and Warhammer 40,000, and almost nothing about the fairer sex.
I spent a lot of time with Camellia-Bell that summer. We wandered around back alleys. We went to Parliament House and the Supreme Court and the stock exchange. Anywhere free. She wore dressy backless tops and tight skirts and eye makeup. I wore tatty black shirts and cargo pants from the army disposals store. When she introduced me to her friends they smiled knowing smiles. "Nice to finally meet you" they said. "We've heard so much about you."
Clearly, Camellia-Bell was into me, and yet, my diaries at the time are filled with endless analysis of every comment. "Does she like me?" I wondered. "What about when she brought up talking to a boy on the bus, what was that about?" In my more confident moments, my rumination moved to how to escalate things, with every possibility ruled out.
Eventually, her roommate took me aside. "It's so hilarious how into you Cammy is" she told me. "She has a photo of the two of your framed next to her bed, and she has this whole book where she practices signing her name as 'Camellia-Bell Groom.' She draws a little flower on the end." I'm not sure if the roommate told Camellia-Bell what she'd done, but the next time I saw her she seemed to have a new determination. She asked outright if I liked anyone. I gave her an adolescent non-answer. "I like someone" she volunteered, unprompted, and looking at me deeply. "I just can't figure out how to tell him."
Perhaps it was the anaphrodisiac of being desired, or maybe simple cowardice, but it was all too much for me. I was spooked. I went cold on her. From that day forward, when she texted I wouldn't reply for days, if at all. On the rare occasion I answered her calls, I would give her a series of non-committal grunts, declining her invitations with a curt "nah, I'm busy."
Eventually the phone calls stopped and a letter arrived, a full ten pages of loopy feminine script. I can't believe I was so in love with such a coward, it began, and continued in that vein. I didn't reply, and time rolled on, and that was that. Over the years I thought of her once in a while. Tried to look her up, but I never could find anything. No Facebook. No LinkedIn. With no real mutual friends, she was out of my life. A ghost of a botched romance from the distant past.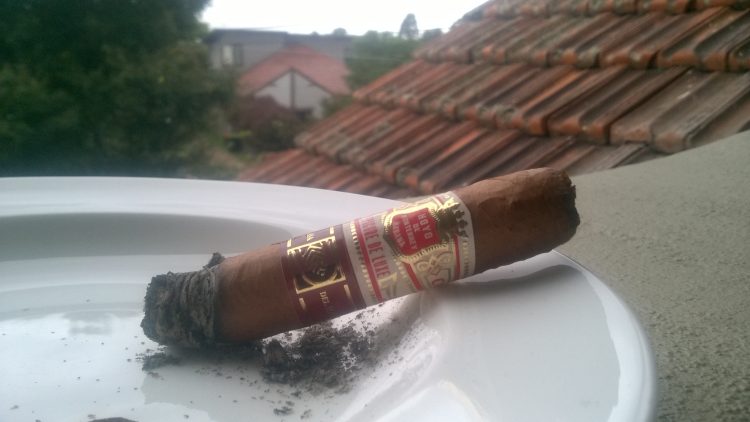 At the halfway point something has turned in the Epicure de Luxe. The cigar is bitter and ashy. I let it sit for a while, and blow through it vigorously to clear the smoke, but nothing seems to help. I try to tap the end off, but the bulk of the ash won't budge, just small particles of ash falling from it like dandruff. Thinking that perhaps it is tunnelling, I relight to even up the coal, which makes it even hotter and ashier, so I let it sit for a while, after which it seems to come back on form. Still not a lot to it though.
Fifteen years later, I was seated in a karaoke bar, watching with distain as a drunken quartet caroused their way through a rendition Eminem's Lose Yourself, when my phone vibrated: New friend request from Camelia-Bell Lockwood. I clicked through, and there were those bright blue eyes.
Over the next few weeks we chatted online, and once the pleasantries were out of the way, she wanted an explanation for why I cut her off all those years ago. I said I didn't really have one, but I denied some stuff and apologised for the rest, and that seemed to satisfy her. She wanted to meet, and a week later we found ourselves back in the old coffee shop, and she told me her story.
Two years after I had departed her life, she was still un-kissed when on a New Year's Eve she got chatting to a boy, and at midnight he grabbed her by the neck and gave her both barrels. A week later he asked her to marry him. She said no at first, but he persisted, and six months later they were engaged, and married just after the next new year. They moved to a one-horse town in rural Victoria and bought a cute little house. He started a business installing pest netting on organic farms. She did a Dip-Ed and got a job at the local high school.
The years passed, and malaise set in. The netting business was seasonal, and when it was slow, her husband would drink and bring home his frustrations to her. She didn't like the principal at her school, but with no other schools within a reasonable distance, there was nowhere else she could go.
The Victorian Education Department offers teachers seven years of unpaid maternity leave, and a baby seemed like the answer to both problems. By the time she was ready to return to fulltime teaching, surely the principal would be retired. Also, she hoped, the new bub would focus her husband, and reinvigorate their marriage. She was wrong.
After the birth, her husband's drinking moved from moderate to heavy, and his shouted frustrations moved to kicked doors and broken glass. Finally, he threatened her child, and she left, first to a woman's shelter and later to a cot in the hallway of her mother's house.
Six months later, her divorce was finalised. With her settlement she bought a little flat and picked out a puppy. Unlatched from her husband, it was time take charge of her life, so she looked up the boy she'd never forgotten. The one who had seemed so promising. Friend request sent to A. T. Groom.
Our coffee date was awkward. We were two strangers, with two very different lifetimes between us. Camila-Bell was undeterred. Afterwards she sent me a text. "It wasn't as easy chatting to you as I remembered, but I still feel that special connection with you. I want us to be proper friends."
From the fortress of my inner-city bachelor pad I considered the situation carefully. I had been a bit of a shit to her last go around, and it had obviously left some scars. I didn't want to leave any more. A brief fling to cross one off the list was out of the question. With this one it was either never let it begin, or marry her.
For a while I allowed myself the fantasy. A simple life. Sell my apartment. Quit the owner's corporation. Ditch the eighty hours a week in the office, the binge drinking, the cocaine, the string of girls that come and go. We could make a nice life in a cute little house in the country. I could open up a computer shop and install anti-virus software for people. Home by 5:15 to my schoolteacher wife with the bright blue eyes. A father to her son, and after a few years, to the sons she would bare me.
Instead I decided to be cruel to be kind. When she messaged me, my replies were slow to come and short. I declined four of her invitations before her tone became exasperated.
"I can't believe you're so busy! Are you trying to avoid me? 😉"
I tried to let her down gentle.
"I'm sorry Cammy, you're a great girl, it's just I know I hurt you last time around, and I don't think I can give you what you want this time around and I don't want to hurt you again, so I'm not sure how smart it is to start up with you…"
The chat-box flashed Camelia-Bell is typing for the longest time, as she composed her furious response. When it finally came, all it was missing was the loopy teenage script.
"It sounds like you think I'm pathetic. I did like you once, but I'm not interested in you that way anymore. Actually, I'm seeing someone else. I just wanted to be friends with you because from the first moment I met you I always felt we had a special connection, like we were together in a past life or something. I should have known it was a mistake to contact you again."
The text continued in that vein for several scroll wheel clicks, and by the time I got to the bottom the reply box was greyed out. This user has unfriended you and blocked you from sending messages.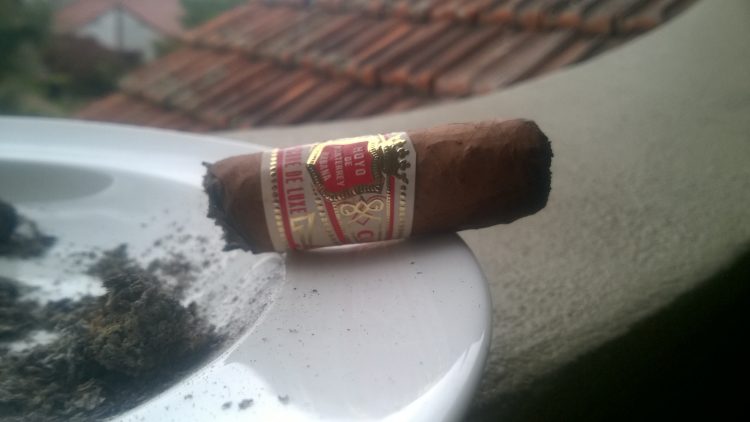 As the second band comes off, the Epicure de Luxe it starts to recover, the sweetness returning somewhat, with a note of coffee. As it moves into the nub the coffee transitions from arabica to robusta to over-roasted robusta and finally into tar. The aftertaste is all cedar, but it's not too bad.
I don't really think of Hoyo as a brand with too much aging potential, but this one I feel could use five years to take the edge off it. It's a decent enough smoke besides though. Just could use a little bit of maturity.
Oh, and Victoria Sargent? She wound up marrying Rod Plumber.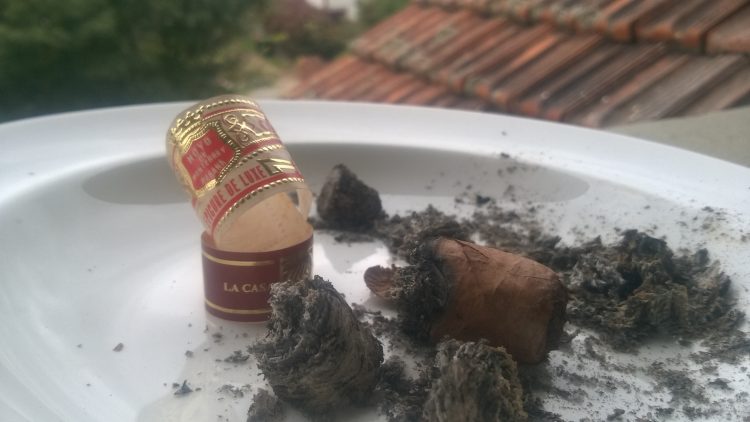 Hoyo de Monterrey Epicure de Luxe La Casa del Habano Exclusivo 2012 on the Cuban Cigar Website.