Of the three brand retrospectives that have composed the majority of the harem, my sophomore effort was by far the weakest. At the time of writing fully seven Partagás cigars were missing, and for the most part the absentees weren't even that exotic: I could have obtained at least a few of them by walking into a local brick and mortar retailer and handing over some folding cash. The list was incomplete mainly because I was lazy, and for that I apologise. As a small contrition today I offer you the Partagás Selección Privada, Edición Limitada 2014. There is a case to be made that it's too early to smoke a cigar like this. Havanas used to ship with a note that said they should be smoked either immediately or after at least a year, and much has been written about sick periods, acclimatization times and so on. Then again, much has also been written about how modern limited editions are designed to be smoked straight off the boat, and don't age as well as the old ones did. When all is said and done these cigars are less than a year old and still widely available: if I decide it hasn't reached its potential I can always walk into a store and buy another one.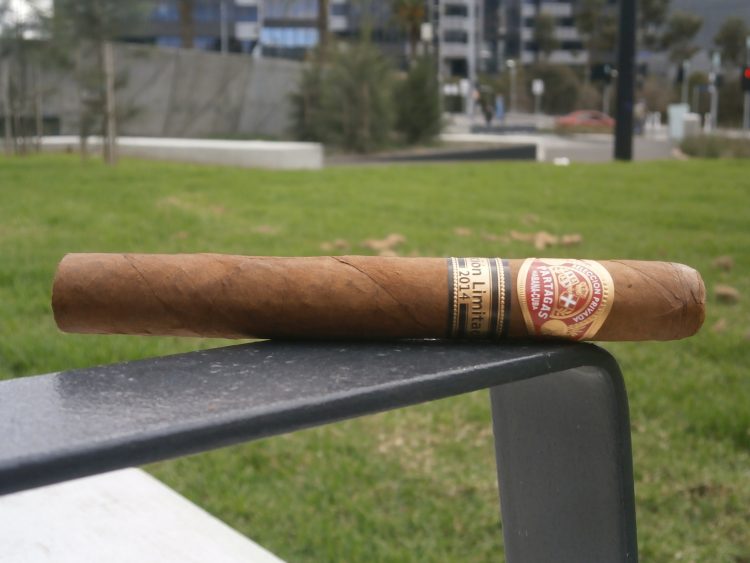 I light the cigar and it begins very well, light and creamy with a strong bean note, cocoa and coffee. After a centimetre or so it becomes peaty – wet earth and charcoal. When I'm down at the compound I will often have a fire in the evening and leave it to burn itself out overnight. In the morning the fire pit will contain nothing but snow white ash but will still be hot, and if I throw a few sticks on it it will immediately begin to smoulder again. If I'm staying another night I will use the heat to cook my lunch, but if not I will usually get a hose and a shovel and water the coals as I turn them. Great clouds of steam billow up, and a very specific scent fills the air; the scent I am getting from this cigar. All the best things trigger sense memories.
I like oysters for precisely the same reason. There's nothing inherently pleasant about them: it's tricky and undignified slurping them off the shell, and the slimy yet chewy corpuscular texture is nothing to write home about (a very shady Russian 'businessman' I shared a few shots with in a Japanese coastal resort one night once told me that he liked to see people eating raw oysters because "anyone who can swallow a raw oyster can swallow a condom full of heroin," a piece of street knowledge I've retained but never had cause to use). The taste, though, is precisely the melange of dead birds, seaweed, and salt that I used to smell on the beaches of my childhood as I poked around the rock pools at the bases of the Mornington Peninsula's sandstone cliffs.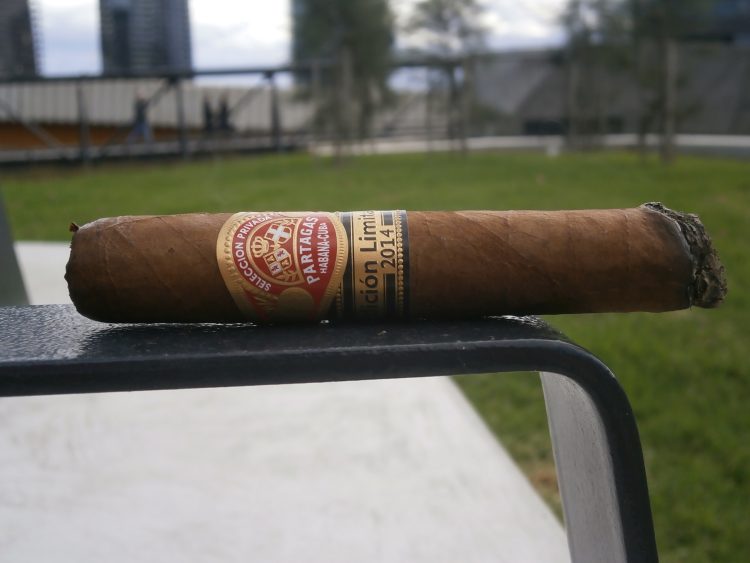 At the mid-point the cigar is much the same as it was an inch in: a deeply earthy, rich and creamy smoke. Tar, tobacco and nicotine are all very light. Some might regard this lack of a change in flavour as a negative, but the one note is a deeply complex and enjoyable one, so I'm not too bothered. A really first rate smoke.
At one point in my life I had the misfortune to find myself in a mussel eating contest. It was Australia Day, my nation's national holiday, which falls at the height of our summer. Like many Australia Days it was stinking hot, 45 degrees in the shade, and I was at an outdoor beer café with my friends. It was a big venue that took up about a quarter of a city block, and maybe 500 people were crammed into the place. The trestle tables with the umbrellas were long gone by the time we got there, as were the premium spots under the trees, so my friends and I sprawled out with the unwashed masses on blue tarpaulins in the full gaze of the sun. Some radio station or other was running a stage and, in between musical acts and banter from the disc jockeys, the feature entertainment of the day was the mussel eating contest. There were to be six heats in all, with six contestants per heat, the winner of each heat getting a small prize and an entry in the final to compete for the grand prize of a $1,000 bar tab. It was heat four by the time the leggy blonde with the clipboard arrived at our tarp to see if anyone wanted in, and with four beers inside me I couldn't resist her sales-model charms. Ten minutes later I was on the stage.
It didn't seem so bad at first. We were each given a bowl with fifty mussels in a brine soup: the first person to finish was the winner. "I've eaten things before" I thought to myself. "Matter of fact, I've been doing it for years. How hard can it be?"
I was about ten shellfish in when the commentator made a derogatory comment about my speed, and I glanced up to see how the others were doing. It quickly became clear that they wanted it more. To win a mussel eating contest you really have to put your body on the line: my opponents on either side of me both had chins ripped raw from slurping the creatures directly off the shells, and were way ahead of me with my comparatively dainty technique of plucking each one out with my fingers. From then on I was only in it for the lunch, and by the time I finished the prizes were already being awarded. I was placed a notional fourth, only because fifth and sixth couldn't get through their bowl.
It was some hours and numerous pints later, and the place had cleared out considerably when I heard my name being called over the PA system. I wandered over to the stage to see what was up, and the leggy blonde informed me that the top three placers from my heat had gone home and I had made the final. My stomach churned at the thought, but my blood alcohol level and her very white teeth got the better of it, and yet again I found myself on the stage with fifty mussels before me. As the disc jockey gave his spiel I checked out my opponents: none of them looked like they wanted to be here. "Alright, Groom" I thought, "this is it. You don't deserve this opportunity, but fate has given it to you. Now is the time to shine. Now it the time to put your body on the line. A few scratches on your chin will heal, but $1,000 is a big deal. You'll be a hero to your friends. You'll see your enemies driven before you. This is it. Do or die. Step up."
I got about fifteen mussels in before I threw up and the bouncers tossed me out.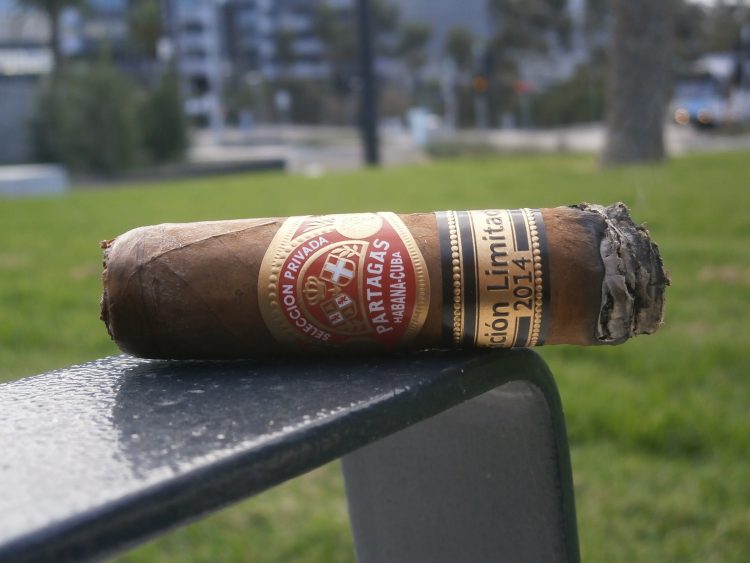 By the last inch and a half of the Selección Privada I'm spitting occasionally and have cracked open a beer to wash the tar away a bit. It's not terrible, but is a full nicotine and tar bomb. Peat bog would be the only flavour note I could nominate. I purge it vigorously enough that the wrapper splits, which works to some extent, getting rid of most of the tar and leaving a toasty sort of flavour. Slightly burnt wholemeal. Perhaps a sign of its youth, the cigar has had burn issues throughout: although it has been very sharp and straight, it has required four or five relights.
Right now this is a very good cigar. It might be better in a year, but I wouldn't wait five. Sits below the anniversary cigars but above most of the other ELs in the Partagás lineup.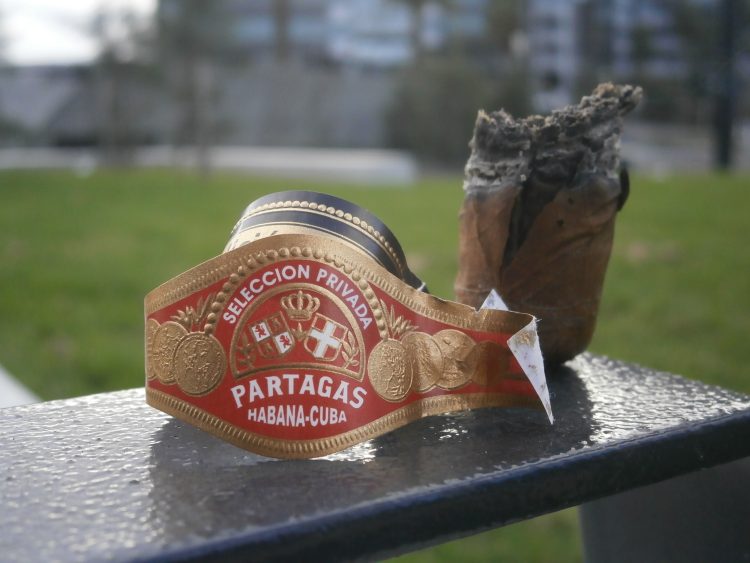 Partagás Selección Privada Edición Limitada 2014 on the Cuban Cigar Website.