It is a disturbing sign of how accustomed I have become to smoking the Colección Habanos that when I pulled the San Cristobal de la Habana O'Reilly out of my humidor this morning my first thought was "oh, a small one today." At a petite 6.3 inches, the O'Reilly is the shortest of the Colección to-date, but its 56 ring makes it one of the fattest. I have a sneaking suspicion, however, that it might not be quite as heavy as advertised: the Cuban Cigar Website uses the official measurements from Habanos S.A. press releases for its source, as I imagine do most online cigar resources, and everything I can find agrees that the O'Reilly is a 56, but the one in my hand doesn't feel like it. My cutter can slice a 52 ring cigar in half, and it can't take the O'Reilly, but it's not too far off. I put this cigar at about a 54. 55 at best.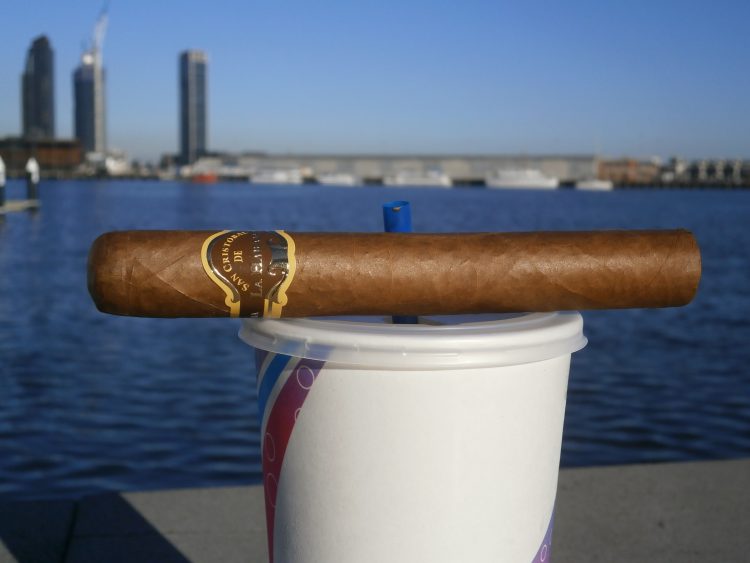 I cremate the tip and inhale deeply of the fragrant smoke. The first flavours are light and earthy, considerable cedar and general wood smoke, and quite nutty. The Long Bar at the Raffles Hotel in Singapore is famous as the birthplace of the Singapore Sling, as well as for being the oriental hangout of choice for the gin-soaked colonialist of yesteryear: Kipling, Hemmingway, et al. These days it's a tourist trap where the aforementioned Slings are served pre-mixed from giant buckets, but one tradition lives on yet: on every table there is a large bowl of shelled peanuts, and patrons are encouraged to eat the nuts and then toss the shells casually on the floor (ironically, littering is a criminal offense of the highest order anywhere else in Singapore). The result is a floor which is covered in shells to a depth of about two inches and any given time, and it is the aroma of those shells underfoot that is the flavour in this cigar; not the sharp oiliness of the nut itself, but the dry, woody, dusty aroma of ten million crushed peanut shells.
Who really cares about San Cristobal de la Habana, that's what I would like to know. Launched in 1999, San Cristobal is the youngest Habanos brand, and as far as I can tell it fills no niche in particular. They're light, inoffensive cigars, in unique but not particularly original sizes, named after forts and streets in Old Havana. There was a guy who would come very occasionally to my cigar club in Shanghai who was a San Cristobal evangelist (I think he was a big party cadre or some-such, because the Chinese guys would always give him a lot of face, a lot of guanxi, and refer to him as "The Chairman," and he once complimented me on my high forehead, saying that it meant I was very smart, like Mao). Whenever he walked into a room everyone would stand up and welcome him, "ah, Chairman, hello, how are you?," and he'd pull a bundle of San Cristobals out of his pocket, always a big one, El Morros or Murallas, and when you shook his hand he'd present you one as if it were his business card. Once I tried to refuse because honestly I already had two of his cigars unsmoked at home, but he looked greatly offended and slipped one into my breast pocket. I fished into my travel humidor and pulled out a Cohiba Siglo IV to offer as trade: he protested greatly, but eventually I was able to get it into his breast pocket.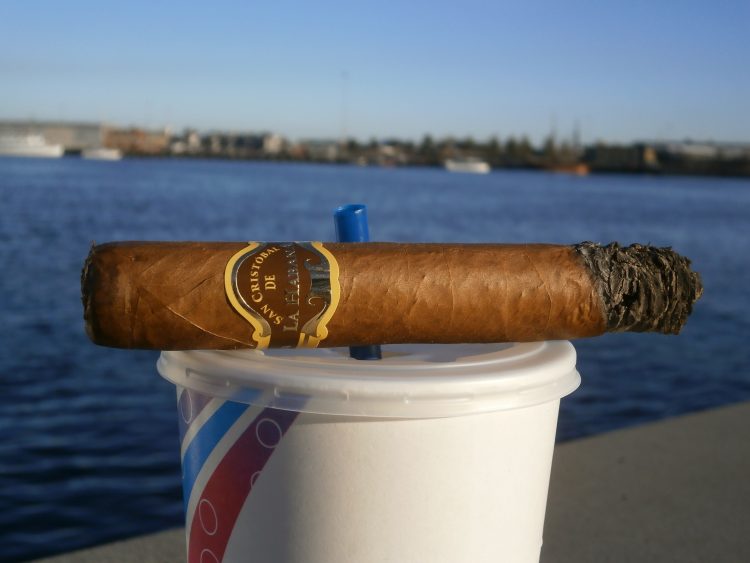 Beyond the halfway point the O'Reilly has thickened up a bit, with a bit of the tang of an oak barrel, and some paperbark tree. There is a hint of leather and a little coffee. It leaves a dusty dryness on the palette. I'm sipping on a chocolate milkshake which would take the edge off the cigar reasonably well, but there's not a lot of edge to take off.
Argus, an old friend, came to stay with me for a few days while I was in China. He had done an Arts degree and, possibly the first person to wind up employed in that field without teaching it, had found himself a job at a history company; a private company that for a fee would research the history of whatever it was their clients were interested in (it has since gone bankrupt). I took him out to one of the Gourmet Society's dinners, and introduced him to The Chairman, who looked my friend up and down and asked what he did for a living.
"I'm a historian," Argus replied.
"Oh, very interesting," intoned The Chairman. "Tell me, is it true that all Australians are descended from Criminals?"
The next night I took Argus out with my other circle of friends, this one not made up of the Chinese glitterati, but rather a group of expat English teachers, outcasts from occidental society, and villains and deviants of the highest order. I introduced Argus to Sal, a cockney brawler from the old country, who looked him up and down and asked what he did for a living.
"I'm a historian," Argus replied.
"Oh, very interesting," intoned Sal. "Tell me, what do you think of Hitler then? He got the job done, didn't he?"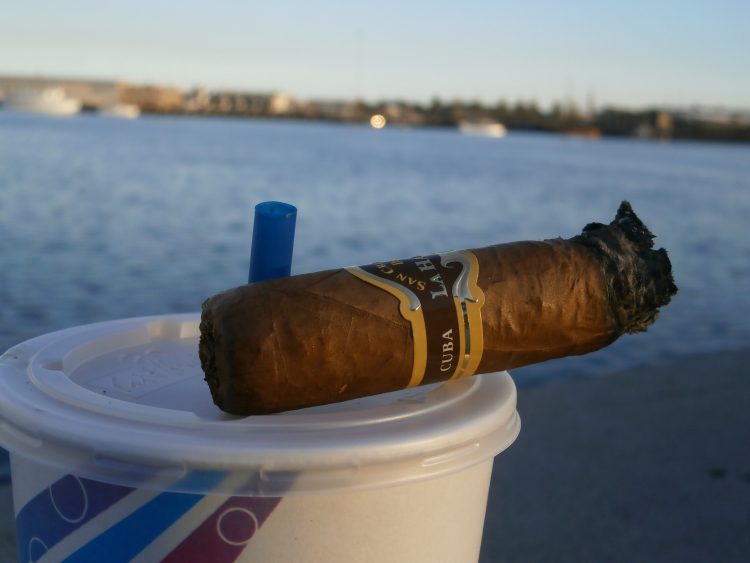 The O'Reilly's final inch is very dirty, thick tar and ash, inevitable in a 56 ring cigar. Ten years of age might take away some of this messy ending, but I can't imagine it'd do much for the rest of the cigar, which has been lightly flavoured throughout – if anything it'd reduce it to a very light, inoffensive grassy cigar. In the end, there is nothing wrong with the San Cristobal de la Habana O'Reilly, but there's not a lot to distinguish it either. Perhaps the best use for these is as gifts for friends, a memorable calling card to hand out as a greeting. Perhaps if you're lucky someone will give you a nice Cohiba in return.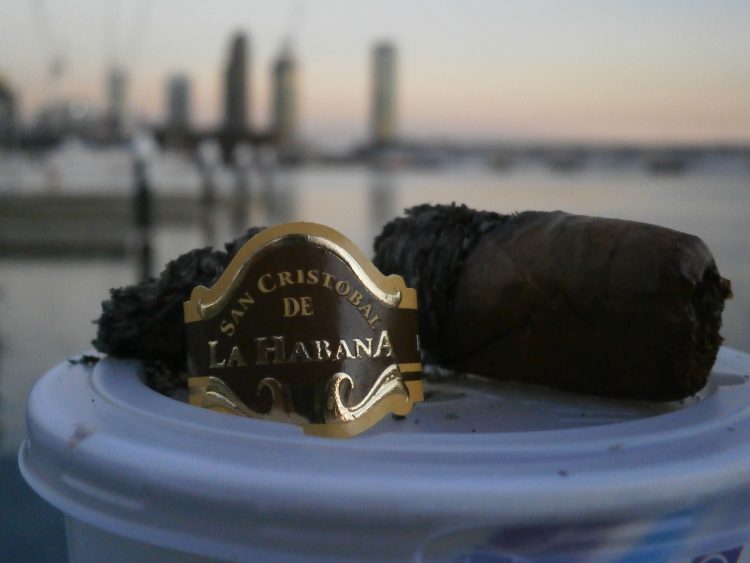 San Cristobal de la Habana O'Reilly Colección Habanos 2009 on the Cuban Cigar Website